Nikesh Shukla on how to finally write that book
Author of the acclaimed Brown Baby, Nikesh Shukla's new book Your Story Matters is full of tips and guidance for both novice and experienced writers alike.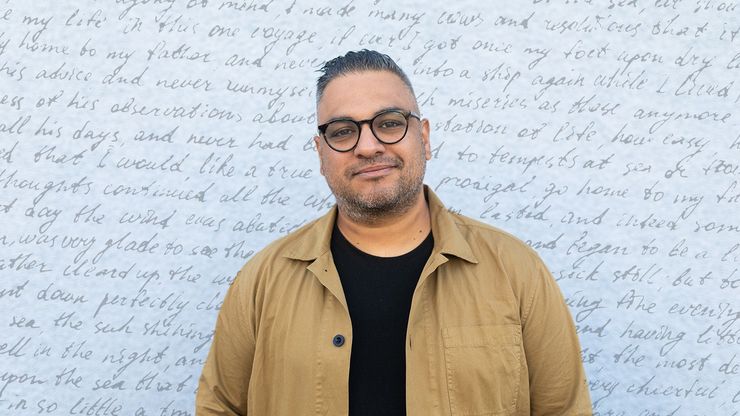 Writing advice comes in many forms, and selecting the right lessons or teacher is critical to your own writing motivation and success. Luckily, Nikesh Shukla's new book is a warm, friendly guide to finding your own powerful and moving voice. Whether you're writing a novel, short story, memoir or non-fiction piece, Your Story Matters will give you the skillset and the confidence to begin your own writing journey. Having edited the award-winning The Good Immigrant and published his own touching memoir Brown Baby, Nikesh has a wealth of experience when it comes to successful writing – and what it really takes to hit that last page. 
Here, Nikesh reveals how to get out of your own way when it comes to writing your story, and all the challenges you'll face along the way.
Howdy. 
You want to write a book, right? That's why you're here! Well, good, I have some thoughts on what will help you. Before we get to those all-important tips though, I thought I'd just do a quick soft-sell of a new book I've written. So I'm a writer, editor and teacher. I have written novels for adults and teenagers, edited three bestselling, award-winning collections of essays, and I teach on a novel-writing course. I have mentored writers who have gone on to big things and I've taught workshops for approaching two decades. I've collected all this stuff in a book called Your Story Matters, which is out next week.
Yes, obviously, there are loads and loads of creative writing books out there and they all say sorta the same thing, character, character, character, yes yes yes, this is a midpoint, have you considered doing research on YouTube, that sort of thing. 
'Trust your instinct, remember why you're writing this story and give yourself time. Everything else will come.'
While learning about craft and structure is super important, one of the things I think is quite unteachable, and is something you pick up the more you work at it, is voice. And voice is linked to instinct. And instinct is what made you decide to write your book in the first place.
So while my creative writing book won't help you write a bestseller or get published, it will help you trust your instinct. My approach is as a mentor; I will help you set your intentions, work out what you want to say and how, focus you on things like character and voice and planning and the why of it all. I have lots of editing tips. And loads of writing prompts to help you get to know the people in your novel better, or help you try lots of different types of writing.
A well-structured book isn't always a well-written book, and a book that relies on instinct alone can sometimes be a structural mess. I hope to help you navigate through both of these things by tying them together. So yes, there's my soft sell of the book.
Now to the tips on writing that book, the ones that you came for. Here you go:
1) Work out what your intentions are: what are you trying to say? How do you wish to say it? Who is the intended reader (be specific here)? Why tell this story right now?
2) Work out how you work best. Only you know how much time you can commit to writing this book. Is it a sprint every Saturday for eight hours, breaking only for coffee? Is it 45 minutes Monday-Thursday? Is it Tuesday and Friday mornings? What does your life look like and where can you schedule in some regular time?
3) Don't worry about the amount of words. Think about the amount of time. A book takes time. Not words. Don't think '1000 words a day will nail this', think 'an hour a day will nail this'. Some days you get those words down quickly, other days you pad it out cos you're tired or stressed or uninspired or it's a hard sequence. Don't write 1000 bad words down just to hit a word count. Think about it in terms of time rather than word count.
4) Sitting down to write is only one aspect of writing a book. And once you have set yourself  regular time to do the writing, remember that thinking is writing, reading is writing, noting, journaling, noticing is writing. Keep a notebook with you for any stray thoughts. Continue to read around what you're woking on. Visit places you need to. Talk to people you need to. All this is part of the experience of the book.
5) Don't be precious about the first draft. You control who can see it and when. Writing is rewriting, editing, redefining, refining. Writing is editing and editing and editing. The first draft is about getting it all done and every draft after that is about getting it closer to right. Don't worry about the first draft being perfect. Get it down and edit it later. Remember: time helps you with story and character and plot and pacing and losing bagginess and all the things that make this book great. Editing gives you time. Look, don't believe me, trust the writer Shannon Hale, who said it best: 'When writing a first draft, I have to remind myself constantly that I'm only shoveling sand into a box so later I can build castles.'
Good luck with your book. You got this. I believe in you. Trust your instinct, remember why you're writing this story and give yourself time. Everything else will come.
Image credit: John Aitken