Bring your story to life – Cathy Rentzenbrink on memoir writing
It's said that we all have a book inside us – the story of our life. Bestselling writer Cathy Rentzenbrink shares her advice on how to put your life down on the page.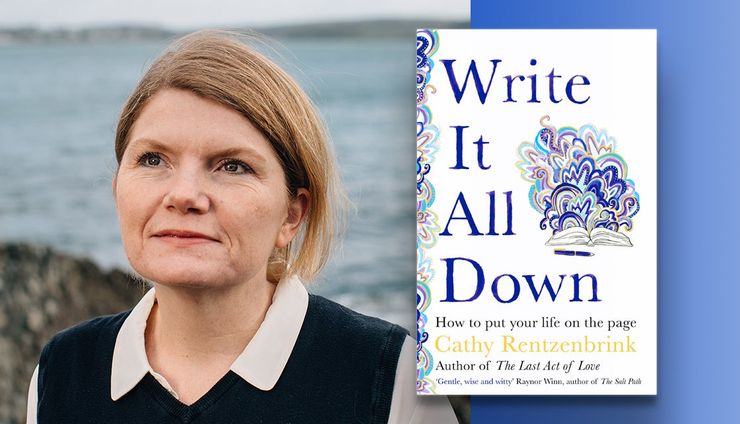 With her new book Write It All Down, bestselling author Cathy Rentzenbrink shares secrets and stories about how to bring a memoir into the world, whether you are a seasoned author or you're nervously contemplating putting your story in writing for the first time. Here, Rentzenbrink shares her own writing story – of how an early loss and tear-stained notebooks helped create her first book The Last Act of Love. 
Is there a book in you? Do you have an urge to express yourself that runs alongside a fear that no-one will care, or that you might get in trouble if you say what you really think? Perhaps it is all too overwhelming and you are exhausted when you even try to imagine the skills and stamina you'd need to tame the noise in your head into lots of words that make sense and are in the right order. 
I was stuck like this for years. I wanted to write a novel from almost the moment I knew what one was, but never got further than chapter seven. Part of the problem was that I was unable to move past the death of my brother, Matty. I didn't want to write about him, but couldn't write about any else for very long before he would arrive on the page. Eventually, after a couple of decades of trying and giving up, I just did it. It was incredibly hard but I managed to commit to just writing it out of myself without worrying about what anyone would think. All those tear-stained notebooks did become – after much editing – my first book: The Last Act of Love. 
And then I wrote more books and started teaching. What people most wanted to know was how I got from being impossibly stuck to being someone who finishes things. I would ponder this and try to explain and my students would say, you should write all this down and so I did. And Write it all Down is the easiest book I've written – still not easy – because I have been so aware of YOU, dear writer, and so hopeful that I can share all the things I have learnt that move me out of being paralysed by fear and into feeling bold enough to give it a go.
I never find writing easy but I think that's why I have something to offer. I remember the horrors of learning to drive and how my instructor would be impatient with my inability to manoeuvre the car. I thought then that I didn't need a teacher who found driving easy, I needed one that knew it could be hard. So that's what I focus on, sharing all the ways I get over the self-doubt, cope with my constant desire to procrastinate, get bogged down in the big questions, cry myself to sleep over the very word 'structure,' and yet have managed to publish five books in the last seven years.
One of the things I advocate is having treats and rewards to look forward to and, towards the end of my first draft of Write It All Down, I promised myself that when I finished I could get in touch with some of the memoirists I admire and ask for their advice about writing to create an inspiring addendum for the end of the book. This pleased me a lot, propelled me through the final stages, and brightened up my life no end when I started to get generous and stimulating responses. 
So I am delighted to share some of that advice with you here. And a final thought from me is that you should just do it. Park all your worries, start small with a few minutes a day, and just get moving your hand across the page. You might be surprised by what happens next.
More advice Cathy collected in Write It All Down: 
'Decide how much you want to put on the page before you start and stick to it – some things will be too personal, or will be stories that belong more to other people than to you. It is your book, your reflections and memories, and you can include as much or as little as you want.'

Kate Mosse, author of An Extra Pair of Hands
'My advice is to turn to yourself with self-compassion. You might need fierce compassion as well as tender compassion to keep going, but take out the 'shitty committee' and bring in the love, and what is hard will become more bearable.'

Julia Samuel, author of Grief Works
'You will discover the real reason to write a memoir after you have written it. Everyone seems to think a memoir is about your entire life. A memoir could be about one day in your life.'

Lemm Sissay, author of My Name Is Why
'Some chapters, some scenes will floor you and unexpectedly so. Write it all down while it's still raw and messy and uncomfortable. All that energy will be there on the page and it might turn out to be some of your best writing.'

Kit de Waal, author of My Name is Leon
'To be afraid of pouring yourself onto the page is a given. But try not to push that fear away, or tell yourself that it's not okay to be scared. Welcome it. To be afraid is to feel, and to feel is to be alive.'

Candice Carty-Williams, author of Queenie