Cooking on a budget: tips from Pinch of Nom
Four brilliant money-saving tips from the phenomenally successful food writers.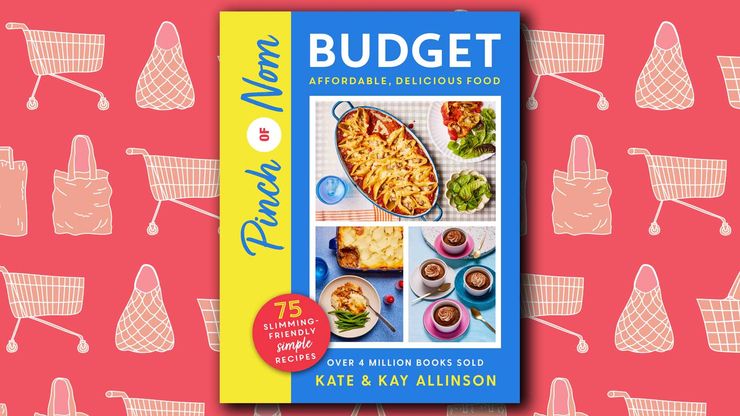 Pinch of Nom Budget, the latest book from the bestselling Pinch of Nom team of Kate and Kay Allinson, is bursting with slimming-friendly meals and desserts that bring all the flavour for a fraction of the cost. Here, Kay shares her top tips for budget-savvy shopping and cooking. 
When it comes to putting food on the table, it can feel like a juggling act of balancing nutrition, convenience, cost and time. With all those plates spinning, something's bound to drop! There's no escaping rising supermarket prices, and when healthy, fresh ingredients seem to be more expensive than other less nutritious options, it's no wonder we're often asked for tips on how to eat well, for less. 
The good news is that it's absolutely possible to dish up delicious, well-balanced meals without breaking the bank. If you're after thrifty tips and helpful kitchen hacks…you've come to the right place. 
Pinch of Nom started out as an online hub for Kate and me to share our recipes with a small group of friends and family – and then it grew, and grew, and grew! Today, our Facebook group is a bustling community of almost one million people; and there's nothing they love more than a budget-friendly tip. We've rounded up a few of our most helpful hints to help cut costs in the kitchen, make your weekly food shop last longer and – most importantly – fill your days with tasty food that you look forward to eating. 
Tip #1 – Buy whole ingredients
Life is busy. That's why we know it's oh-so-tempting to grab the bag of ready-grated cheese, the pre-chopped onions or the peeled and sliced veggies. There's no denying they'll save you a few precious minutes when you're making dinner, but they'll also ramp up the cost of your big shop. 
Wherever possible, try to pick up the whole version of the ingredient – whether that's a full block of reduced-fat cheese or a jumbo bag of carrots. If you meal plan ahead of time to make sure nothing goes to waste, you'll be impressed by how many pennies you can save. 
You'll notice the difference most when it comes to buying meat. If you're planning more than one chicken recipe during the week, you'll save money if you pick up a whole chicken, rather than the individual cuts of breast, thighs or drumsticks. Make sure you use up every last bit! You can make a cracking stock from the carcass. 
Tip #2 – Make the most of your freezer
This one might just go down as our ultimate healthy-eating hack. Ever since the early days of PON we've been singing the praises of batch cooking. It's not always practical to be cooking from scratch every night, and that takeaway menu starts to look far more appealing when you're tired and hungry! On days like these, a homemade ready meal from the freezer will save you both money and calories. Win win! 
Freezing leftovers isn't just for batch-cooked meals though – it also goes for lots of fresh ingredients that you might otherwise end up throwing away. Keep an eye on your vegetable drawer and rescue any odd bits and bobs before they start looking a little sorry for themselves. We like to wash, peel and chop leftover vegetables, bag them up and label them with the date, before adding them into the freezer. They're ideal for throwing into the slow cooker to bulk out stews and soups. 
Don't forget about your fresh herbs! We love the vibrance they add to dishes, but we're often guilty of not using the whole bunch before those green leaves start to wilt. Chop them up, add them to a tray with some water and make yourself some herby ice cubes – you can throw them into practically anything for an instant flavour boost. Waste not, want not!
Tip #3 – Stock up your store cupboard
There are certain ingredients that you'll turn to time and time again. A well-stocked store cupboard means that you can rustle up plenty of thrifty recipes without nipping out to do a top-up shop. Herbs and spices, tinned vegetables, beans and pulses are all low-cost ingredients that can make for a hearty meal without costing the earth. 
It's well worth bearing in mind that tinned, dried and frozen fruits and veggies have just as much (and sometimes even more) goodness in them than their fresh counterparts. Save yourself a few pennies and you'll still get those all-important vitamins while working towards your five-a-day. 
The beauty of Pinch of Nom recipes (if we do say so ourselves) is that we like to keep our ingredients lists nice and simple – and we stick to inexpensive, easy-to-find, flavourful items that we know you'll use more than once. Whether it's a jar of harissa paste, a bottle of Worcestershire sauce or a low-calorie cooking spray, we guarantee you'll get your money's worth!
Tip #4 – Shop the yellow sticker aisle
Who doesn't love a bargain? Get to the supermarket at just the right time and you'll have your pick of the day's best reduced-priced goodies. From fruit and vegetables to meat and fish, these pocket-friendly finds are too good to miss! 
You'll probably discover that whatever you pick up is pretty close to its best before or use-by date, but don't be put off. You can either take it home and cook it right away (to eat or freeze for a rainy day) or stash it in the freezer as soon as you get in. As a general rule, meat and fish can be frozen for up to three months – just don't forget to store it correctly and label it with the date it was added to the freezer. Future you will be so grateful for all those penny-saving bargains!