Pinch of Nom's Christmas Meatbaubles
Discover this amazingly easy recipe from Pinch of Nom, created from your favourite ingredients that you'd expect on your Christmas dinner plate.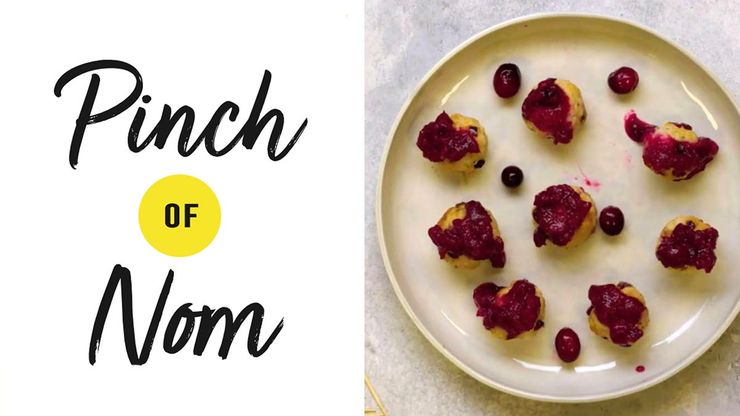 This is a super simple recipe combining two of the main ingredients from your Christmas dinner plate. We've used low fat turkey mince, zesty orange and juicy cranberries to create these Christmas-inspired meatballs that are a great addition to your festive menu.
Total time

35 minutes

Prep time

10 minutes

Amount

8

Ingredients

For the meatballs: 500g 2% fat turkey mince
40g dried cranberries - finely chopped
20g panko breadcrumbs
1 tsp orange zest - finely grated
1/4 tsp garlic granules
1/4 tsp onion granules
1/4 tsp dried parsley
salt and pepper - to taste
low-calorie cooking spray
For the sauce: 155g frozen cranberries
100ml orange juice
100ml cranberry juice
2 tbsp white granulated sweetener
2 tsp orange zest - finely grated
1g fresh parsley - stalks removed and roughly chopped - to garnish
Preheat the oven to 190ºC and spray a baking tray with low-calorie cooking spray.
Add the meatball ingredients to a mixing bowl and mix to fully incorporate.
Split the mixture into 24 small meatballs about 3cm in diameter and add to the baking tray. Cook in the oven for 25 minutes until thoroughly cooked through and there are no signs of pinkness inside.     
While the meatballs are cooking add the cranberries, orange zest, sweetener, orange juice and cranberry juice to a saucepan. Set on a low-medium heat and bring to a boil, lower the heat and simmer for 10 minutes until thickened and reduced.
Once the meatballs are cooked, sprinkle with parsley and serve with the dipping sauce. 
Discover more slimming and flavourful recipes in Pinch of Nom's new cookbook: