Pinch of Nom's festive food swaps to keep you eating healthily over Christmas
Founders of the UK's most-visited food blog, Pinch of Nom, share their favourite easy swaps and Christmas recipes to keep you on your slimming journey without taking the fun out of the festivities.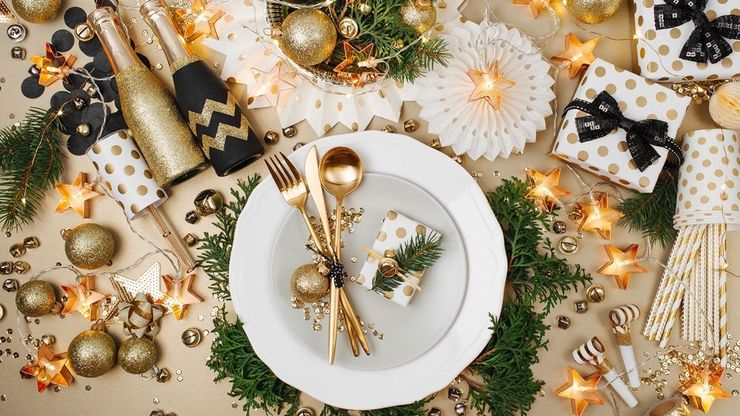 Pinch of Nom is the UK's most-visited food blog, and co-founders Kay Featherstone and Kate Allinson are the authors of the Pinch of Nom cookbook – the fastest-selling non-fiction book of all time, Pinch of Nom Everyday Light,  and Pinch of Nom Quick & Easy. So it's fair to say Kay and Kate are certainly experts at creating delicious, slimming recipes that keep people coming back for more.
The festive season brings with it a spirit of indulgence. But Kay and Kate firmly believe that with their easy swaps and Christmas recipes, you can embrace the festivities whilst staying on track on your slimming journey. The Pinch of Nom Everyday Light Food Planner will help you stay organized and motivated no matter the time of year. Here, Kay and Kate share their top festive healthy food swaps and their favourite Pinch of Nom recipes for Christmas to help you make healthy food choices throughout December. ​
It's very easy to fall off the wagon at Christmas with all the fantastic food and drink on offer. Whilst it may be tempting to abandon the slimming diet until after the festive period, it's easier than you think to stay on track. We are all for enjoying indulgent Christmas food in moderation, but there are some really easy ways to keep healthy alternatives in your diet too.
Here are some of our top festive substitutes to keep you on track throughout December:
Load up on the festive veg
As tempting as it may be to go heavy on the pigs in blankets and stuffing balls on Christmas Day, take a look at what festive veg you can fill your plate up with instead. Sprouts, parsnips and carrots are all much healthier options, especially when the average pig in blanket will cost you 60 calories per piece!
Watch out for anything cooked in butter or sauces – if you are looking for the healthiest option, go for boiled vegetables and top with our slimming-friendly gravy.
Skip the calorie-laden cocktails for lighter versions
Liqueurs such as Baileys or Drambuie are a popular choice at Christmas, but they are high in calories, especially when consumed in excess.
It's not all bad news though! If you like to have a tipple over the Christmas period, there are some simple swaps you can make.
Stick to spirits such as vodka, rum and gin which only contain approximately 50 calories per shot, and swap sugary mixers for soda water or Diet Coke. Cocktails such as our Woo Woo or Elderflower Gin Fizz always go down well!
Be savvy when snacking
Snacking is often our downfall at Christmas, it's very hard to keep track of how much you have eaten when picking at bowls of crisps, cakes or sausage rolls at a buffet.
If the temptation to stay away from the snack table is too much, stick to a handful of unsalted nuts or crudités such as carrot sticks, cucumber or celery.
Alternatively, we have lots of slimming-friendly Christmas party food on our website.
Swap chocolate-based desserts for fruit
As much as we love a yule log or profiteroles smothered with cream – these aren't very slimming-friendly. Luckily there are so many great-tasting options when it comes to adding fruit to your puddings, such as these spiralized apple nests or this amazing fruit Christmas tree!
Or if you are really stuck, stick to a bowl of fresh fruit and add a dollop of sweetened quark on the side!
Swap pastry for tortilla wraps
One of our favourite slimming 'hacks' is to use tortilla wraps in place of pastry. It sounds crazy but it really works and we think our recipes often taste better than the real thing!
There are so many ways to be able to enjoy your favourite Christmas treats, such as these mince pies or apple strudels. The trick is to use an egg wash on the wraps before baking, this will ensure your 'pastry' comes out glossy, crispy and oh so tasty.
Ditch the brandy butter for our slimming-friendly version
If you can't bear the thought of having to eat your mince pies without brandy butter or cream, we have you covered! Our slimming-friendly brandy sauce is boozy, creamy and feels so indulgent. In fact, you'd never believe it was only 47 calories per portion. It tastes amazing and goes great with all your festive faves!
You can take a look at some of our other Christmas recipes on the Pinch of Nom website, and don't forget to tag us on Facebook, Instagram and Twitter using #pinchofnom.