Spotlight on: Vanessa Nakate, Ugandan climate activist and founder of Youth For Future Africa
As A Bigger Picture by Ugandan climate campaigner Vanessa Nakate is published, we take a closer look at her incredible achievements and what motivates her calmly expressed but deeply felt activism.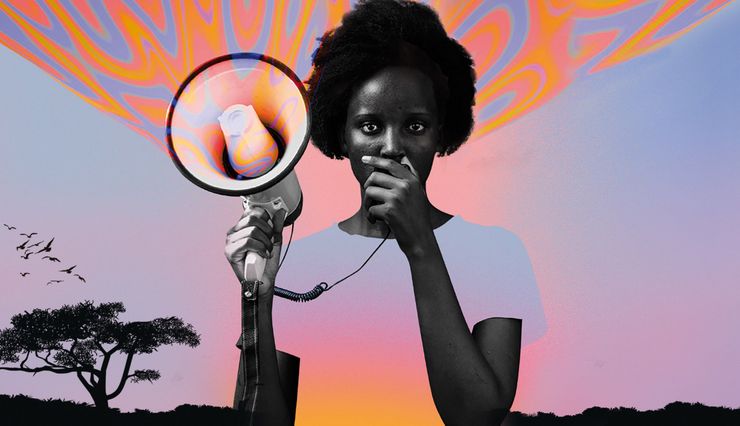 In East Africa, where Nakate lives, communities are experiencing higher temperatures, increased flooding and more landslides. But with so much media focus elsewhere, she felt compelled to speak out about the effects of climate change on the Global South. In January 2019, she conducted a solitary strike outside of Uganda's Parliament to protest government inaction on climate issues. Despite protesting alone for several months, other young people began to respond to her calls to action on social media, eventually forming the Youth for Future Africa movement.
Nakate's profile has grown ever since and now, aged just 24, she has been interviewed for Time magazine by Angelina Jolie, and listed as one of their top 100 most influential people. From intersectionality to climate justice to media bias, we find out what motivates Nakate to write and to act. 
During the 2021 COP climate conference in Glasgow, political posturing dominated the headlines. But many asked if leaders of developed nations – being implicated in causing the climate crisis in the first place – are best placed to solve it. Voices like Vanessa Nakate's must be heard, as they are essential in representing the global south: the area of our planet already being disproportionally hit by the disastrous effects of climate change.
Nakate is well placed to be at the centre of the conversation, having seen the impact of the crisis in her home country of Uganda, which has one of the fastest-changing climates in the world. Growing up in Kampala, she was alarmed by feeling the increase in temperature around her, and describes seeing bodies being collected in the streets after torrential rains. She says, 'In the past few years, I have seen more and more of how the climate crisis is affecting the African continent. Which is ironic given that Africa is the lowest emitter of carbon dioxide emissions of all continents, except for Antarctica . . . Many Africans are losing their lives, while countless more are losing their livelihoods.'
People at the very frontline of the climate crisis are not on the front pages. Speaking about Madagascar, which is suffering climate-induced famine due to years of no rainfall she says, 'How long are we to watch them die of thirst in the droughts? And gasp for air in the floods? What is the state of the hearts of the world leaders who watched this happen and allow it to continue? Our leaders are lost and our planet is damaged.'
The harm felt in the global south has a particular impact on women and girls. Nakate describes how in her culture women are taught never to climb trees because it is unfeminine, so when floods come they don't have the most basic means of defence. She also speaks of families giving up their girls to early marriage, because they have lost everything to the climate crisis.
Nakate's own activism as a response to these overwhelming issues is practical and more importantly, impactful. She founded Youth for Future Africa and the Rise Up Movement, with the goal of both organisations being to amplify the voices of Africans who are normally ignored in conversations about climate, to create opportunities for new speakers to come through, and to make sure world leaders hear their words and thoughts on climate. Nakate has also led strikes outside the Ugandan parliament to protest inaction on climate change, and started a project to use solar power and institutional stoves in schools.
'Loss and damage is here with us now . . . No more empty promises, no more empty summits, no more empty conferences. It's time to show us the money. It's time, it's time, it's time. And don't forget to listen to the most affected people and areas.'
Speaking at the 2021 COP26 summit, Nakate sends a message that we can not have climate justice without racial and social justice. Any action we take must acknowledge that terrible damage is already being felt right now.