Emma Donoghue on The Wonder
Bestselling author of Room, Emma Donoghue, discusses the historical cases of 'fasting girls' that inspired her new novel.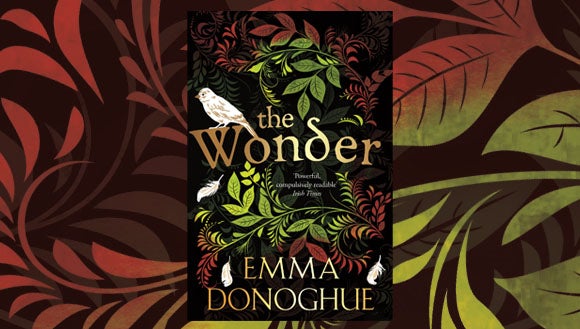 The Wonder, the latest novel from the bestselling author of Room, Emma Donoghue, is a psychological thrillerinspired by numerous European and North American cases of 'fasting girls' between the sixteenth century and the twentieth. We spoke to Emma about the historical accounts that inspired her new novel.
I came across the 'fasting girl' phenomenon back in the mid-1990s - so long ago that I can't even remember where I first read about these fasters, mostly girls and young women but occasionally older women or men. (It may have been during background research for 'Revelations', a story I published in 2002 about an eighteenth-century Scottish cult who stopped eating in preparation for the End Times.)
I was instantly intrigued by these cases, which seemed to echo medieval saints starving as an act of penance, and also modern anorexics, but weren't exactly the same as either.
I thought it said a lot about what it's meant to be a girl - in many Western countries, from the sixteenth century right through to the twentieth - that these girls became celebrities by not eating. Paradoxically, they got power - attention, fame, sometimes fortune - by being weak and self-sacrificial, the ultimate in meek femininity.
But I never found one real case that rang that little bell in me, telling me this was the story I had to tell in a novel. Some were too tragic, even for a writer with my dark tastes; Sarah Jacob, for instance, a little girl died while being 'watched' by nurses in 1869. Some were low comedy, such as the case of Ann Moore, exposed as a cheat in 1813.
A couple of years ago it occurred to me that if I was still so fascinated by the fasting girls, two decades on, I should drop my usual method of writing a historical novel based on one real case, and let myself invent a story that would have in it everything I wanted to explore about this phenomenon.
I'd set it in Ireland, of course - not just because that's my homeland, but because ever since the Great Famine of the 1840s, we've defined ourselves as a people intimate with hunger. I decided to set my story in the late 1850s, at a sort of hinge point between older interpretations of the fasters (magic, miracle) and the newer or more scientific theories (fraud, hysteria) that would lead to the coining of the term anorexia in the 1870s.
The 1850s was also when many Christians - sometimes prompted by Darwin's discoveries - began to question their faith, so it's a perfect moment for staging the battle between an agnostic and a mystic that animates The Wonder. The details of the novel may be about Catholicism, but what I urgently wanted to explore was fundamentalism and extremism more generally: what is it that makes an idealistic young person sign up to a system that may destroy them?
Ultimately The Wonder is a very personal novel for me, not only because it's about Ireland but because it's all about a relationship - one long, thoughtful, tender conversation - between a woman and a girl, and I put into it much I've learned from motherhood.