Our favourite Mother's Day poems
For Mother's Day, we've curated our edit of the most beautiful and moving Mother's Day poems.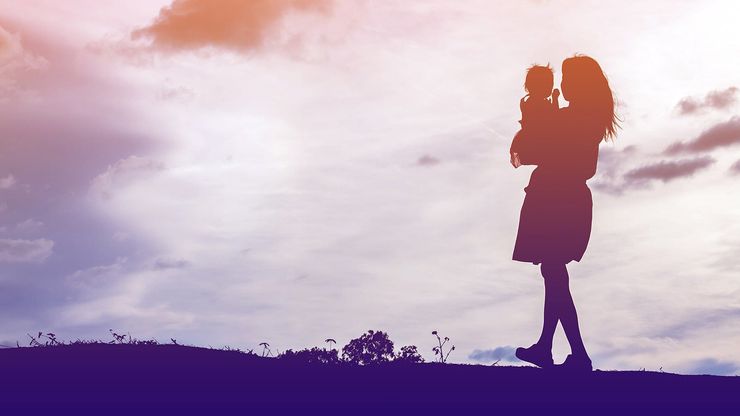 Mother's Day is a day to celebrate our mums and motherly figures in our lives. It's a day to show how much we care, or remember those who are sadly no longer with us. Our edit of the most beautiful poems for Mother's Day is full of verses perfect for sharing on Mothering Sunday.
Discover our edit of the best poetry books.
Mothering Sunday
George Hare Leonard
It is the day of all the year,
Of all the year the one day,
When I shall see my Mother dear
And bring her cheer,
A-Mothering on Sunday.
And now to fetch my wheaten cake,
To fetch it from the baker,
He promised me, for Mother's sake,
The best he's bake
For me to fetch and take her.
Well have I known, as I went by
One hollow lane, that none day
I'd fail to find - for all they're shy -
Where violets lie,
As I went home on Sunday.
My sister Jane is waiting-maid
Along with Squire's lady;
And year by year her part she's played,
And home she stayed
To get the dinner ready.
For Mother'll come to Church, you'll see -
Of all the year it's the day -
'The one,' she'll say, 'that's made for me.'
And so it be:
It's every Mother's free day.
The boys will all come home from town,
Not one will miss that one day;
And every maid will bustle down
To show her gown,
A-Mothering Sunday.
It is the day of all the year,
Of all the year the one day;
And here come I, my Mother dear,
And bring you cheer,
A-Mothering on Sunday.
From A Poem For Every Day Of The Year
Mother O' Mine
Rudyard Kipling
If I were hanged on the highest hill,
Mother o' mine, O mother o' mine!
I know whose love would follow me still,
Mother o' mine, O mother o' mine!
If I were drowned in the deepest sea,
Mother o' mine, O mother o' mine!
I know whose tears would come down to me,
Mother o' mine, O mother o' mine!
If I were damned of body and soul,
I know whose prayers would make me whole,
Mother o' mine, O mother o' mine!
To My Mother
Robert Louis Stevenson
You too, my mother, read my rhymes
For love of unforgotten times,
And you may chance to hear once more
The little feet along the floor.
Sonnets Are Full of Love
Christina Rossetti
Sonnets are full of love, and this my tome
Has many sonnets: so here now shall be
One sonnet more, a love sonnet, from me
To her whose heart is my heart's quiet home,
To my first Love, my Mother, on whose knee
I learnt love-lore that is not troublesome;
Whose service is my special dignity,
And she my loadstare while I go and come
And so because you love me, and because
I love you, Mother, I have woven a wreath
Of rhymes wherewith to crown your honoured name:
In you not fourscore years can dim the flame
Of love, whose blessed glow transcends the laws
Of time and change and mortal life and death.
Rock Me To Sleep
Elizabeth Chase Akers Allen
Mother, dear mother, the years have been long
Since I last listened your lullaby song:
Sing, then, and unto my soul it shall seem
Womanhood's years have been only a dream.
To My Mother
Edgar Allan Poe
Because I feel that, in the Heavens above,
The angels, whispering to one another,
Can find, among their burning terms of love,
None so devotional as that of "Mother,"
Therefore by that dear name I long have called you—
You who are more than mother unto me,
And fill my heart of hearts, where Death installed you
In setting my Virginia's spirit free.
My mother—my own mother, who died early,
Was but the mother of myself; but you
Are mother to the one I loved so dearly,
And thus are dearer than the mother I knew
By that infinity with which my wife
Was dearer to my soul than its soul-life.