The Secret Barrister announces a new book
Publishing on 12 May 2022, Nothing But The Truth: Stories of Crime, Guilt and the Loss of Innocence, will be the third book from the Sunday Times bestselling anonymous author, The Secret Barrister.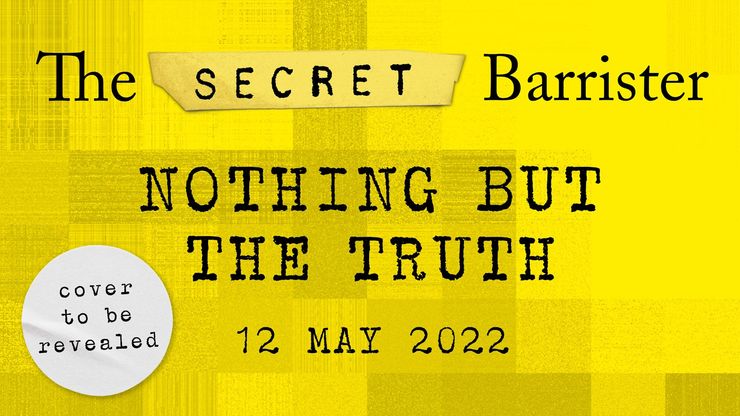 Nothing But The Truth charts an outsider's progress down the winding path towards practising at the Bar, taking in the sometimes absurd traditions of the Inns of Court, to the Hunger Games-style contest for pupillage, through the endlessly frustrating experience of being a junior barrister – as a creaking, ailing justice system begins to convince them that something has to change . . .
Full of hilarious, shocking, and surprising stories from their working life, Nothing But The Truth tracks the Secret Barrister's transformation from hang 'em and flog 'em, austerity-supporting twentysomething to campaigning, bestselling, reforming author whose writing in defence of the law is celebrated around the globe. It asks questions about what we understand by justice, and what it takes to change our minds. It also reveals the darker side of working in criminal law, and how the things our justice system gets wrong are not the things most people expect.
Andrea Henry, Editorial Director at Picador, comments:
'What a privilege to be working with The Secret Barrister for their third book. This is a really fresh look at the law and life, a wonderfully entertaining and eye-opening romp through a young barrister's journey that's full of surprises. Here's a very special writer who's going from strength to strength.'
The Secret Barrister says:
'There is often a chasm between what the public expects from our criminal justice system, and the views held by those who work in the legal profession. As somebody whose strongly-held opinions have over time jumped across that divide, I am tremendously excited to explore what it is about exposure to the criminal justice system that leads to one particular worldview, and how we might reconcile our shared ideas about justice.'
Follow @BarristerSecret on Twitter who announced the news on 16 December 2021.