Everything you need to know about the Theranos scandal
Your questions about Elizabeth Holmes and the Theranos scandal answered.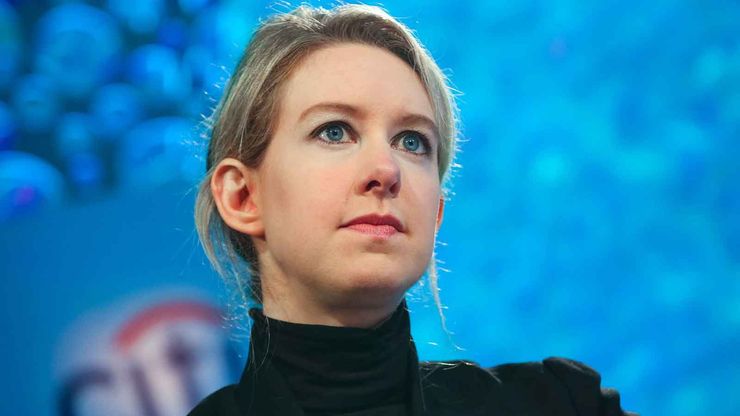 The Theranos scandal has dominated headlines, and both fascinated and appalled readers worldwide, since John Carreyrou's shattering report first broke in 2015. With company founder Elizabeth Holmes now in prison after losing a bid to remain free while she appeals her convictions and eleven-year sentence, we reveal everything you need to know about the Theranos controversy. Read on for the full story to date and what is set to unravel next.
In 2014, Theranos, a blood-testing startup pitching a supposedly revolutionary technology, was flying high. While existing technology required one vial of blood for each diagnostic test conducted, Theranos claimed to be able to perform hundreds of tests (supposedly over 240) ranging from cholesterol levels to complex genetic analysis, with just a single pinprick of blood. Automated, fast and inexpensive, Theranos seemed to be offering technology that could revolutionize medicine and save lives the world over.
Elizabeth Holmes, founder and CEO of Theranos, had famously dropped out of Stanford to found the company using her tuition money, and was just 30 when Theranos was at its peak. Having raised over $700m in investment from the likes of Larry Ellison and Tim Draper, the company had become the rising star of Silicon Valley and was valued at over $9 billion, while Holmes, with a share of more than half that, was heralded as the female Steve Jobs.
The only problem? The technology didn't work.
It was John Carreyrou, twice-Pulitzer-prize-winning journalist of The Wall Street Journal who first broke the story in 2015. Having received a tip doubting the performance of the Theranos technology, John's interest was triggered further by Holmes's purported ability to invent ground-breaking medical technology after just two semesters of chemical engineering classes at Stanford . . .
Despite intimidation and threats of legal action, former Theranos employees Erika Cheung and Tyler Schultz, whose Grandfather George Schultz was a member of the Theranos board, began sharing their experiences of the company, its technology and practices with John. They revealed lies to board members, a culture of intimidation and secrecy, technology that repeatedly failed quality assurance and crucially, results sent to real patients that were fundamentally incorrect, upon which life-changing medical decisions were being made. It would seem that the company had been built on nothing more than audacious lies.
Thanks in large part to the information from Theranos whistleblowers, John was able to publish his report in The Wall Street Journal, revealing that Theranos was not using its own technology to run the majority of its tests due to the inefficiency of its own technology. FDA investigations ensued and all that was written in John's report was proven correct.
The reaction from Theranos was astonishing. At first, Holmes vehemently denied the claims made against her and the company. Theranos even threatened to sue John himself who became a perceived enemy to the company, with some Theranos employees even chanting 'Fuck you Carreyrou'.
Nonetheless, in 2018, Holmes stepped down as CEO and, alongside former company president Ramesh Balwani, was charged with criminal fraud, having allegedly misled investors and deliberately made false claims made about the efficiency of the company's blood testing technology.
Three months later the company officially shut down following investigation by the FBI, leaving thousands of former employees, many of whom John found to be talented people with integrity, unaware of the company's fraudulent activity, uncertain about their future. 
In January 2022, Holmes was found guilty on four charges of defrauding investors, and in November she was sentenced to over eleven years in prison. More information around the downfall of Theranos was revealed in the trial, with prosecutors accusing Holmes of destroying evidence in Theranos' final days in business. Testifying in her own defence, Holmes admitted to mistakes in Theranos' operation, but continued to maintain that she never knowingly defrauded patients or investors. Holmes is attempting to appeal her convictions and sentence, but lost her bid to remain out of prison while doing so, and is now behind bars. With so many twists and turns so far, it seems likely that the story isn't over yet.

In his award-winning book, Bad Blood: Secrets and Lies in a Silicon Valley Startup, John delves deeper into the truth of the Theranos scandal and the experience of his investigation. Meanwhile, the media continues its fascination with the company and its founder, with stories ranging from those challenging the authenticity of Holmes's famous baritone voice, to podcast The Dropout which is dedicated to the rise and fall of the Theranos empire. 
A TV adaptation of the scandal, also called The Dropout, came out in March 2022 internationally across Hulu and Disney+, and starred Amanda Seyfried as Holmes – for which she won a Primetime Emmy Award.
The scandal is also set to come to the big screen. The Inventor: Out for Blood in Silicon Valley; a documentary produced and directed by the Oscar-winning Alex Gibney was released in 2019 and a feature film is in development. Adam McKay (The Big Short) is attached to direct; Jennifer Lawrence confirmed to star as Holmes and Vanessa Taylor (The Shape of Water) to write the screenplay.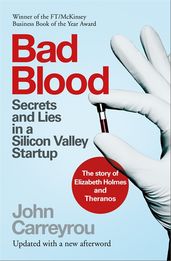 Looking for more? In this video, we share more books about real-life scandals that shocked the world: