Muhammad Khan on I Am Thunder
Muhammad Khan discusses Munza, the main character in his debut novel I Am Thunder.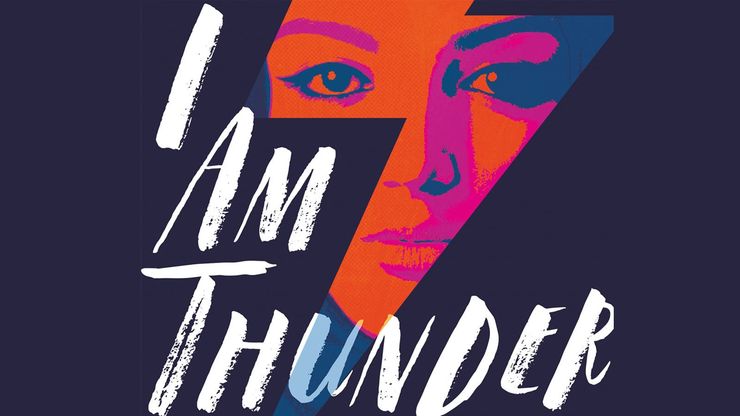 Fifteen-year-old Muzna Saleem's life has already been planned out for her by her parents. So no one is more surprised than Muzna when high school hottie, Arif Malik, takes an interest in her.  But as Arif begins to lead Muzna down a dark path, she faces a terrible choice. Here Muhammad Khan discusses Munza, the main character in his debut novel I Am Thunder.
I Am Thunder is Muzna Saleem's story told in her own words as she navigates through life, facing ever more complicated challenges on her way to becoming thunder. Along the way there are elements of Islamophobia and radicalisation but ultimately this is an uplifting tale about hope, first love and the power of the human spirit.
For the past seven years I have had the absolute privilege of teaching at girls' schools (including one year at a faith school). During this time I met many wonderful students who inspired the creation of Muzna. Sometimes these students were overlooked because they were unassuming and polite, content to quietly coast along in life. But these students had potential for greatness. Undoubtedly the most rewarding thing for any teacher is watching your students grow wings and take flight. I'm not crying, you're crying.
In I Am Thunder we first meet Muzna as a very young thirteen year old who still plays with dolls and is a hungry little bookworm. Being an only child, her parents are overly protective. Someday they hope Muzna will become a doctor and have access to all the comforts they never had. Muzna, however, really wants to be an author but like most kids, doesn't want to disappoint her parents either.
Muzna's best friend is sassy, streetwise Salma. Muzna cheers her on when she gets a boyfriend (something she'd secretly like to have too but knows her parents would freak). Unfortunately, Salma's fearlessness eventually lands her at the centre of a scandal. Muzna's parents quickly exercise damage control and end the friendship. Hurt by the loss of her only friend, Muzna begins to resent her parents.
Starting at a new school without her best friend/life coach/mentor, Muzna is forced to adapt. She begins to make friends from all walks of life. Two figures in particular leave lasting impressions on her. First there is English teacher extraordinaire, Mr Dunthorpe, who immediately recognises her writing talent, boosts her confidence and helps her find her own voice. Second is charismatic student, Arif Malik, who is not only off-the-scale Hot! Hot! Hot! but also intrigues Muzna with ideas about Islamophobia and media hypocrisy. Muzna's mind starts to expand and develop in new and exciting ways. Seeing the world with fresh eyes, she begins to form her own identity as a young British Muslim.
But what exactly is a British Muslim? Muzna discovers the answer to this question is multifaceted and expansive. But it can be difficult to form your own opinions when one voice shouts louder than the others, claiming to be the 'only true version of Islam' and condemning the rest to Hell.
As Muzna continues to mature, she is delighted to discover she has the power to effect change not only at school, but also in the outside world. As she enjoys her newfound freedom she uncovers a terrible secret – one that has far reaching repercussions and disastrous implications. Her brave new world begins to shatter and she is left facing an impossible decision: to stay quiet and betray her beliefs or to speak out and betray her heart.
I Am Thunder celebrates the fact that every last one of us has the potential for greatness no matter what the odds stacked against us. Muzna does not have magic spells or super powers at her disposal. She is neither beautiful nor of royal lineage. But what she does have is heart and it is more than enough to make the world a better place if she can learn to trust herself.
Let's stop thinking about all the stuff we don't have or can't do. Once Muzna gets beyond worrying about life's little inconveniences, she discovers she has all the talents she needs and then some.