How to create a kids reading corner at home that your children will love
Encourage your child to love reading at home by creating a cosy kids reading nook for them to call their own.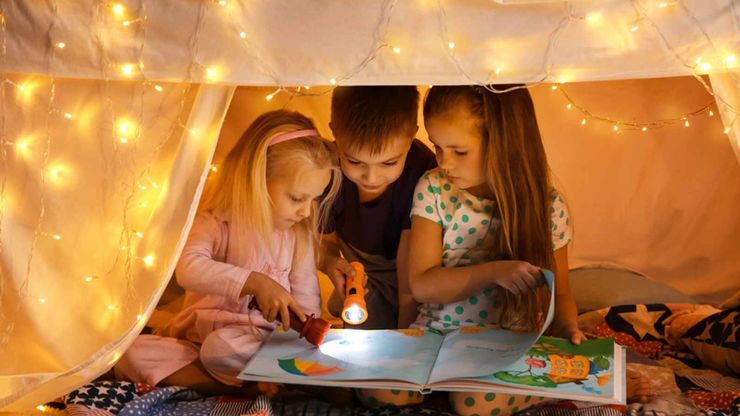 "You can find magic wherever you look. Sit back and relax all you need is a book!" – Dr. Seuss.
From toddlers enjoying a bedroom story to teenagers tearing their way through their newest read, every young reader will love having a reading nook. Read on for our tips for how to plan and create an inviting, device-free reading corner for your children that they (and you) will love spending time in. We bet it'll get even the most reluctant bookworms reading more than ever!
Find the perfect spot
Whether it's a wide windowsill, a corner of your living room, or an area in your child's bedroom, no matter how big or small your home you can find a spot for a children's reading corner. The simple addition of a pop-up tent or a fabric canopy will really make it feel like a kid's only zone! Just make sure it is as quiet and distraction-free as possible, has enough natural light for reading (or is close enough to a plug to add extra lights) and you've found the perfect space!
Make it cosy 
Creating a reading corner for kids doesn't have to be expensive. Before you start looking for new furniture, take a look around your home. Maybe you can use an unloved chair to create a cosy reading spot. Alternatively, with the addition of a cosy blanket and cushions, you can turn a forgotten beanbag or fold-up bed into a comfortable seat. If you need to find something new, take a look on eBay or Facebook Marketplace for people selling in your local area. Chances are you'll find what you're looking for to buy second-hand (and collect when government restrictions in your local area allow). Using preloved items is also better for the environment. If you want to buy new furniture, we recommend investing in neutral pieces so that you can change the look and feel of the reading nook as your child grows. 
Get lit
One of the most important things to factor in when creating your child's reading corner is the lighting. As well as stringing up colourful fairy lights to create a cosy ambience, install a brighter light so that your child isn't straining their eyes to read. A high angle-poise style light or a reading lamp fixed to the wall are ideal options. We love these whimsical cloud- and leaf-shaped children's lights from Ikea UK. 
Make it a family affair
The best way to get your child excited about reading in their new space is to get them involved in the planning. Spend some time together talking about what they'd like, and draw up a 'reading nook wishlist'. If you're planning to add some bookish decorations to your at-home reading corner, spend an afternoon getting crafty and make them together. 
Make it theirs 
With a little imagination, you can turn your child's reading corner into a scene from their favourite story. If your young reader is a fan of The Gruffalo, turn their reading space into the Deep Dark Wood with paper leaves and pictures of the book's characters. Or if you have a young sleuth in your midst, turn the space into a detective's investigation room, complete with a magnifying glass, deerstalker hat, and DIY fingerprint kit. Young animal lovers will love a jungle-themed reading space, complete with a slithering (plush) snake and colourful prints. The world is your oyster! 
Find more ideas for indoor activities to do with kids here
Fill it with books! 
Library books, picture books, activity books and chapter books, the more books in your child's reading corner, the better! Giving your child ownership of their bookshelf will make them feel more invested in their reading. Encourage them to keep a reading journal, where they record and rate the books they read in their nook! Once you can have visitors at home, your child could even start a lending library. All you need are bookplates (for you to write your child's name in their books to make sure they find their way back to you) and a 'library card' for them to record who has borrowed which book. Library fines are, of course, optional!