'Be kind to yourself': Marcus Rashford on getting back in World Cup form after Euro 2020
The inspirational England forward tells us what he learned from the Euros penalty shoot-out.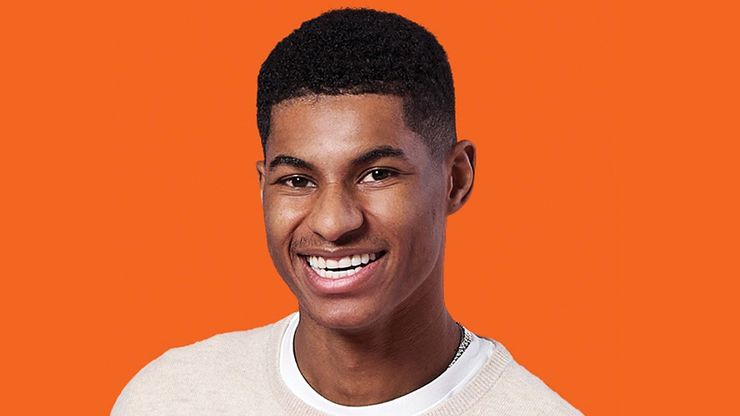 In this edited extract from You Can Do It: How to Find Your Voice and Make a Difference, written with Carl Anka, Marcus Rashford writes candidly about the Euro 2020 final against Italy, its aftermath and how showing kindness to yourself and others has a real impact. 
Late in 2020, I hurt my shoulder, badly, which made it hard for me to run without feeling pain in my arms. Then, early in 2021, I hurt my ankle too. My body was in a lot of pain, but I was trying my hardest to ignore it and carry on playing games for Manchester United and England.
Then, in June and July of 2021, I was at the UEFA European Championships with England. My shoulder still wasn't 100%, so I didn't play as much of the championships as I would have liked, but it was amazing to be part of the team – and that summer the England team were incredible.
To anyone who watched and supported England over the UEFA EURO 2020, I want to thank you from the bottom of my heart. 
Now, I don't like talking about that Final much, but I want to explain a little bit about what happened.
I was watching from the bench for nearly all of the game. It was so tense. When my friend Luke Shaw scored early I thought Wembley was going to erupt in sheer joy. The noise was like nothing I'd ever heard before! There were over 60,000 people in Wembley that day, most of them supporting England, and it really made me think that we were going to do it. That we were going to pull it off and win UEFA EURO 2020 . . .
But, unfortunately for us, Italy were just too good that day. They didn't panic, they kept winning the ball back and they controlled the pace of the game, until they eventually scored a goal, making the score 1–1. And in the last moments of the game, just before the penalty shootout, the England manager, Gareth Southgate, put me on.
I was nominated to take the third penalty for England. My kick would have taken England 3–2 up in the shootout and given us a big advantage for the remaining penalties.
Now, I don't normally get nervous when playing football. But that day, when I picked up the ball to take my penalty, I felt different, as if something was off. Maybe it was the emotion of the game. Maybe it was seeing how big the Italian goalkeeper – Gianluigi Donnarumma – looked in that goal. Maybe my shoulder was playing on my mind a bit too much. For some reason, my brain wasn't telling me 'Just try your best', like it normally did. Instead, it was saying 'You have to be perfect'.
'For some reason, my brain wasn't telling me 'Just try your best', like it normally did. Instead, it was saying 'You have to be perfect'.'
I tried a different penalty style from the ones I normally do. I did a stuttering run up, where I paused a little bit on my way to kick the ball, trying to get Donnarumma to move early and make the penalty easier. By the time I got to the ball to take my shot, Donnarumma had dived the wrong way . . . but my shot missed the goal by an inch, hitting the post and going wide.
It was the biggest game of my England career. The biggest game for the England team and England fans in 55 years. And in one of the most important moments I missed a chance to give us a lead. In the end, England lost that Final 3–2 to Italy.
After the game, I was overcome by emotions. I was angry. I was sad. I felt like a failure. I felt like I had let everyone down. And things got even worse the day after the final. I woke up to horrible messages from people all over the country who were frustrated and angry at everyone who had missed a penalty for England. A lot of the things that were said were horrible and racist – bringing up my skin colour and my background, and saying that was why I had let my country down. Some said that I should be kicked out of the country. Or that I missed on purpose because I am a Black man and I don't care about England. There is a painting of my face in my hometown in Manchester, and someone was so angry that I didn't score my penalty that they vandalised it. Seeing all that happen, I was numb. I even struggled to get out of bed for a few days.
Let me tell you, I love England, and playing for my country is one of the greatest honours I have had as a footballer. I can accept criticism if I've had a bad game, but some of the comments my teammates and I received after that final crossed a line, leading to one of the hardest weeks of my life.
'Let me tell you, I love England, and playing for my country is one of the greatest honours I have had as a footballer. '
Thankfully, in the days that followed, something amazing happened. Something that helped get me through. People from all over the country – people like you – travelled to the painting and left messages of support for me and my teammates. People reached out to the England team to say 'Thank you for reaching the Final', to tell us that they were proud of everything we had done. I got letters telling me to ignore the racist things people said, and instead to think about the good things that had happened during the competition. I can't describe what that meant to me. Those messages of support, the kindness that those people showed me, helped remind me of the kindness I needed to show myself to get better.
'Those messages of support, the kindness that those people showed me, helped remind me of the kindness I needed to show myself to get better.'
Even though I was tired from the season I wanted to get right back to it, to find a way to go back to being 100% in everything I do. But after talking with my friends, family, coaches at Manchester United and some doctors, I realised that trying to work through all the pain, both physically and mentally, wasn't the best way for me to look after myself, or the people around me. I wanted to get back to being 100% when I was playing football, but to do that I had to have some time being 100% Marcus. Just regular Marcus, who eats a bit too much sugar and loves wearing a tracksuit at home.
In the end, I made a decision to get some help and to take a break. It wasn't an easy decision – I knew that I would end up missing a lot of games for Manchester United by doing so. And late on in the summer of 2021 I went to the hospital to have surgery on my shoulder, and I wasn't able to play football for three whole months.
It took a little bit of time for me to get used to it. My arm was in a sling for a few days and I couldn't exercise or do all the things I normally do in my daily routine as a footballer. I'll admit I wasn't in the best of moods during that time. I didn't want to leave my bedroom or see my friends. I watched Manchester United start their new season from home, but, to be honest, that made me feel a little lost.
I felt pretty down for about five days after the surgery, but then I was able to start opening up to people around me. My brothers were a big help at the time. Even though I was doing everything the doctors told me to, I wanted everything to sort itself out quicker so I could go back to playing football. When I got frustrated Dwaine and Dane would step in and remind me to go easy on myself, and that my shoulder wouldn't be damaged forever. They would tell me to listen to my body and not to overdo things if I felt a little bit of pain, no matter how much I wanted to get back to how I used to be. They would check in on me and ask how I was doing every day, which in turn helped me to remember to look after myself.
There's this phrase, 'You have to walk before you can run', that is all about making sure you do things in the right order and at the right speed. I thought about that a lot when I was recovering. Slowly, I realised that the best thing I could do was to look after myself properly, so that when I did play again, I'd be the best possible version I could be.
'There's this phrase, 'You have to walk before you can run', that is all about making sure you do things in the right order and at the right speed. I thought about that a lot when I was recovering. Slowly, I realised that the best thing I could do was to look after myself properly, so that when I did play again, I'd be the best possible version I could be.'