Ann Cleeves' Two Rivers book series in order
The Long Call, the first novel from Ann Cleeves in crime fiction series, Two Rivers, has also been adapted as a four-part crime drama produced by ITV Studios label, Silverprint Pictures. Discover our guide to all of the books so far in the Two Rivers series.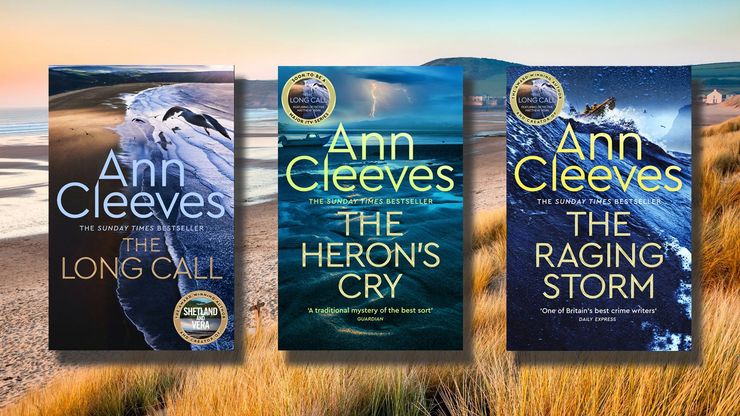 Set in North Devon, where the rivers Taw and Torridge meet, Two Rivers is a detective series from Ann Cleeves, author of the Shetland and Vera Stanhope books which both inspired hugely popular television adaptations. The Long Call, the first book in Ann's Two River series, followed in the same footsteps, with ITV releasing an acclaimed four-part crime drama series of the same name, starring Ben Aldridge as DI Matthew Venn.
When Detective Matthew Venn turned his back on the strict religious community he grew up in, he lost his family too. Now he's back. 
The Long Call, sees Matthew return to the Two Rivers region as his father's funeral takes place, not only to mourn him from afar but to take on his first major case in the area. A man has been found stabbed to death on a beach near Matthew's new home, and his team's investigation leads straight to the heart of the community he left behind, all those years ago. The second book in the series, The Heron's Cry continues Matthew Venn's story, with the third book The Raging Storm out in August 2023.
Ann Cleeves' Two River series books in order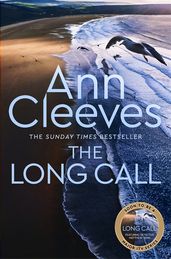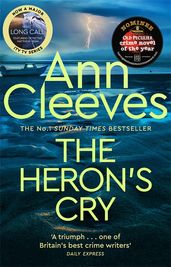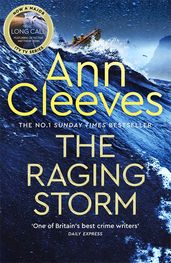 In this video, Ann introduces the characters of the Two Rivers series, including Detective Matthew Venn.
Here, Ann introduces the series itself, and tells us about her inspiration for writing it and what we can expect from Detective Matthew Venn.
What is the premise of The Long Call?
Ann: 'The new series features Inspector Detective Matthew Venn but I hope it will be more of an ensemble piece so we find out a little bit more about his colleagues, Jen Rafferty, who's a scouser who has escaped an abusive marriage and moved down to North Devon, and very much local boy Ross May.  
It starts with a body being found on Crowpoint, which is an eerie bit of beach that points into the torrid Torrent estuary and of course the team have to work out who the murderer is.'
What can we expect from the series and from Matthew Venn?
Ann: 'Matthew's coming home.  He grew up in North Devon and became estranged from his family because they're deeply religious and he's not. And its quite a difficult time for him because it's his first time back in North Devon, and he has to face this quite tricky case which involves some important people within the community.'
 How does Matthew Venn differ from Vera Stanhope and Jimmy Perez?
Ann: 'Matthew is quite a sensitive character I think. You certainly couldn't call Vera sensitive, he struggles to belong, he's had bad depression in the past, and coming back now to make a fresh start with a new partner, new house, new job and really wants to make a success of it. I think he's slightly frightened of failing and he lacks confidence and it takes his partner to give him that.'
 Your novels always have such a strong sense of place, what made you choose North Devon for this series?
Ann: 'I like really complex locations, places that hit you and strike you. Places that have different communities within them.  I grew up in North Devon so I know it quite well and I like that mix of cosiness – we think of Devon as having cream teas and thatched cottages and there is a little bit of that about it but there's more rugged and left behind than people realise and because it has Ilfracombe, an old-fashioned seaside town, with big hotels and guest houses, they've now become hostels for the homeless, places where drifters and transients come and go and I like very much that mix of different people.'
 What is most intriguing about the community you've created in the Two Rivers series?
Ann: 'It's the variety of different people who either grew up, born and bred in North Devon, or the people who are pulled into it.  It's a place where artists go – Damien Hirst has a famous statue on the pierhead at Ilfracombe. It's arty, you have young kids who are from public school who go there to celebrate their exams with surfing and frolicking on the beach and it's the interaction between these different communities which specially interests me.'
 Do you know how many books you'd like to write for this series as yet?
Ann: 'Not a clue. When I start a book I don't even know how that book's going to end so to try and work out how many books I've got to write – there will certainly be more books because I loved writing it. I was very, very excited to finish writing that one and to think more about what might happen to Matthew Venn next but I'm not sure yet whether it will run and run or whether it will just be eight books like the Shetland series.'
Do you know yet what will happen to Matthew Venn through the course of the series or do you let his journey unravel as you write?
Ann: 'Matthew's journey will unravel a bit as we go I think but I would love him to become more settled, more confident and happier as the books go on.'