Enjoy a Bee's Knees Christie Cocktail with The Christie Affair
To celebrate the release of The Christie Affair by Nina de Gramont, Silent Pool Gin share their take on the 1920s classic cocktail The Bee's Knees.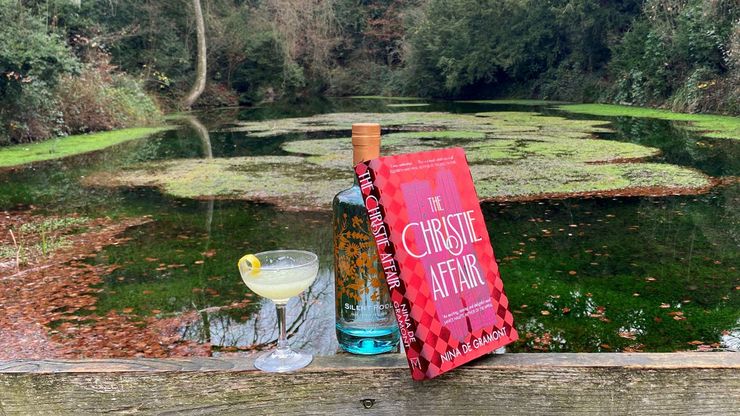 Based on the intriguing events of Agatha Christie's infamous eleven-day disappearance in 1926, The Christie Affair is an imaginative retelling of this real-life mystery, told from the perspective of Agatha's husband's mistress.
The manhunt to find the missing crime writer was triggered by the discovery of Christie's empty car, abandoned near the grounds of Silent Pool in Surrey. An atmospheric location shrouded in myth and legend, Silent Pool is now known across the country as the home of an award-winning gin distillery: Silent Pool Gin.
Silent Pool's signature gin is a classic gin at heart, full-bodied and fresh with depth, clarity and flavour. Produced with 24 botanicals that encapsulate the essence of the Surrey Hills, it's a rich and clean juniper-driven spirit with floral layers of lavender, chamomile, elderflower, rose and linden flower (all botanicals found growing around the banks of the Silent Pool). Fresh notes of citrus and kaffir lime within the gin are grounded by the subtle sweetness of local honey.
To complement the flavours of this delightful gin, Silent Pool recommend the following recipe for a simple, but delicious 1920s cocktail known as the Bee's Knees.
This bright, refreshing citrus-forward cocktail starts with a big hit of lemon, smoothed out and balanced by the use of local honey. The honey used in Silent Pool Gin comes from a beekeeper next door to the distillery, meaning it has a taste that's unique to this area.
When the Bees Knees cocktail was first created, honey and lemon were used to mask the rougher earlier forms of gin. However, its delicious flavour combination has stood the test of time and has long been thought of a gorgeous, refreshing well-balanced cocktail.
Total time

3 minutes

Prep time

3 minutes

Amount

1

Ingredients

60ml Silent Pool Gin
20ml Fresh Lemon Juice
20ml Honey Syrup
Pour 60ml Silent Pool Gin, 20ml Fresh Lemon Juice, and 20ml Honey Syrup into a cocktail shaker and shake.
Strain into a coupe glass
Garnish with lemon peel
Enjoy alongside a good book!
Pick up your copy of The Christie Affair as well as a bottle of Silent Pool Gin in this special bundle now, and unravel the novel's mystery while you unwind with this classic 1930s cocktail.