The Amsterdam Amsterdammers rarely see
David Hewson tells us how the hidden gems of Amsterdam featured in his latest novel, Sleep Baby Sleep.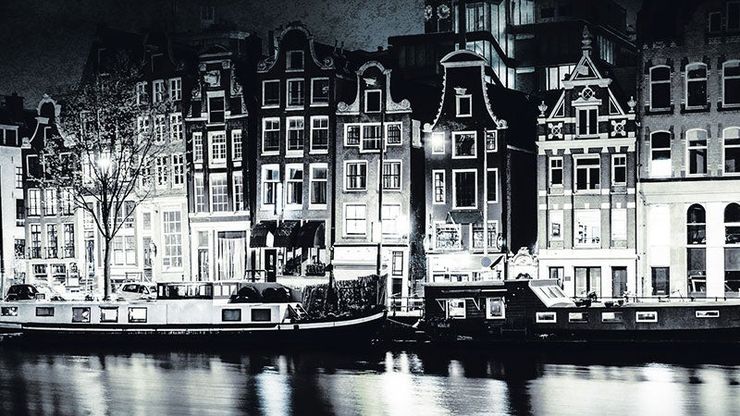 From graveyards to docklands, street markets to skyscrapers, these often-overlooked places can become vital backdrops in a novel. David Hewson tells us how the hidden gems of Amsterdam featured in his latest novel, Sleep Baby Sleep.
One of the funny things about writing stories set in someone else's cities is how much you see and the locals don't. Whether it Rome, with the Costa series, or Copenhagen with The Killing books I always found that my local editors would pick up something in the manuscript and say: but it's not like that really, is it?
Then, if we had the chance, we'd go out and take a look at the real-life aspect of the city I was writing about. And ninety times out of a hundred it would turn out I'd seen something that they, as locals, never noticed.
With the fourth book set in Amsterdam, Sleep Baby Sleep, I stumbled upon something that really set me rocking on my heels. And amazingly enough, quite a few Amsterdammers don't know it's on their doorstep. It's a cemetery, Zorgvlied, set by a sleepy stretch of the Amstel river as it winds its way out of the city. A big cemetery, so lots of people have heard of that. But what they rarely get to notice is a corner of it called Paradiso which is a graveyard quite unlike any you've ever seen.
Amsterdam's alternative culture has adopted this little patch of earth as its own. There are photos and statues, musical instruments and paintings, all manner of arty testimonials to lost loved ones that would surely raise municipal eyebrows if they ever were attempted in stuffy England. It features in the fast-moving opening sequence of the story when Pieter Vos's beloved wire fox terrier Sam is kidnapped in strange circumstances (fear not, Sam is found safe and well if a bit scared — I'm not daft enough to harm a dog).
After that, the story focuses on two very local parts of the city well away from the Red Light District which is so often the focus of books written by foreigners using Amsterdam as a canvas. The first is the extraordinary street market of Albert Cuyp in the working-class neighbourhood known as De Pijp. This is a bit of Dutch Shoreditch, an area getting rapidly made trendy, to the discomfort of some locals who are struggling with the change. The Schrijver family who are at the heart of the story are in just such a position. They've been running a flower stall in the market for years. But business is bad and Bert, the father who's responsible for it, is not the best trader in the world. Matters take a turn for the worse when his daughter is kidnapped the night Sam vanishes, seemingly by a murderous date-rape gang the police thought were already behind bars.
Bert and his family are very ordinary Amsterdammers, suspicious of most everything, especially the police. Their struggle to make sense of their predicament is one of the engines of the tale — and perhaps goes to places you wouldn't normally find in a crime story.
The second area of focus is not far from Zorgvlied, an area called the Zuidas, once mainly marshland, with a lovely park on its doorstep that has a big role to play. But now this is Amsterdam docklands, a new financial centre and probably one that, with Brexit, we'll hear a lot about in the years to come. Skyscrapers are rising everywhere along with apartment blocks for an international financial crowd. Between De Pijp and the Zuidas lie the answers Pieter Vos must find to a mystery that seems to elude him at every turn.
To make matters more difficult he has to cope with a new, strict and somewhat vengeful boss who doesn't appreciate a bohemian police brigadier who lives on his own in a rundown boat on the Prinsengracht canal. It's a twisty, unusual story, I hope, and one that reveals a lot about the character of Vos and his colleagues, and the extraordinary and varied city where these tales have been set.
And if you find yourself in Amsterdam I highly recommend a trip out to Zorgvlied and the stretch of the Amstel where this story comes to a conclusion. You're just a few miles from the bustle of Dam Square but here the river winds gently past fields where cows graze and fishermen sit watching their floats. I like stories that go to places you wouldn't expect. I hope this turns out to be one of those.