The Murders at White House Farm: The story of the Jeremy Bamber investigation
Carol Ann Lee's The Murders at White House Farm is a true crime book which provides a gripping account of one of Britain's most notorious murder cases. The book inspired an ITV series starring Freddie Fox and Alfie Allen, and the first episode will air on Wednesday 8 January 2020 at 9pm.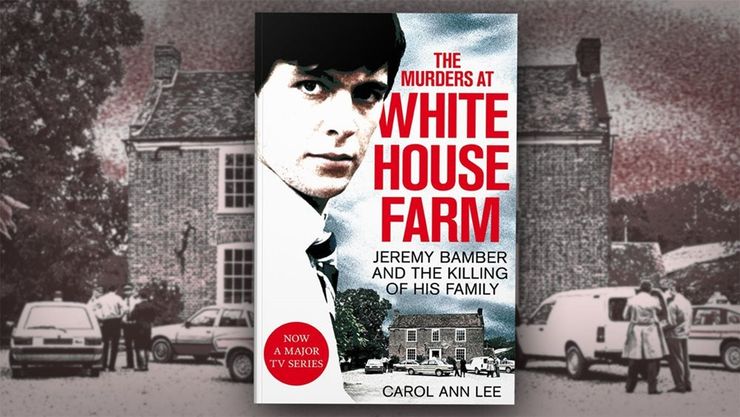 In the early hours of 7 August 1985, police were called to White House Farm, the Bamber family home, where Nevill and June Bamber were found shot and killed alongside their adoptive daughter Sheila Caffell and her six-year-old twin sons. The Bambers' adopted son, Jeremy, had contacted the police after apparently receiving a phone call from his father, who said that Sheila had a gun and had 'gone beserk'. Initially, it seemed to be an open-and-shut case of murder followed by suicide. The police and the coroner believed that Sheila, who had recently been diagnosed with schizophrenia, had shot and killed her parents and two sons before turning the gun on herself. But soon, new evidence from Jeremy's ex-girlfriend and reports of his strange behaviour at his family's funeral cast doubts upon the police's initial theory.
Who was convicted of the White House Farm murders?
In October 1986, Jeremy Bamber was convicted of murdering his entire family in order to inherit his parents' fortune. The murders at White House Farm shocked the nation and dominated the headlines for weeks. Following the court case, Jeremy Bamber was sentenced to life imprisonment with a minimum of twenty-five years to be served. This was increased in 1994 to a whole-life tariff.  Jeremy however, has always maintained that he is innocent. To date, he has lost two appeals against his conviction. 
Is Jeremy Bamber guilty?
To this day there is still controversy around the handling of the case and Jeremy Bamber's conviction, with ballistics experts claiming that there is evidence that directly points to Bamber's innocence which has been ignored, and a forensics expert also casting doubt on the evidence presented at the trial. The uncertainty of his guilt centres around a gun silencer with Sheila's blood on it which was presented as crucial evidence in the case. It was argued that the silencer would have made the gun too long for Sheila have been able to harm herself with it, thereby incriminatingJjeremy. However, Frank Ferguson, head of special crimes at the Crown Prosecution Service in 2018, raised concerns that two silencers were examined in the case, but only one was presented as evidence to the jury. Furthermore, gun experts have claimed that burn marks on the bodies were consistent with a silencer not having been used. 
This controversy around Bamber's conviction, as well as the horror of the murders, means that the public's interest in the case continues to this day. For those looking to learn more about the case, Carol Ann Lee's The Murders at White House Farm offers a definitive investigation into the murders. The book is an absorbing portrait of a family, and a gripping account of a terrible crime, which details years of tensions within the Bamber family and explores the background of the individuals involved and their interrelationships. Drawing on interviews and correspondence with those connected to the events, including Jeremy Bamber himself, as well as on previously unpublished documents, Carol Ann Lee presents a clear analysis of a complex case. 
Is there a TV series based on the White House Farm murders?
ITV have produced a six-part series called White House Farm which was inspired by Carol Ann Lee's The Murders at White House Farm. The drama tells the story of the events surrounding the murders which were committed almost thirty-five years ago. 
Who stars in White House Farm?
Freddie Fox will star as Jeremy Bamber, while Cressida Bonas will star as Sheila Caffell. The series also reunites Game of Thrones stars Alfie Allen (Theon Greyjoy)  as a friend of Bamber's, and Mark Addy (Robert Baratheon) as Detective Stan Jones.
When will the TV series White House Farm air?
The first episode of White House Farm will air on Wednesday 8 January 2020 at 9pm on ITV. The next five episodes will air at 9pm each Wednesday.