Ken Follett announces more details of his novel, Never, to be published in November
Following the announcement that a new Ken Follett novel is being rush-released by publishers worldwide in November 2021, Ken Follett tells us more about what we can expect from Never.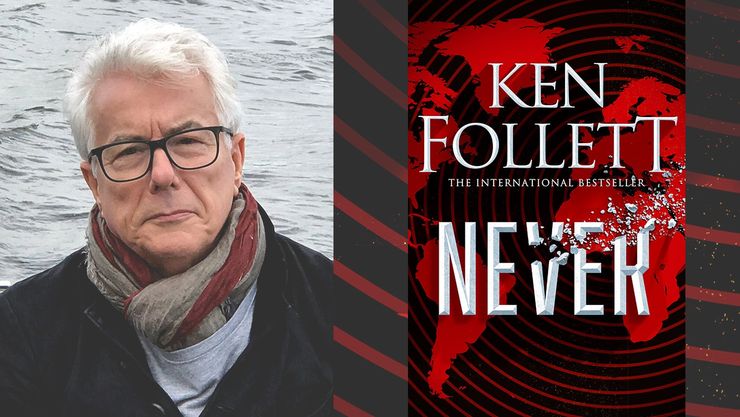 Ken Follett's new novel will come as a thrilling surprise to his millions of readers. 
The title, Never, marks it as a departure from Ken's hugely successful historical novels. Never is set in the present, and tells the story of a global crisis that threatens to lead to the outbreak of a third world war. The reader does not know whether world war will actually happen until the last page. 
More than a thriller, Never is rich in authentic detail, from the scorching heart of the Sahara Desert to the innermost chambers of power in the world's great capitals. 
Explaining the genesis of the book, Ken says: "When I was doing the research for Fall of Giants I was shocked to realize that the First World War was a war that nobody wanted. No European leader on either side intended it to happen. But the emperors and prime ministers, one by one, made decisions – logical, moderate decisions – each of which took us a small step closer to the most terrible conflict the world had ever known. I came to believe that it was all a tragic accident. And I wondered: Could that happen again?" 
Twice before in his 40-year career Ken has defied expectations – each time with triumphant results. 
In an era when it was almost unknown for a woman to be the hero of a thriller, he published Eye of the Needle, a wartime spy story whose protagonist is a young homemaker with a four-year-old child. 
After ten years of writing thrillers he again startled the book world with a massively researched novel about the building of a cathedral in the Middle Ages – The Pillars of the Earth, which has sold 27 million copies to date.
Never will be published in the US and the UK on 9 November, and on the same day or soon afterwards in most other countries.
Image credit: Barbara Follett