Ken Follett returns to Kingsbridge with new novel
The Armour of Light will be published worldwide on 26 September 2023.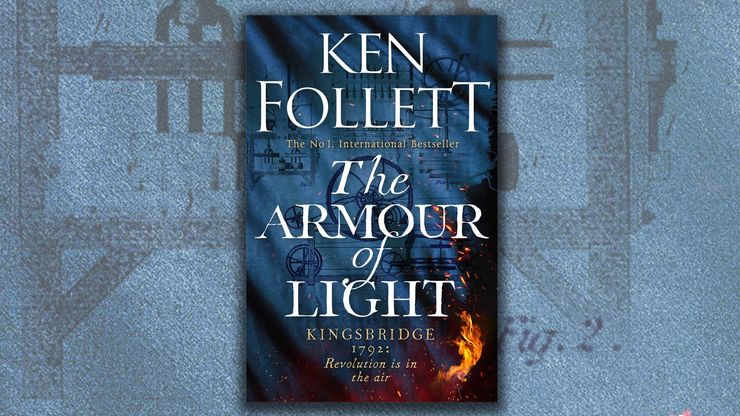 Ken Follett's new novel, The Armour of Light, will be published worldwide on 26 September. This absorbing, immaculately researched book returns to Kingsbridge, the village first introduced to readers in Follett's bestselling masterpiece The Pillars of the Earth. Set during the industrial revolution, this fifth Kingsbridge novel completes a wider eight-volume cycle that masterfully chronicles the last thousand years of Western civilization. 
The Armour of Light begins in the fictional town of Kingsbridge at the end of the eighteenth century. It tells of a group of linked families whose lives are turned upside-down by the new age of machinery. Follett's characters are involved in bread riots, strikes, and violent resistance to forced recruitment to the military. The British parliament meets protest with repressive new laws that make it a crime to criticize the government.
The strife and brutality of the Industrial Revolution is intensified by a twenty-three-year war between Britain and France – a war that reaches its climax at the battle of Waterloo. As always, Follett highlights the roles played by women in both peace and war. 
Follett's five Kingsbridge books plus the three in the Century trilogy are dramatic, page-turning bestsellers that, between them, chart the development of the West from the reign of Ethelred the Unready to the election of President Obama. The seven novels already published have so far sold a total of 76 million copies.
'I didn't plan it this way, I just scoured the past for exciting stories that showed ordinary people coping with the changing tides of history. And then I began to see that the novels stand together as a body of work. I'm fascinated by how people have struggled for freedom – and won. Most of my stories are about just that. The issue underlying The Armour of Light is freedom of speech.'

Ken Follett
'This year Ken celebrates fifty years of publishing and we couldn't be happier that in turn we celebrate this momentous event with a brand new Kingsbridge novel. Ken's ability to capture the 'everyman's' journey through different historical periods is unparalleled. He has proven time and again with his extensive body of work that his ability to create impactful human stories that resonate with dramatic historical detail is second to none. In The Armour of Light Ken has once more tapped this rich vein to create a brilliantly evocative story, set at the turn of the eighteenth century, against the backdrop of an England whose rural culture is shrinking as the industrial revolution unfolds and as an international war with its neighbour France plays out to its seismic conclusion. It reverberates with compassion, wit, excitement and page-turning drama and once again Ken proves that he is the consummate storyteller. We can't wait to share this novel with readers throughout the world.'

Jeremy Trevathan, Pan Macmillan