The world's most beautiful bookshops
Indulge in a little escapism with our collection of the most beautiful bookshops in the world.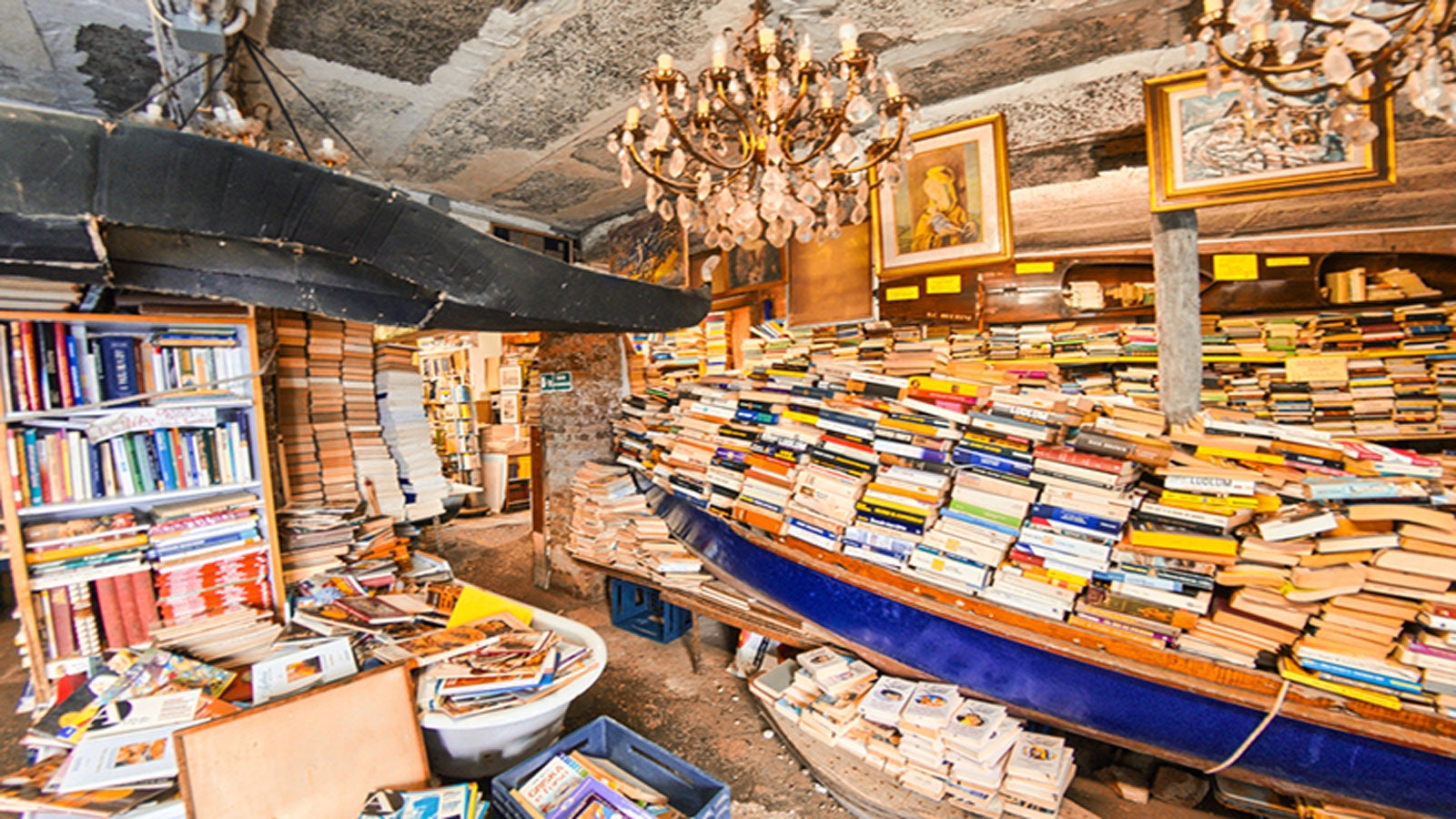 For book lovers, nothing beats hours spent browsing the shelves of an indie bookshop. The smell, the eye-catching covers, the bookseller who always has just the right suggestion for your next read. If you're yearning for a little escapism, explore some of the world's most beautiful bookshops below.
Leakey's Bookshop in Inverness, Scotland
Housed in an old Gaelic Church (1793), Leakey's was established in 1979. It is thought to be Scotland's largest secondhand bookshop with over 100,000 tomes. Featuring a wood burning fire, locals and tourists alike believe Leakey's is one of the highlights for those that visit Inverness. 

Photo taken by Caroline Carpenter​
Livraria Lello in Porto, Portugal
Established since 1906, Livraria Lello houses not only thousands of books but also a quaint coffee shop to escape the world and to enjoy the book you found on one of the lower levels.

Reportedly the inspiration behind Harry Potter's moving staircase, it is one of the oldest bookshops in Portugal and frequently rated as one of the best in the world. Isn't it gorgeous?
Word on the Water, London
On a 1920s Dutch barge, this floating bookstore features books (yes!) and a friendly doggy (DOUBLE YES!)
If books and a dog weren't enough of a draw, they also have occasional live jazz and a woodburning stove. Perfect for a sunny day. 
Evripidis Bookshop, Athens, Greece
Founded in 1955, what was once a small corner shop has developed into one of the largest bookshops in the northern suburbs and one of the biggest in Greece.
Libreria Acqua Alta, Venice, Italy
Often called the most beautiful bookstore in the world, it safeguards books from flooding by stacking them in everything from bathtubs to gondolas! It also boasts a staircase made out of books, which rewards those that make it to the top with a breathtaking view. Stray cats also protect themselves from the flooding by climbing to the top of the stacks of books.
Picture taken by Dimitris Kamaras. 
Cărturești Carusel, Bucharest, Romania
In a beautifully restored 19th century building, the "Carousel of Light" spans six floors and features over 10,000 books in the heart of Bucharest. 
If you're looking for something a little different, it also houses over 5000 albums and DVDs and the upper level has a bistro. If that's not your thing, there's a contemporary art gallery on the lower level. 
Hatchards, London
London's oldest bookshop, Hatchards, has been helping people find their next book for over 200 years. Located in Piccadilly since 1797, it's a must-visit for any bibliophile wanting to take in some of the best that our city has to offer. 
El Ateneo Grand Splendid, Buenos Aires, Argentina
One of the most well known bookshops in the world, it's also hailed as one of the most beautiful (and with good reason, we're sure you'll agree 💖). Over a million people visit this converted theatre each year.
Cafebrería el Péndulo, Mexico City
Not only does this gorgeous bookshop house thousands of books and records, but it also hosts a cafe that spans over two floors with delicious coffee and pastries! 
Photo by Aquiles Carattino.
Pages of Hackney, London
Definitely the homiest bookstore in London, it's also the subject of a love letter to indie bookshops on Picador.com from author Kate Murray-Browne! You can read her article by clicking here. 
Daunt Books, London
Founded in 1990 by James Daunt, Daunt Books is a large Edwardian bookshop and lives in the heart of London and features a long galleried main room and this beautiful arched window. The skylights also ensure there's tons of natural light coming in, so you can sit back and bask in all Daunt has to offer.
Boekhandel Dominicanen, Maastricht, Netherlands
Originally a 700 year old church, it's now a massive 3 storey bookshop and is constantly appearing in most beautiful bookshop lists... like now.
Photo by Bert Kaufmann. 
Atlantis Books, Greece
The only thing that beats sitting down with a good book is sitting down with a good book on a terrace with an incredible sea view.
Photo by @MarenBelle
Shakespeare & Company, Paris, France
The most famous book shop in Paris opened in 1951 by George Whitman, today, serves both as a regular book store, a second-hand books store and as a reading library, specializing in English-language literature.
The Bookworm, Beijing, China
Featuring over 15,000 titles, The Bookworm is one of the prettiest bookshops in the world. 
Photo from @hxying513. 
Barter Books, Alnwick
Barter Books isn't just a beautiful bookshop, it also makes an appearance in Anne Corlett's The Space Between the Stars. A beautifully quirky second-hand bookstore that even features open fires.
Photo from @consummatechaos.
Livraria Ler Devagar, Lisbon, Portugal
With books wall to wall and floor to ceiling, Livraria Ler Devagar is one of Portugal's most beautiful bookshops. 
Photo by Frances Lee.


Antikvariat Cunjak, Ljubljana, Slovenia
This store is located on the main shopping stree. Ljubljana is also home to Slovenia's Library Under the Canopy project, an outdoor library scheme connecting books and readers in the country's beautiful open spaces.


Cook & Book, Brussels, Belgium
A beautiful bookshop with a twist: there are pieces of literature not just on shelves, but also on the ceilings as well.


Lutyens & Rubinstein, London, England
This independent bookshop was founded in 2009 and can be found on the streets of Kensington. 


Blackwell's Bookshop, Oxford, England
One of the biggest specialist shops for literature in the world, it's a must visit for anyone in the area.


Judd Books, London, England
Full of second-hand and new books, it's a book lover's dream. 


Open Door Bookshop, Rome, Italy
The Open Door bookshop in Rome has tons of books (and you might even spot a Picador title in the window 😱)


Addyman Books, Hay-on-Wye, Wales
One of Hay-on-Wye's most beautiful bookshops, it's a must visit for any book fan in the area! Find out why Hay-on-Wye is Britain's literary haven in our blog post. 


Shakespeare & Co, Vienna, Austria
We've already featured the flagship store above, but the Shakespeare & Company in Vienna is just as stunning and beautiful as the original.


The Madhatter's Bookshop, Burford, England
Set in the picture-esque town of Burford in the heart of the Cotswolds, the Madhatter's Bookshop not only has books for sale but hats too! Look closely and you'll even see Ken Follett's A Column of Fire in the window.