Michael McIntyre shares what he finds funny and ponders whether his comedy is visible from space
Introducing his laugh-out-loud new memoir A Funny Life, comedian Michael McIntyre gives us the lowdown on his own unique brand of comedy, and ponders whether aliens were impressed with his O2 gig in this exclusive video.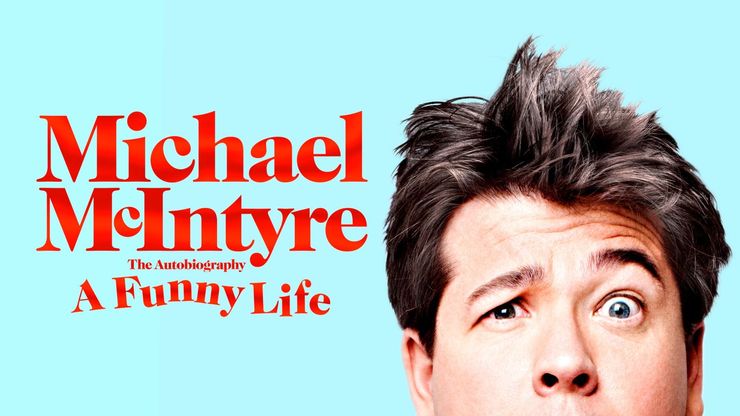 Back in 2006, Michael McIntyre got his breakthrough at the Royal Variety Performance. His sharp but loving observations of the minutiae of family life resonated with the audience, and in 2009 he went on to host the massively popular and BAFTA-nominated Michael McIntyre's Comedy Roadshow on BBC One. Michael McIntyre's Big Show, aired in 2016, won a BAFTA for Best Entertainment Performance. Stuck like all of us in lockdown, McIntyre created and hosted a game show, The Wheel, which helped raise laughs for millions of home-bound viewers. 
Now, having written one of the funniest books of the year during lockdown, his autobiography A Funny Life, Michael fills us in on how his family feels about being comedy gold and the implausible things he finds irresistibly funny.
Have any of your jokes ever got you into trouble at home?
My family are okay with most of my jokes, I think. My sons . . . it was an odd day when they were old enough to realise that I'd made an entire career out of just recounting stories of their lives. And, you would think that some of the jokes would have got me in trouble, say with my wife. Most people struggle to accept that she's okay with the joke I made about her farting in the night, which isn't actually really true. It's kind of a massive exaggeration of her, well, never farting in the day because of her ladylike decorum, but unfortunately her body betraying her while she's asleep. Honestly, that only happened once in twenty years. But the joke, well, basically pushes that one right to its limit. She's absolutely fine with it, and . . . even Prince William actually mentioned it. Anyway, she's fine with that. She's doesn't fart. I want to clear that up but it was a very successful joke, and I've got to do what I've got to do.
What joke has resonated most with the public?
There's been a lot of resonating of my jokes, which is great news. It's hard to know what's resonated most. I mean all the way through my life you've got people . . . like if I'm in a restaurant the waiter will always talk to me – not always but a lot of the time – he'll talk to me about the wine, and the whole joke I had about not knowing about wine, wine tasting, wine ordering, all the nonsense of that. Women are always . . . the tights one is huge. Women putting tights on . . . they're always saying that they can't do a thing without thinking of me. A lot of women say that to me: 'I can't put my tights on without thinking of you.' Or, 'every time I leave the house in the morning with the kids I think of you,' 'every time I lose one shoe I think of you.'
So that's important to me! 'Every time I have a picnic, every time a wasp lands on me I think of you,' – I really try for that! Every time I write a new joke, it's like I want people to think of me doing this. I basically want people to think about me every day and that's my challenge, to keep writing those jokes, that relate so heavily with your lives. So yes, all those jokes have resonated, and I'm so happy that they have.
What never fails to make you laugh?
I always laugh when other people are laughing at things. I like it when other people get the giggles. It's contagious laughter. I basically [laughs], I've got to the point where I don't laugh at comedy, I laugh at the people laughing at comedy. I miss laughter, I miss unified laughter, mass laughter. I suppose that makes me . . . that's a very weird answer. I don't know what I'm talking about. 
'I miss laughter, I miss unified laughter, mass laughter'
I suppose I've seen everything in lockdown so many times that nothing on TV makes me laugh anymore, and it's been a long time since anyone tickled me. My sons make me laugh. THIS BOOK MAKES ME LAUGH! Life make me laugh I suppose. I do giggle all day at things. Often to myself, often out loud. And then I turn them into jokes myself, or run them down. So I am laughing all the time, but I don't have, like, anything that never fails to make me laugh. I'm struggling to answer this question.
What's your favourite venue you've ever performed in?
My favourite venue ever to perform in would probably have to be the O2 Arena just because it's the grandest, it's so exciting, it's the biggest – it feels so glamorous. They've got big neon signs with my name on it when I drive up and car parks holding up signs and it just feels like . . . I just can't believe I'm playing there and everyone's there to see me and it's like 15,000 people. I still can't get over it. And you can see it from space – I don't know if that's true. But it's something I tell people. I think I've heard it once and it just excites me. I don't know who's looking at the O2 Arena from space. I don't know if anyone's in space going, 'wow, that's a big venue for comedy.' So that's my favourite venue, the O2 Arena. 
But then, I'm happy to say any other arena if they want to send me stuff.
Discover the highs and lows of rising to the top, in Michael's hilarious new autobiography A Funny Life: