Henry VIII and the first books in English
We take a closer look at four fascinating events that underpin C. J. Sansom's dazzling novel Lamentation and shaped our history.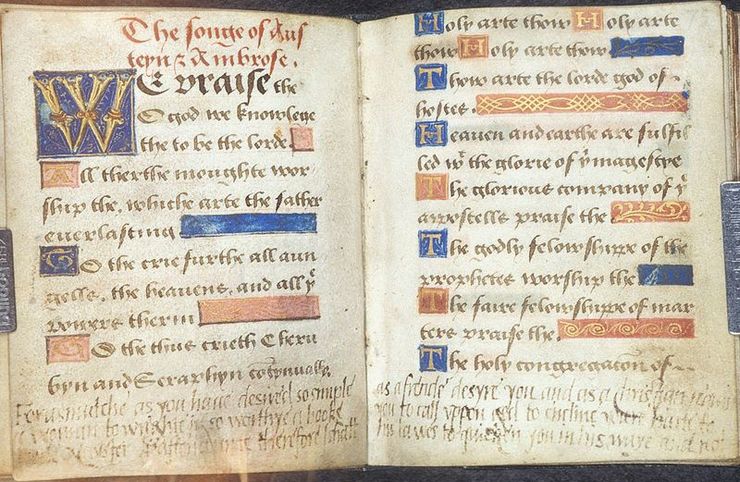 Lamentation is the latest thrilling historical mystery from C. J. Sansom featuring his lawyer-detective Matthew Shardlake. It is set in the dying days of King Henry VIII's reign when Henry's Protestant and Catholic councillors are engaged in a final and decisive power struggle; whoever wins will control the government of Henry's successor, eight-year-old Prince Edward. Heretics are being hunted across London, the radical Protestant Anne Askew is burnt at the stake, and the Catholic party focuses their attack on Henry's sixth wife, Matthew Shardlake's old mentor, Queen Katherine Parr.
Here we take a closer look at four events that underpin C. J. Sansom's dazzling novel and shaped our history.
1. Reading after the English reformation
Perhaps one the most significant decisions of Henry's reign when it came to the spread of Protestantism in England was to sanction and fund the printing and distribution of an English Bible in 1538. Produced under the guidance of his Protestant-leaning Archbishop of Canterbury, Thomas Cranmer, and chief minister, Thomas Cromwell, the so-called Great Bible was distributed to every parish church in the land and chained to the pulpit so that parishioners could 'most commodiously resort to the same and read it'.
This access overturned centuries of priestly privilege. Now any literate common man, or common woman could read the Bible for themselves in English, as opposed to hearing it read to them in Latin. Even earwigging illiterates could, at last, understand the word of God as it spoke to them in their native tongue.
2. The defender of the faith vs the heretics
When it came to religion, however, Henry VIII was essentially a conservative, and would, as one biographer has put it, 'probably have stayed defender of the faith if only the faith had defended his right to annul his marriage to Catherine of Aragon and marry elsewhere.' In the final years of his reign, the king, by then constantly plagued by suppurating leg ulcers and extremely overweight, passed a number of draconian measures to curb what he judged to be heretical religious dissent.
First up, in 1543, was the act for the advancement of the true religion, which prohibited men below the rank of gentlemen and all women from reading the Bible themselves – the act represented an exact reversal of his earlier policy with the Great Bible. This was followed on Christmas Eve 1545 by a speech to parliament where he railed against clergy who taught 'contrary to another'. In what amounted to an open invitation to spying, he went on to demand that the public report any clergyman teaching 'perverse doctrine' to the king's council. The next July, he issued a proclamation against 'heretical books', among them specific English translations of the new testament by William Tynedale and Myles Coverdale.
3. The gospelers and Anne Askew
The restrictions on Bible reading by ordinary people in the act for the advancement of the true religion only drove the practise underground. It also produced what in contemporary internet parlance might be called 'a workaround': those that had memorised sections of the Bible before the ban simply took reciting passages of it to others and turned themselves into roving lay preachers. They were known as 'gospelers' and duly carried God's word, illegally and in English, from city streets to taverns, thriving in London, in particular.
One of the most revered in Protestant circles was a woman, Anne Askew. Nicknamed 'The Fair Gospeler' due to her beauty and rank, Anne was born in 1521 into an educated wealthy Lincolnshire landowning family. Anne had been married off to Thomas Kyme, a rich, if religiously conservative, neighbour. Thrown out of their marital home for preaching in public, Anne sloughed off the Kyme name, headed to London with her two sons in tow to resuming spreading the gospel and seek a divorce. She was finally arrested and found guilty of charges of heresy, and was burnt to death on 16 July 1546.
4. Katherine Parr: the writer queen
As well as being Henry VIII's last wife and one of only two wives to outlive the monarch, Katherine was also the first woman to publish under her own name in English in England. She was deeply sympathetic to and well-read in the new faith of Protestantism and would have seen the marriage in terms of fulfilling a religious duty: Henry had freed England from the rule of the pope, and under her guidance, she could prevent him lapsing back to Rome and possibly even advance the Protestant cause.
She also advanced the cause of women in English literature. Perhaps inspired by the celebrated output of Queen Marguerite of Navarre, her exact contemporary in Spain, her book, Prayers and Meditations, was published in her own name in 1545. Based on Thomas à Kempis's Imitation of Christ, it was a collection of pious prayers that met the king's approval. The Lamentation of a Sinner, a work of theology informed by her knowledge of Luther and other Protestant thinkers would not have appealed to Henry, despite Parr favourably comparing her late husband and monarch to Moses. It was published in 1548.