Ten easy ways to up your bullet journal game
A bullet journal is the creative way to get more organised and achieve your goals. These top tips will help you get more out of your bullet journal.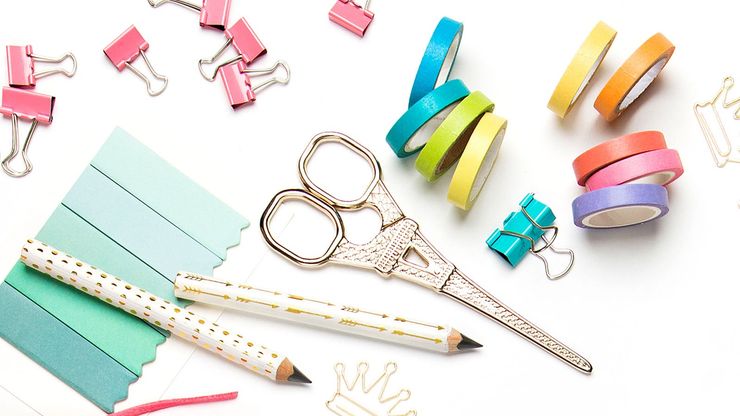 Part diary, part to-do list, part future planner, a bullet journal is the creative and addictive way to get more organised. Whether you're new to the world of bullet journaling, or a self-confessed addict, these accessories and tips are guaranteed to help you make your journal work harder for you.
The Little Bullet Book
If you're not sure how to get started with journalling this book offers a perfect way to begin. With pre-planned pages, blank space for you to get creative and lots of ideas for inspiration, The Little Bullet Book will help you get organised and meet your goals.
Dotted grid notebook
If you prefer to start your bullet journal with a blank canvas, the dotted, graph or plain kraft notebooks from Muji are an excellent (and budget friendly) option.
Get scribbling 
Use fine liner pens to create neat grids, fill in your journal entries and add in the finer details.
Oh, Washi
Washi tape is a journalers best friend. Use it to highlight your headers, divide your grids, create page tabs and brighten up your journal. Take a look at the selection over at Fox and Star for inspiration.
The world is your oyster 
Did you know you can use your bullet journal as more than a diary? For inspiration for how to use it to track your exercise, help you save money or achieve your goals, take a look at this piece from author of The 365 Bullet Guide, Zennor Compton.
Bullet journal Instagram post
Highlight of the day
Highlighters will help you to prioritise your lists and allow you to keep track of what is really important in your day. Take a look at the pastel range from Stabilo.
Keep track 
As you start to use your bullet journal more and more you'll find there are pages you want to keep track of every day. Using colourful themed sticky tab dividers will help you find them in a second.
Pencil it in
If you're using your bullet journal to plan your novel, the storyteller pencils from The Literary Gift Company will come in handy.
Stick to it
Stickers won't necessarily make you more organised, but are guaranteed to brighten up your journal. The selection on sale at Paperchase has something for every type of journaler. 
It's a date
If you have lots of ideas for elaborate layouts but aren't sure how to create them, you can still have a beautiful bullet journal. Stamps, like these from Etsy will help you keep your journal organised and neat.
Want to know more about how to bullet plan and what you can use your bullet journal for? Find out in this guest #Bookbreak episode from Lydia Violetta.