How to bullet plan: the basics of bullet journalling
Want to start a bullet journal but now sure how to? Find out the basics in Zennor Compton's handy guide.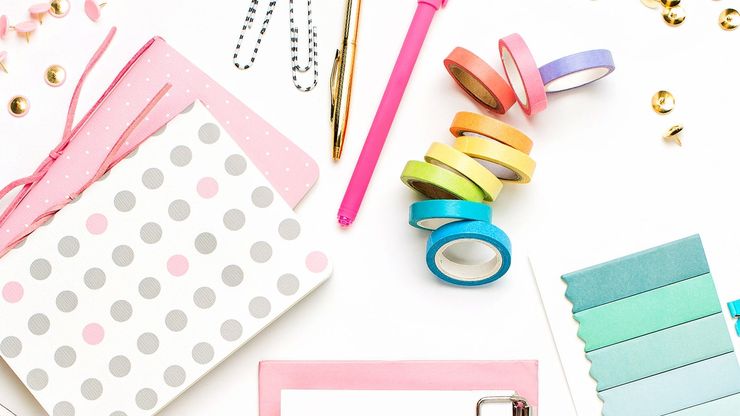 Want to start a bullet journal but not sure where to start? Author of The 365 Bullet Guide Zennor Compton explains all you need to know in this quick and easy guide.
What is a bullet journal?
A bullet journal is a planner, diary, to-do list and sketchbook all in one. The focus is on organization. You create the bullet book that works for you. It can be as simple as a set of to-do lists… Or you can use it to record and plan your entire life. There are tips to get started but then there are no rules - the bullet system provides a framework and you do the rest.
How does it work? The basics of bullet journaling
1. If your notebook is completely blank, number the pages or be sure to number them as you go along. On the first page, add a title (it can just be your name). Alternatively, leave this blank and come back once you've had some practice with lettering, borders and doodles. On the next page, add your heading: INDEX. The Index will act as a contents page for your journal. It will allow you to keep track of the different spreads you add to your book by using their title and page number. As your journal gets longer, you'll be able to find what you're looking for at a quick glance. Leave this page blank for now.

2. The main principle of bulleting can be summed up using a very simple key of symbols that will represent the different tasks that could appear on your to-do list. These symbols will be used throughout your journal so it will be useful to have this at the start of your book, allowing you to refer back to it when you need. Try this key to start with:
3. Now we're going to add a handy year-long calendar for reference. This is your Yearly. You might want to try this in pencil first, or measure your months with a ruler. This can be spread over a double page depending on how much space you want to allocate for each month. Once you've finished, make a note of the page numbers to use in your newly created Index.

4. Next, create a Future Log. The easiest way to do this is to divide a double page-spread into twelve sections, one for each month of the year. This is where you'll keep track of those tasks and dates that you need to remember in the future. It's essentially a brain dump that will allow you to focus on the tasks at hand, rather than worry about those upcoming. Make a note of key dates like birthdays, holidays and anniversaries. Now, once again, make a note of the page numbers to add to your Index.

5. Now, your Monthly page. This is a great place to make a note of key appointments and dates so that you can look at the month ahead at a glance. Check your Future Log for any such instances. Don't be tempted to replicate this for the months ahead. You'll create a new Monthly page at the start of every month to stay as up-to-date as possible. Now index it.

6. As you'd guess, a Weekly page provides the opportunity to sit down and look at the week ahead. Make a habit of sitting down on a Sunday evening to write this page and noting down upcoming appointments, social events or deadlines. Even if your plans go haywire, this routine will provide a sense of ease and mindfulness.

7. Hopefully you've kept the coded bullet list we created in the key at the start of your book going. Daily pages are, at their most basic, where you keep that list. Again, no need to add these ahead of time because your Weekly, Monthly and Future Log have you covered. You might not use a page a day, so if you only use a quarter page for a day's list, go ahead and start the next day on the same page. You don't need to index these, unless you want to. Don't feel obliged to create a Yearly, Monthly, Weekly and Daily if you don't want to – this is your journal so pick the combination that you know will keep you the most organized. If you're not sure, try them all out and eliminate as necessary.
Want to know more about how to bullet plan and what you can use your bullet journal for? Find out in in this guest #Bookbreak episode from Lydia Violetta.