Jack Monroe's get up and go muffins recipe
Struggling to get started in the winter mornings? Award-winning food writer and anti-poverty campaigner Jack Monroe's tasty banana muffins are the perfect grab-and-go option for weekday breakfasts.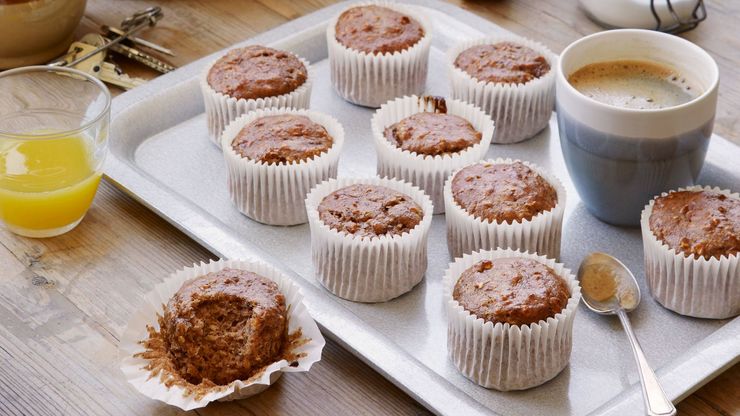 You can use the entire banana – skin and all – in these muffins if you have a blender or a food processor (mine is an old Moulinex that was £12 from a local charity shop, easily as old as I am and still going strong!). If you don't have a blender you can slice the skin very finely – like matchstick-fine – and still smuggle it in. The muffins can be easily made vegan or dairy free by using a plant-based milk of your choice, too.
Total time

35 – 40 minutes

Prep time

10 – 15 minutes

Amount

Makes 12 muffins

Ingredients

75ml light cooking oil (plus extra for greasing)
125ml milk
1 tsp bottled lemon juice
1 x 400g tin of prunes in juice
2 large ripe bananas or 3 tiddlers
75g porridge oats
175g self-raising flour
1½ tsp baking powder
100g sugar – any kind
1. Preheat the oven to 190°C/fan 170°C/375°F/gas 5, and lightly grease a 12-hole muffin tin. Pop muffin cases in each hole, if using them (sometimes I don't bother and just let them run wild in there, so if you don't have muffin cases, don't worry!).
2. Measure out your milk into a jug and add the lemon juice, then leave to stand to one side for a moment. The lemon juice will slightly curdle the milk; don't worry, that's exactly the result we are after!
3. Drain the prunes over a bowl, reserving the juice to use later. Remove the stones and discard them, then place the prunes in your blender or in a large mixing bowl.
4. Slice your bananas and add them to the mixing bowl or to the blender, depending on which you are using.
5. Add the oil and mash well with a fork, or pulse in the blender until smooth. If using the blender, pour it into a mixing bowl. However you achieve your prune-banana mixture, once it's in the mixing bowl and well combined, add the oats, flour, baking powder and sugar, and mix well to combine.
6. Pour in the milk and lemon juice mixture, and continue to mix to form a thick batter. Add a splash of the reserved prune juice to loosen it, and then another, until you have the consistency of a fairly thick cake batter.
7. Bake in the centre of the oven for 22–25 minutes, until risen and a small sharp knife inserted into the centre of one comes out clean.
TO KEEP: These will keep in an airtight container, tin or food-safe bag for up to four days, or in the freezer for six months.