Tasty Tortilla-Topped Pasta Bake recipe from Pinch of Nom
Whether it's a weekday dinner or you're cooking for a crowd, consider this quick and easy pasta bake recipe from the Pinch of Nom Family Meal Planner your new go-to.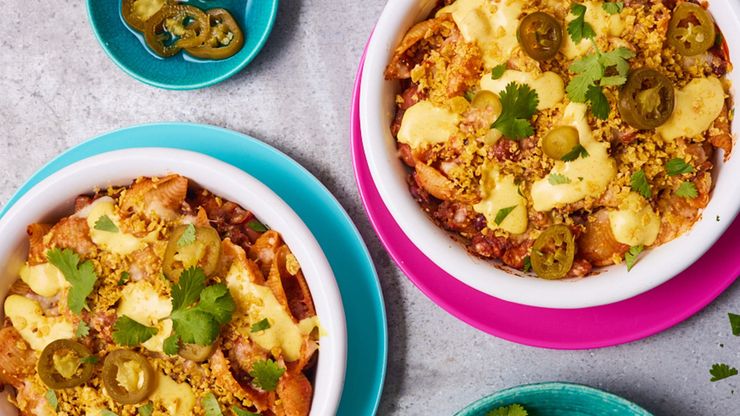 Pasta bake meets tacos! This easy pasta bake recipe is a total crowd-pleaser. Taco-seasoned beef, pasta and a cheesy tortilla topping, all baked in the oven and on the table in under 40 minutes. It's quick, easy and always a winner. You can add your own toppings or even leave out the tortilla chips altogether if you fancy a simple pasta dish.
If you're a fan of the phenomenon that is Pinch of Nom and you're looking for more satisfying, simple, slimming recipes, don't miss our guide to the bestselling Pinch of Nom books, here.
Total time

40 mins

Prep time

15 mins

Amount

Serves 4

Ingredients

FOR THE TACO SEASONING:
¼ tsp chilli powder
¼ tsp dried oregano
¼ tsp onion granules
¼ tsp garlic granules
¼ tsp smoked paprika
¼ tsp ground cumin
FOR THE MEAT SAUCE:
low-calorie cooking spray
1 large onion: peeled and diced
3 garlic cloves: peeled and minced
250g 5%-fat minced beef
1 beef stock cube: crumbled
2 tbsp Henderson's relish or Worcestershire sauce
1½ tsp taco seasoning (above)
1 x 400g tin chopped tomatoes
1 x 400g tin mixed beans in tomato sauce
250g dried pasta shells or other pasta shapes
sea salt and freshly ground black pepper
FOR THE TOPPINGS:
40g reduced-fat Cheddar: finely grated
30g lightly salted tortilla chips: very finely crushed
70g sliced jalapeños in brine: drained
to serve FOR THE CHEESE SAUCE:
125g low-fat spreadable cheese
¼ tsp smoked paprika
First, combine the taco seasoning ingredients in a bowl.
To make the meat sauce for the pasta, spray a frying pan with low-calorie cooking spray and place over a medium heat. Add the onion and garlic and cook gently for 5 minutes until they begin to soften.
Add the minced beef, crumbled stock cube and Henderson's relish to the pan and stir. Cook for another 5 minutes, breaking up the mince with a wooden spoon, until the beef is browned.
Add the taco seasoning, chopped tomatoes and beans, season with salt and pepper and stir well. Reduce the heat a little and simmer while you cook the pasta.
Preheat the oven to 220ºC (fan 200ºC/gas mark 7).
Cook the pasta according to the packet instructions (about 10–12 minutes).
When the pasta is cooked, drain it well and mix it with the meat sauce. Spoon the mixture evenly among four individual roasting dishes. We like to do this so everyone in the family can customise their toppings, but it will work fine as one large pasta bake too!
Sprinkle the cheese and tortilla chip crumbs evenly over the top and bake in the oven for 10 minutes until the cheese is melted and golden.
While the cheese is melting, mix the cheese sauce ingredients together with 3 tablespoons of water until smooth. If it seems too thick add a small splash of water at a time until you reach your preferred consistency.
When the bake is ready, drizzle over the cheese sauce, top with the sliced jalapeños and serve!
Per serving: 566 kCal / 71G carbs
TIP: If you want to opt for different toppings, the calories for the pasta and beef sauce without any cheese or toppings is 441 kcal per serving.
This delicious recipe appears in the Pinch of Nom Family Meal Planner: