8 famous muses who were also great artists
Here are eight remarkable muses who didn't just inspire great art, but also created it.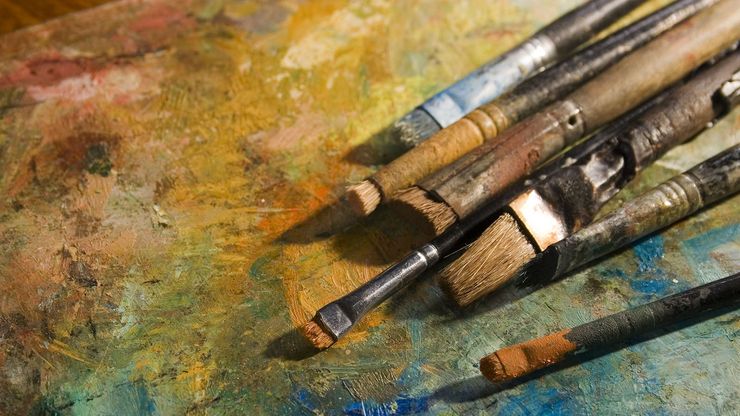 The muse has always played a vital role in the creation of art. However, while the muse of popular imagination is a source of inspiration and desire for the artist, they are rarely seen as a creative force in their own right.
In fact, some of history's most famous muses challenged that perception, blazing their own creative trails and making art that surpassed the work of their collaborators. Here are eight remarkable muses who didn't just inspire great art, but also created it.
1. Lee Miller
In 1929, former Vogue cover model Lee Miller arrived in Paris with dreams of becoming a photographer. Determined to apprentice herself to the surrealist photographer Man Ray, she tracked the artist down to his favourite bar and introduced herself with the words "My name is Lee Miller and I'm your new student". Ray was immediately smitten by the vivacious and beautiful young American, and Miller became his model, muse and lover. When their stormy relationship ended in 1932, Ray had an emotional breakdown, slashing one of his own portraits of Miller with a razor. By that time Miller had developed into an accomplished photographer, going on to document the liberation of Paris as a war correspondent for Condé Nast.
In her debut novel, The Age of Light, Whitney Scharer reimagines the story of Lee Miller, from her arrival in the bohemian Paris of 1929, to her rejection of the role of the muse and assertion of herself as an artist. Find out more about The Age of Light.

Lee Miller Portrait - Galleries Mayfair
2. Frida Kahlo
Frida Kahlo and Diego Rivera seemed an unlikely couple. When they married in 1928, Kahlo was a physically slight 22-year-old, while the heavy-set Rivera was two decades older. Rivera painted public murals exploring political themes, Kahlo made mysterious self-portraits. Yet the pair shared an obsessive love affair that produced some of the iconic works of twentieth century Mexican art. Kahlo and Rivera were each other's muses and frequently depicted each other in their works – for example, Kahlo's Diego On My Mind (self-portrait as Tehuana) shows the artist with Rivera's image imprinted on her forehead. While Rivera was better known than Kahlo in their day, Kahlo is now considered to be the more influential of the two artists.

Frida Kahlo portrait - V&A Museum
3. Georgia O'Keeffe
Georgia O'Keeffe is known today as a founding figure of American modernism, and a pioneer of feminist art. But when her abstract charcoal drawings first came to the attention of prominent photographer and art promoter Alfred Stieglitz in 1915, O'Keefe was making a living as a college art teacher. Stieglitz became infatuated with O'Keefe and her art, making her the subject of many of his portraits. While Stieglitz's ideas influenced O'Keeffe in her early career, she channelled that inspiration into a distinct approach to art, developing an innovative style that was uniquely her own.
In this article for Tate Etc, five artists from different generations share how Georgia O'Keefe's art has inspired their own work.

Georgia O'Keefe - Tate
4. Emilie Flöge
Years before Coco Chanel opened her first salon in Paris, another fearless designer was challenging the accepted norms of women's fashion. Her name was Emilie Flöge, and today she is better known as the muse of Gustav Klimt. But while Flöge was posing for paintings such as The Kiss, she was also finding her own creative outlet in fashion. As a designer and businesswoman, Flöge overturned gender conventions, rejecting corsets in favour of patterned, free-flowing garments and opening her own fashion house in Vienna in 1904 (a highly unusual move for a woman at the time). Meanwhile, her playful approach to retail design set a precedent for modern concept stores such as Colette in Paris and Dover Street Market in London.
Read more about Emilie Flöge here. 

The Kiss - Belvedere Museum
5. Françoise Gilot
Call Françoise Gilot anything you like, as long as it isn't just "Picasso's muse". Gilot's affair with Picasso lasted for a decade, during which time he produced several portraits of her. However, Gilot was already making a name for herself at art school when she first met Picasso in 1943, and she went on to have an influential career as a painter long after their relationship ended, exhibiting internationally well into her nineties. Gilot has always insisted that, despite Picasso's fame and reputation, his influence on her as an artist shouldn't be overstated – "In art subjectivity is everything; I accepted what he did but that did not mean I wanted to do the same."
Watch Françoise Gilot discuss her art in her New York studio in this video from Tate.
6. Joan Leigh Fermor
An intrepid travel writer and daring war hero, Sir Patrick Leigh Fermor was once described by a journalist as a cross between Indiana Jones, James Bond and Graham Greene. But while volumes have been written by and about him, less is known about his wife, muse and travel companion Joan. A noted society beauty, Joan was part of a literary and artistic set that included John Betjeman, Cyril Connolly, Stephen Spender and Lawrence Durrell. She was also a distinguished photographer, providing the illustrations for many of her husband's books.
Read more about her life in Joan: The Remarkable Life of Joan Leigh Fermor by Simon Fenwick.

Joan Leigh Fermor - The Benaki Museum
7. Elizabeth Siddal
Copper haired, pale-skinned, green-eyed, Lizzie Siddal was a Victorian supermodel and one of the most recognisable figures in Pre-Raphaelite art. Siddal was the muse for some of the best-known painters of the period, including Dante Gabriel Rossetti, who she married in 1860. As an artist's model she was known for her dedication, almost dying after posing in baths of cold water for Sir John Everett Millais as he painted his drowning Ophelia. But she was also an important artist and poet in her own right, and a key contributor to the Pre-Raphaelite movement. Major collections of her work can be found in the Ashmolean and Wightwick Manor.

Elizabeth Siddal Ophelia - Tate
8. Leigh Bowery
As a natural exhibitionist, Leigh Bowery made an ideal artist's muse. The painter Lucian Freud met Bowery in 1990 and was immediately struck by his size and physical presence, making him the subject of a series of monumental portraits until Bowery's death four years later. But before meeting Freud, Bowery had already turned his life into a kind of artwork. As a performance artist and legend of London's 1980s gay club scene, Bowery transformed himself night after night, using wigs, masks and customised clothes to create ever more confrontational and outrageous looks. Bowery continues to influence contemporary views on gender and performance.

Leigh Bowery - Tate