Hilary McKay's The Skylarks' War wins the Costa Children's Book Award 2018
Hilary McKay's moving novel The Skylarks' War triumphed in the children's category at the Costa Book Awards 2018.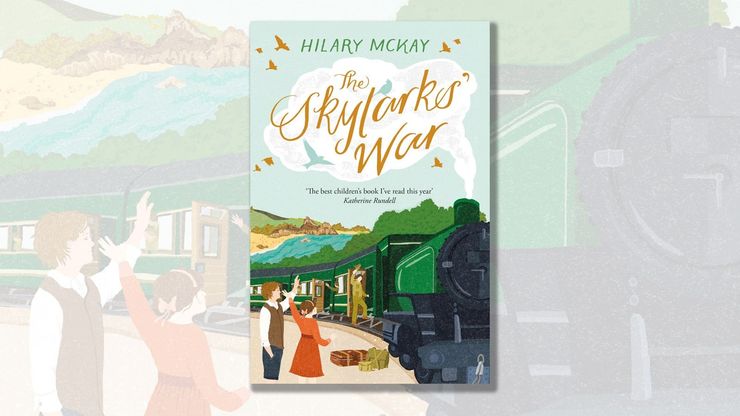 Pan Macmillan is delighted to announce that Hilary McKay has won the Costa Children's Book Award 2018 for her beautifully moving story of a family growing up during World War One.
The Skylarks' War follows the story of a family growing up through the years of the First World War, chronicling their lives, loves and losses. Clarry, her brother Peter and their cousin Rupert live for their long summers spent with their grandparents in Cornwall. But as the war grows ever closer, and Rupert leaves to fight at the front, their childhood begins to slip away. The Costa Book Awards judges called the book 'as perfect a novel as you could ever want to read'.
The Costa Book Awards is the only major UK book prize open solely to authors resident in the UK and Ireland and which, uniquely, recognises some of the most enjoyable books across five categories – First Novel, Novel, Biography, Poetry and Children's Book - published in the last year.
Originally established in 1971 by Whitbread Plc, Costa announced its takeover of the sponsorship of the UK's most prestigious book prize in 2006. 2018 marks the 47th year of the Book Awards.
"The Costa Book Awards are all about recognising and celebrating some of the hugely enjoyable books out there," commented Dominic Paul, Managing Director of Costa. "This year's stellar collection of award-winning books highlight the exceptional talent of authors writing in the UK and Ireland today. Many congratulations to each of this year's Costa Award winners."
The five winning authors, each of whom will receive £5,000, were selected from 641 entries and their books are now eligible for the ultimate prize - the 2018 Costa Book of the Year.
The winner, to be selected by a panel of judges chaired by BBC presenter and journalist Sophie Raworth and comprising category judges: Rachel Joyce, Sathnam Sanghera, Mimi Khalvati, Anita Sethi and Rick O'Shea, joined by actor Simon Williams, writer and broadcaster Kate Humble and cook, novelist, entrepreneur and tv personality Prue Leith CBE, will be announced at an awards ceremony hosted by presenter and broadcaster Penny Smith at Quaglino's in central London on Tuesday 29th January 2019.

Since the introduction of the Book of the Year award in 1985, it has been won twelve times by a novel, five times by a first novel, six times by a biography, eight times by a collection of poetry and twice by a children's book. The 2017 Costa Book of the Year was Inside the Wave, the final collection of poetry by Helen Dunmore, published shortly before her death.