10 fun outdoor activities for kids to enjoy this spring
We're rounding up fun outdoor activities for kids to help you and your family make the most of the great outdoors this year – just in time for spring!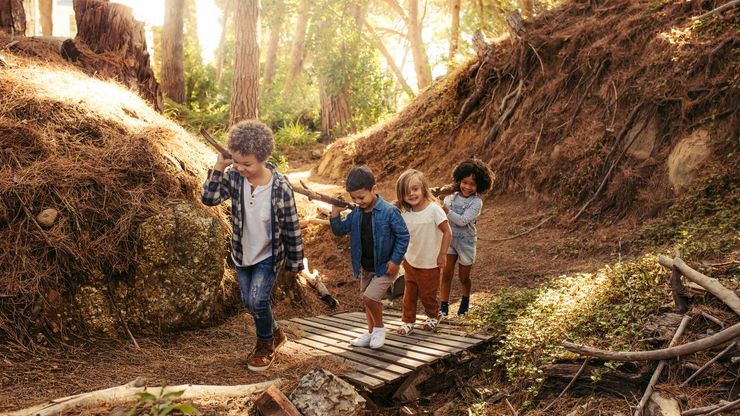 With the start of spring on the horizon, it's the perfect time to start planning ways to enjoy the great outdoors! With warmer weather and longer days just around the corner, there's never been a better time to make the most of the fantastic green spaces we have right on our doorstep here in the UK. If you're looking for inspiration for how to have fun with your little ones outdoors this year, these ideas are sure to get them excited. Put on your wellies, pack a picnic, and let's go! 
Rain stopping your outdoor fun? Get ideas for fun indoor activities for kids here.
Ideas for fun outdoor activities for kids inspired by The Gruffalo and friends

These fun outdoor craft activities– taken from The Gruffalo and Friends Outdoor Activity Book–are a surefire way to get kids enjoying the outdoors!

Monster Stones
This outdoor game for kids is just as much fun to make as it is to play. Find flat stones from your garden or buy some from your local garden centre and decorate them with different monster features. When you're not playing the game, hide them around your garden or outdoor space for kids to find as part of an outdoor scavenger hunt. 
Parrot Kite
This activity sheet has all the instructions you need to make a parrot kite using items you can easily find at home or in a local craft shop. Once you've made your kite, wait for the next windy day, find an outdoor space clear of trees and telephone poles (a large playing field is ideal), and get flying!
Make A Cork Boat
Set sail with this easy to make cork boat! Whether you've got a paddling pool or a washing up bowl, this simple design is sure to set sail and guarantee lots of outdoor fun for the whole family.
This downloadable booklet is full of ideas to help you explore our nation's incredible coastline, perfect for your next family day out at the seaside! Download The Snail and The Whale Coastal Activity Book for free here.
More ideas for fun outdoor activities for kids
Go on a nature scavenger hunt for kids
Turn your next family walk into a nature scavenger hunt. Choose a theme–it could be textures, colours or even an item that starts with each letter of your child's name–and challenge yourselves to find as many items as you can while you're out enjoying the outdoors. Be mindful to leave things where you find them once you've scavenged and to take all your litter home with you. Get more ideas for your nature hunt in this activity sheet, taken from Laura Brand's The Joy Journal.
Outdoor I-spy
This classic guessing game is just as fun on foot as it is on long car journeys and will help children of all ages learn new vocabulary. Choose an item and say, "I spy with my little eye, something beginning with…" and give everyone a turn to guess. The person who identifies the word correctly takes the next turn. Make it as straightforward or as fiendishly tricky as you like! 


Start a wildlife journal
Britain's incredible seasons make nature spotting a fun year-round outdoor activity for all ages. Using the Woodland Trust's online wildlife guides, your child can identify and record the animals they see in a wildlife journal. Each time you head out on a walk or spend time in your garden, jot down how many and what species of bird, bug and mammal you see. If your child loves to draw, encourage them to sketch the animals in their journal. Help make your garden more enticing to birds and make a bird feeder. Download this activity sheet from Laura Brand's The Joy Journal for instructions and tips.  
Build a hedgehog house
Encourage spiky friends to visit your garden by building a hedgehog house and help this native mammal (the population of which is sadly in decline) thrive. Read The Wildlife Trusts' guide to building a hedgehog-friendly garden shelter here. Find more tips on how to make your garden hedgehog friendly here.


Get green-fingered!
No matter how big or small your outdoor space, you can create a small garden for your child to grow herbs, vegetables or flowers. Whether it's a window box in the kitchen where you plant basil seeds and rosemary or a raised bed for carrots and potatoes, work together to choose, plant, tend and harvest your crop. If you're looking for flowers that your child can watch grow over the coming months, sunflowers and sweet peas are great choices. 


Outdoor murals 
Get creative in the great outdoors with environmentally friendly pavement chalk. Create a mural on a garden wall, design a pavement hopscotch or assault course or write a positive message for passers-by to see as they walk along. Remember to only draw on your property, stay out of the road, and use chalk that washes away when it rains! 

Family sports day
Blow off some steam with a family sports day! Pack a picnic and head to your local park for a guaranteed day of outdoor fun for kids and parents. Play team games, individual races or create an obstacle course with cones and sports equipment and pit the whole family against each other. 
Get more ideas for fun outdoor activities for kids in these activity books: