Make these delicious ladybird pizzas from The What the Ladybird Heard Cookbook
Little ones will love helping to make these cheese, tomato and olive pizzas that look just like the ladybird.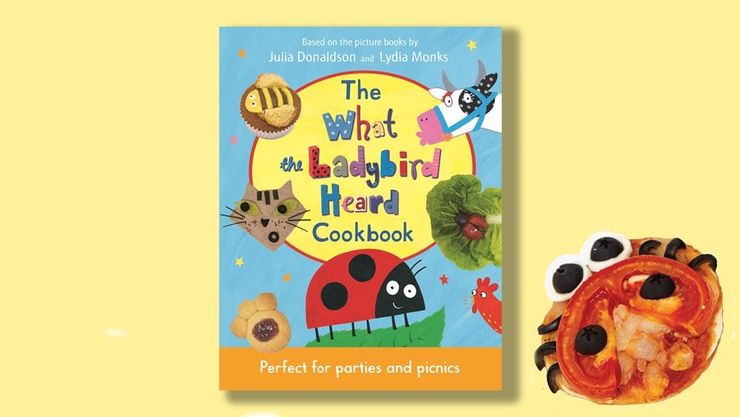 Total time

15 minutes

Prep time

20 minutes

Amount

Makes 8 pizzas

Ingredients

2 big tomatoes
24 black olives
200g flour
2 teaspoons baking powder
1 teaspoon dried herbs
1 tablespoon olive oil
120ml warm water
8 teaspoons passata
8 tablespoons grated mozzarella
8 mini mozzarella balls
Extra olive oil for greasing
Preheat the oven to 220°C/Gas Mark 7.
Cut four slices from each tomato. Remove a triangle from each one to make the slices look like wings.
Dip a piece of kitchen paper in a little olive oil and grease the baking tray.
Put the flour, baking powder and herbs in the large mixing bowl and stir.
Make a little well in the middle and add the tablespoon of olive oil.
Pour in the water a little at a time and mix with a spoon until you have a soft dough.
Use your hands to squash the dough into a ball and knead it for a minute or two.
Divide the dough into eight balls. Squash each one flat to make eight bases (8–10cm diameter).
Put the bases on the baking tray. Cover each one with passata and grated mozzarella.
Halve the mini mozzarella balls and cut 16 of the olives in half.
Slice the remaining 8 olives into three slices, then halve each slice. These will be the ladybirds' legs.
Lay one of your tomato slices on top of each pizza as wings and put two olive halves on each one as spots. Add three olive slices on each side as legs.
Cook for 12–15 minutes.
Before you serve your ladybirds, give them some eyes! Balance two mini mozzarella halves above the wings and put the remaining olive halves on top.
Tips, Tricks and Twists
Why not try a few different flavours? You could use mushroom slices or sweetcorn to make the ladybird's spots, or a slice of salami instead of tomato for her wings.
You could serve your pizzas on a bed of salad so it looks like your ladybirds are sitting on leaves.