Oprah's gluten-free coconut & banana muffins
Oprah Winfrey shares her simple recipe for healthy breakfast muffins from her new cookbook, Food, Health and Happiness.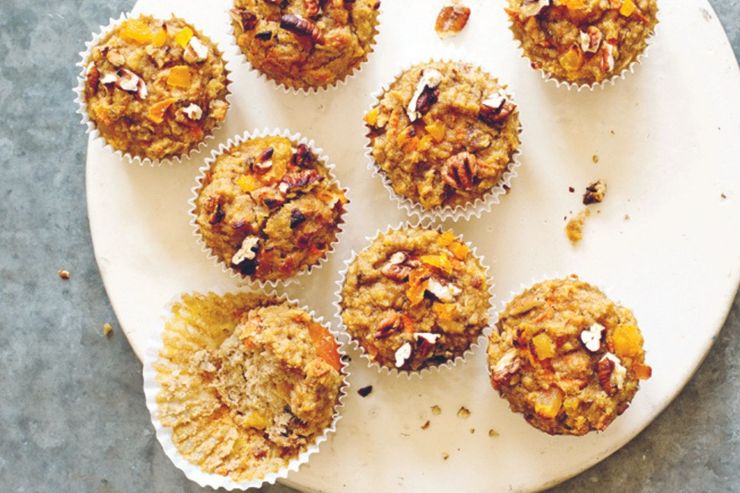 Total time

Prep time

Amount

Makes 12 muffins

Ingredients

175 g almond flour
40 g unsweetened shredded coconut
1 ½ teaspoons baking powder
½ teaspoon bicarbonate of soda
1 tablespoon ground cinnamon
¾ teaspoon salt
4 medium very ripe bananas
3 large eggs
3 tablespoons unsalted butter melted and cooled
1 ½ tablespoons honey
1 tablespoon apple cider vinegar
1 teaspoon grated (on a Microplane) lemon zest
4 tablespoons chopped pecans
125 g coarsely shredded carrots
6 dried apricots finely chopped
Preheat the oven to 170°C/gas 3 and line a 12-cup muffin pan with paper liners.
In a large bowl, whisk together the almond flour, coconut, baking powder, bicarbonate of soda, cinnamon, and salt.
Coarsely mash the bananas in a medium bowl.
In a separate bowl, beat the eggs, then whisk in the butter, honey, vinegar, and lemon zest. Stir in the mashed bananas.
Lightly fold the wet ingredients into dry ingredients until just combined (do not overmix). Fold in the pecans, carrots, and apricots.
Divide the batter among the muffin cups, filling them three-quarters full.
Place in the oven and bake for 35 to 45 minutes, until golden brown on top and a cocktail stick inserted in the centre of a muffin comes out clean.
Place the pan on a cooling rack to cool for about 5 minutes, then remove the muffins from the pan and serve.