'Audiobooks don't count' and other misconceptions
A new enthusiast on why streaming isn't cheating and five brilliant audiobooks to listen to now.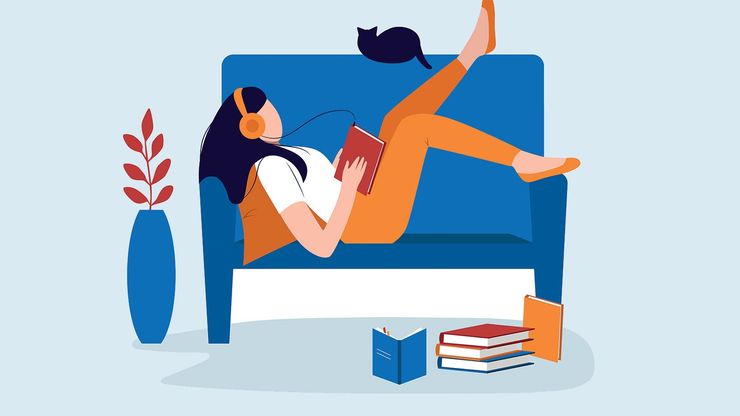 As a child, I was absolutely terrified of electricity pylons. I can't honestly say that this had a huge impact on my life, but it certainly made journeys out of my hometown and into the surrounding Yorkshire countryside. . . challenging. My parents eventually hit on a solution: audiobooks. I was already a huge booklover, and having someone read to me in the car proved a very effective distraction, our journeys soon soundtracked by Clive King and Jill Murphy rather than crying. 
Somewhere along the way to adolescence my allegiance to audio got lost, my love of literature channeled solely into solo reading. I am A Reader. It's how I've come to define myself, and how other people define me. I carry at least two books around at all times in case I finish one. I am running out of shelves.  And although I'll give pretty much any book a go, I was – despite my childhood affection for them – borderline snobby about audiobooks. 
But, always open to having my mind changed and, knowing how popular they're becoming, with an increasing amount of FOMO, I decided to give audiobooks a try.
Reader, I married them. Or at least I let them move in with me and my paperbacks. Here's why I think you should too, alongside some suggestions of what to listen to first – or next, if you're already a fan.

Commuting is more fun with witches
The misconception
Audio may be made for multitasking, but audiobooks are not. A novel is not like music or a podcast: you can't temporarily zone out of it and then instantly re-orientate yourself and carry on. Books deserve our full attention. And if I am just going to sit there and listen to a book, then I might as well sit there and read one.
What changed my mind
The first audiobook I tried was The Women Could Fly by Megan Giddings, a feminist dystopia set in a world just like ours, just like now, except magic is real. 
It turns out that, just as I don't skim-read a really brilliant printed book, I don't start daydreaming during a really great audiobook either. More than this, my desire to find out what happens next has made me a better listener. It seems to have trained my brain to pay proper attention to both what I'm listening to and where I'm walking/the onion I'm chopping/the clothes I'm ironing. And if I do need to quickly talk to someone or consult a recipe, there's always the pause button – and a lot of audiobook apps automatically restart from the beginning of the previous sentence, so you don't lose your bearings. 
Not convinced? Perhaps a result of our continuing love affair with podcasts, non-fiction seems to be an effective way in. Here are some great non-fiction audiobooks to try. 

A good narrator can be revelatory 
The misconception
There is no better narrator than whatever crackle of synapses occurs when I read in my head. 
What changed my mind
Great writing is great writing. A book can take you to a different place, time, mind or experience regardless of the voice you hear it in. But a great audiobook narrator really can bring a book to life.
To read Shuggie Bain – its accented dialogue sharp with dialect – is to be transported to 1980s Glasgow. To listen to Shuggie Bain read by Scottish narrator Angus King is to experience its incredible sense of place made corporeal. It is unmistakable and inescapable in the most effective way.
Some narrators seem made for particular books, the combination of story, character, voice and delivery clicking things into place. See, or rather hear, Alex Jennings' reading of the Patrick Melrose novels.
And some narrators, frankly, just have really nice voices, and can make the physical experience of listening as enjoyable a part of an audiobook as the book itself. Angel Pean, the narrator of The Women Could Fly, has a hypnotising slow burn of a voice, and Justin Avoth brings a calm warmth to the genre-defying twistiness of Adam Handy's The Other Side of Night. Both made listening while doing jobs around the house feel as relaxing as sitting down to read. 
It would be verging on the deceptive not to acknowledge that just as a good narrator can make an audiobook, a bad one – or perhaps more accurately, one you just don't like the sound of – can ruin it. There's a reason why there's now a wave of professional book narrators, with great voices and real skill. For those wanting to hear a master at work, listen to well-loved narrator Travis Baldree read his own debut novel, Legends and Lattes.

I can read even when I can't read
The misconception
Audiobooks don't count. 
What changed my mind
There are a lot of arguments that can be made here, from how the brain takes in information, to how storytelling began as an oral tradition. From my personal experience, I'd just say this: I read to feel. Entertained, moved, upset, challenged, scared, impressed, renewed, informed; really anything but bored. And books can move us, teach us, transport us and change us – they can make us feel – whether we read the words on the page ourselves or someone else reads them to us. For me, audiobooks = the ability to take in books at times when I can't sit down to read = even more books = excellent + very on-brand. It's undoubtedly a different experience, but no less valid.
So whether audiobooks are the main way you consume books, or are a way of getting more of what you love, lend them your ears and add them to your Goodreads list with abandon, because they definitely count.

Great audiobooks to try now