Shore to Shore Tour: The Poets
In summer 2016, Poet Laureate Carol Ann Duffy will tour the UK with three of her fellow poets whom she most admires to celebrate the 10th anniversary of Independent Book Week and the values of community and independence.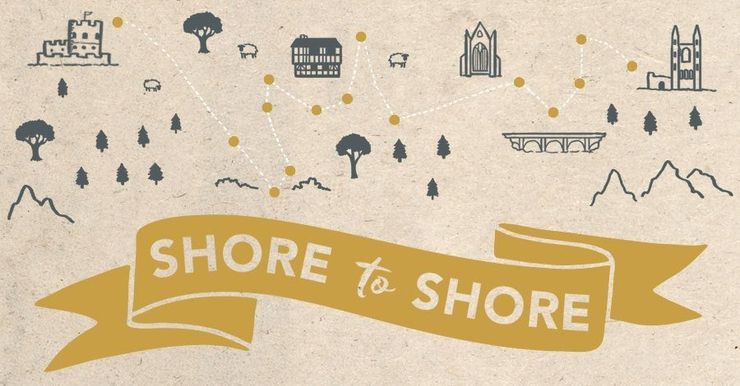 In summer 2016, Poet Laureate Carol Ann Duffy will tour the UK with three of her fellow poets whom she most admires to celebrate the 10th anniversary of Independent Book Week and the values of community and independence.
Carol Ann Duffy, Gillian Clarke, Imtiaz Dharker, Jackie Kay, John Sampson plus special guest poets

Carol Ann Duffy has been a bold, original voice and one of Britain's best-loved poets since the publication of Standing Female Nude in 1985. She has subsequently won every major poetry prize in the UK, published collections that have collectively sold more than one million copies worldwide and was appointed poet laureate in 2009.
Coinciding with and supporting the 10th anniversary of Independent Bookshop Week, Shore To Shore sees the Poet Laureate and her chosen fellow artists undertaking a major national tour to perform their work and to celebrate communities with independent bookshops at their heart.
Over fourteen consecutive days and fifteen major events across Britain from Cornwall to Scotland, Carol Ann Duffy will perform alongside three of the fellow poets whom she most admires: Gillian Clarke, Imtiaz Dharker and Jackie Kay. Each evening will be accompanied by music from instrumentalist and composer John Sampson, plus a special guest spot every night from a poet local to each venue.
Shore To Shore: Celebrating Poetry and Community with the Laureate and Driends will bring audiences an unforgettable evening featuring some of the finest voices in contemporary British poetry.
Carol Ann Duffy
Poet Laureate
'In the world of British poetry, Carol Ann Duffy is a superstar' - The Guardian
Carol Ann Duffy was appointed Poet Laureate of the United Kingdom in 2009, the first woman to hold the post in its 350-year history.
She has written for both children and adults, and her poetry has received many awards, including the Signal Prize for Children's Verse, the Whitbread, Forward and T. S. Eliot Prizes, and the Lannan and E. M. Forster Prize in America. In 2011, The Bees won the Costa Poetry Award, and in 2012 she won the PEN Pinter Prize. She was made a DBE in the 2015 New Year Honours List.
Carol Ann lives in Manchester, where she is Professor and Creative Director of the writing school at Manchester Metropolitan University.
'Poetry at its best. Not only am I informed but I'm entertained in the process, by Kay's natural wit' - Pascale Petit
Jackie Kay was born and brought up in Scotland but now lives in Manchester, where she is the Chancellor of Salford University. She has written all her life.
Several of her adult poetry collections have won or been shortlisted for awards. Her first novel Trumpet won the Author's Club First Novel Award and The Guardian Fiction Prize. Her first novel for children, Strawgirl, a lyrical slice of magical realism, was a huge critical success. She was awarded an MBE in 2006 and made a fellow of the Royal Society of Literature in 2002. In 2016 she was named the new Makar, National Poet for Scotland.
Gillian Clarke
National Poet of Wales
'An impressively achieved and exceptionally rewarding poet' - TLS
Born in Cardiff, Wales, Gillian Clarke is a poet, playwright, editor, translator (from Welsh) and President of Ty Newydd, the writers' centre in North Wales which she co-founded in 1990.
She has taught creative writing to students of all ages and her poetry is studied by GCSE and A-Level students throughout Britain. She has travelled in Europe and the United States giving poetry readings and lectures, and her work has been translated into ten languages.
She has a daughter and two sons, and now lives with her husband on a smallholding in Ceredigion, where they raise a small flock of sheep and care for the land according to organic and conservation practice.
'If there were to be a world laureate, then for me the role could only be filled by Imtiaz Dharker' - Carol Ann Duffy
Imtiaz Dharker is an award-winning poet, artist and documentary film-maker.
Her poems are on the British GCSE and A-Level English syllabus, and she reads with other poets at Poetry Live! events all over the country to more than 25,000 students a year.
She has had solo exhibitions of her drawings around the world and scripts and directs films, many of them for women and children's organisations in India.
John A. Sampson is an Edinburgh-based professional musician, composer and actor. A well known and loved performer on the UK music scene for nearly forty years and a respected actor for almost as long, he has also appeared extensively on the continent, particularly in Germany where his accomplished brand of musical comedy and cabaret is held in great affection, and his classical and jazz performance skills are highly regarded. He regularly collaborates with Carol Ann Duffy.
Each night of the tour will also feature a special guest spot from a poet from the local area.
Shore to Shore guest local poets
Sunday 19 June, Falmouth Cornwall – Penny Shuttle
Monday 20 June, Bath Somerset – R V Bailey
Tuesday 21 June (lunchtime) Oxford, Oxon – Bernard O'Donoghue
Tuesday 21 June Chipping Norton, Oxon –Jane Griffiths
Wednesday 22 June Monmouth, Monmouthshire – Jonathan Edwards
Thursday 23 June Crickhowell, Powys – Paul Henry
Friday 24 June Much Wenlock, Shropshire – Liz Lefroy
Saturday 25 June Oswestry, Shropshire – Jonathan Davidson
Sunday 26 June Caernarfon, Gwynedd – Ifor Ap Glyn
Monday 27 June Stockport, Greater Manchester –Michael Symons Roberts
Tuesday 28 June  Carlisle, Cumbria – Jacob Polley
Wednesday 29 June Corbridge, Northumberland – Gillian Allnutt
Thursday 30 June St Boswells, Scottish Borders – Liz Lochhead
Friday 1 July Biggar, South Lanarkshire – Vicki Feaver
Saturday 2 July St Andrews, Fife – Robert Crawford
Penny Shuttle
Penelope Shuttle was born in Middlesex and has lived in Cornwall since 1970. She is the widow of poet Peter Redgrave. Redgrave's Wife (2005) was shortlisted for the Forward Prize and for the T S Eliot Award. Unsent: New and Selected Poems appeared in 2012 from Bloodaxe. She is a mentor/tutor for The Poetry School, and has read at Aldeburgh, Stanza, and Ledbury festivals etc. Heath, a book-length sequence of poems about Hounslow Heath and Heathrow airport, in collaboration with John Greening, was published in July 206 by Nine Arches Press. Her pamphlet Four Portions of Everything on the Menu for M'sieu Monet appears in August 2016 from Indigo Dreams. Her new Bloodaxe collection, Will You Walk a Little Faster, appears in May 2017.
R V Bailey
R V Bailey has published five poetry collections: Course Work (Culverhay Press,1997), Marking Time (Peterloo Poets, 2004), Credentials (Oversteps 2012), From Me to You (Peterloo / Enitharmon 2007) with U. A. Fanthorpe. The Losing Game (Mariscat 2010) was written following the death of her long-term partner the poet U. A. Fanthorpe. Bailey is co-editor of A Speaking Silence: Contemporary Quaker Poetry (with Stevie Krayer) and The Book of Love & Loss: Poems for Today (with June Hall).
Bernard O'Donoghue
Bernard O'Donoghue was born in Cullen, Co Cork in 1945. Since 1965, he has lived in Oxford where he is now an Emeritus Fellow in English at Wadham College. He has published several volumes of poems with Chatto and Faber; his next book The Seasons of Cullen Church will be published by Faber in July.
Jane Griffiths
Jane Griffiths has published four collections of poetry with Bloodaxe; one of these, Another Country, was shortlisted for the Forward Prize. A new collection, Silent in Finisterre, is scheduled for late 2017. Jane teaches English Literature at oxford and is a Fellow of Wadham College.
Jonathan Edwards
Jonathan Edwards's first collection, My Family and Other Superheroes (Seren, 2014), received the Costa Poetry Award and the Wales Book of the Year People's Choice Award. It was shortlisted for the Fenton Aldeburgh First Collection Prize. His poems have received prizes in the Cardiff International Poetry Competition, the Ledbury Festival International Poetry Competition and the Basil Bunting Award, and have appeared in magazines including Poetry Review, Poetry Wales, New Welsh Review and The North. He works as a teacher.
Paul Henry
Paul Henry is the author of six collections of poetry, the most recent of which is Boy Running (Seren, 2015). Described by the late U. A. Fanthorpe as "a poet's poet" who combines "a sense of the music of words with an endlessly inventive imagination", he came to poetry through songwriting. The Brittle Sea, New & Selected Poems has recently been reprinted by Seren. Now living in Crickhowell, Henry has also presented arts programmes for Radio Wales, Radio 3 and Radio 4. www.paulhenrywales.co.uk
Liz Lefroy
Liz Lefroy won the 2011 Roy Fisher Prize resulting in the publication of her first pamphlet, Pretending the Weather. Her sequence, The Gathering, was set to music by Brian Evans and first performed at the St Chad's Music Festival, Shrewsbury, in 2012. Mending the Ordinary (2014) is published by Fair Acre Press. Liz's work has appeared in Mslexia; The Frogmore Papers; Magma; Shoestring; Ink, Sweat and Tears; The Emergency Poet Anthology and on The Writers' Hub. She was short-listed in the 2015 Bridport Prize. She reads regularly at poetry festivals and literary events, including performances at the Edinburgh Fringe of her dramatic sequence, The Seven Rages of Woman. She hosts the poetry busk at Wenlock Poetry Festival, is organiser of Shrewsbury Poetry and presents 'Poetry Round-Up' on Ryan Kennedy's show on BBC Radio Shropshire. Liz is a senior lecturer in social care at glyndŵr university in Wrexham.
Jonathan Davidson
Jonathan Davidson was born in 1964 in Berkshire and now lives in the Midlands. He won an Eric Gregory award in 1990, and is the author of various pamphlets and collections of poetry, including The Living Room (Arc, 1994), A Horse Called House (Smith/Doorstop, 1997) and Early Train (Smith/Doorstop, 2011). He has had eight radio plays broadcast on BBC Radios 3 and 4, along with radio adaptations of Geoffrey Hill's Mercian Hymns and W.S. Graham's The Nightfishing. In April 2015, Valley Press published Humfrey Coningsby, a collection of 'poems, complaints, explanations and demands for satisfaction' by Jonathan, loosely based on the travels of a lord of the manor from Shropshire, in the late 16th century. Humfrey Coningsby's story was also the subject of a BBC Radio 4 afternoon drama by Jonathan, broadcast in June 2015.
Ifor Ap Glyn
Ifor Ap glyn was born in London. He has twice won the crown at the National Eisteddfod and recently succeeded Gillian Clarke as the National Poet of Wales. He has just published his first novel, about growing up in London 'Tra Bo Dau' (while there are two). He lives in Caernarfon and works as a television producer and presenter.
Michael Symons Roberts
Michael was born in Preston, Lancashire. His poetry has won the Forward Prize, the Costa Poetry Prize and the Whitbread Poetry Award, and been shortlisted for the Griffin International Poetry Prize and the T.S. Eliot prize. He has received major awards from the Arts Council and the Society of Authors. He is a fellow of the Royal Society of Literature, and of the English Association.
His continuing collaboration with composer James Macmillan has led winning the RPS Award for Opera and they have been nominated for an Olivier Award. He has won the Sanford St Martins Prize for his broadcast work with Radio 4. He has published two novels, and is Professor of Poetry at Manchester Metropolitan University.
Jacob Polley
Jacob Polley was born in Carlisle in 1975. He is the author of three acclaimed poetry collections, The Brink, Little Gods and The Havocs, as well as a Somerset Maugham Award-winning novel, Talk of the Town. He received an Eric Gregory Award in 2002, and both The Brink and The Havocs were shortlisted for the T.S. Eliot Prize. In 2004, he was named one of the 'next generation' of the twenty best new poets in Britain. His new collect Jackself will be published by Picador in November 2016.
Gillian Allnutt
Gillian Allnutt was born in London but spent much of her childhood in Newcastle upon Tyne and now lives in Co. Durham. Her collections Nantucket and The Angel and Lintel were both published by Bloodaxe books and both were shortlisted for the T.S. Eliot prize. Lintel was a Poetry Book Society Choice. Her Bloodaxe retrospective, How the Bicycle Shone: New & Selected poems (2007), draws on six published books plus a new collection, Wolflight, and was a Poetry Book Society Special Commendation. Her latest collection is Indwelling (Bloodaxe, 2013). She has taught creative writing for more than 30 years and published Berthing: a Poetry Workbook (NEC/Virago) in 1991. She was co-editor of the New British Poetry (Paladin, 1998) and formerly Poetry Editor of City Limits. She received the Northern Rock Foundation Writer's Award in 2005.
Liz Lochhead
Liz Lochhead is a poet and playwright. She has just this January completed her five-year fixed-term stint as the Makar, or national poet of Scotland, and in February received in Buckingham Palace, the Queen's Gold Medal for Poetry, 2015. Her new book of poems Fugitive Colours will be published by Polygon/Birlinn at the end of May and her new play Thon Man Moliere premieres at the Royal Lyceum Theatre, Edinburgh on May 24th. 
Vicki Feaver
Vicki Feaver's The Book of Blood (cape 2006) was shortlisted for the Costa and Forward Prizes. The Handless Maiden (Cape 1994) won a Heineman Prize and was shortlisted for the Whitbread Prize. Her poem 'Judith' won the Forward Prize for the best single poem. She is currently completing a new collection combining poems about childhood and ageing. She lives half in Dunsure, South Lanarkshire, and half in Leith, Edinburgh.
Robert Crawford
Robert Crawford has published seven collections of poetry in English, including Full Volume (Cape, 2008) and Testament (Cape, 2014), as well as several collections in Scots. His biographies include The Bard: Robert Burns (Cape, 2009), and Young Eliot (Cape, 2015). He is Professor of Modern Scottish Literature at the University of St Andrews.