Virtually Together with Pan Mac
Join our authors on a virtual tour of the UK & Ireland to support high-street bookshops when they need us the most.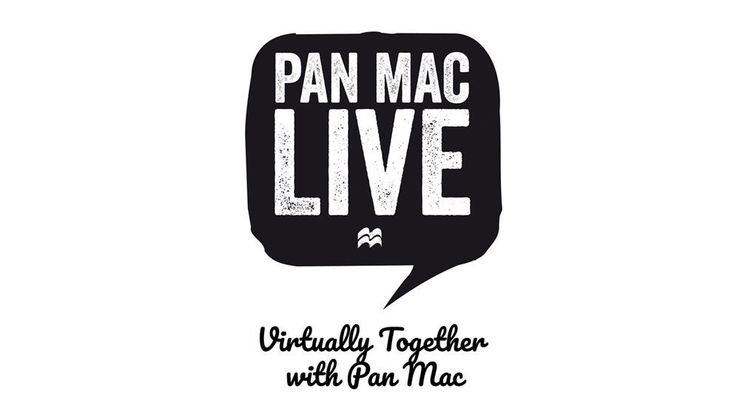 We're thrilled to announce Virtually Together with Pan Mac, a chance for our authors and readers to come together and support our beloved high-street bookshops during a time when they need us most. COVID-19 sees booksellers face unprecedented challenges with physical bookshops closed and many stores unable to trade at all. Bookshops are such an important part of our communities and we wanted to give our authors a chance to share how much their favourite bookshops mean to them. 

The tour will be taking place virtually, between the 19th and 28th of May and will involve authors across Bluebird, Pan, Picador and Macmillan Children's Books, taking readers on a tour of the UK & Ireland, with a different bookshop being highlighted each day. 
All events will be completely free to attend but each bookshop will be letting us know the best way that we can support them at the moment, whether it's buying a book, a gift voucher for when they're able to reopen or just to raise awareness of the important work they do in their communities.

Authors signed up for events already include Brian Bilston, Laura Brand, Fiona Cummins,  Adam Hamdy, Prue Leith, Mariam Khan, Kate Mosse, Mary Paulson-Ellis and Laura Shepherd-Robinson. Discover the first event below, with more to follow very soon. 
Events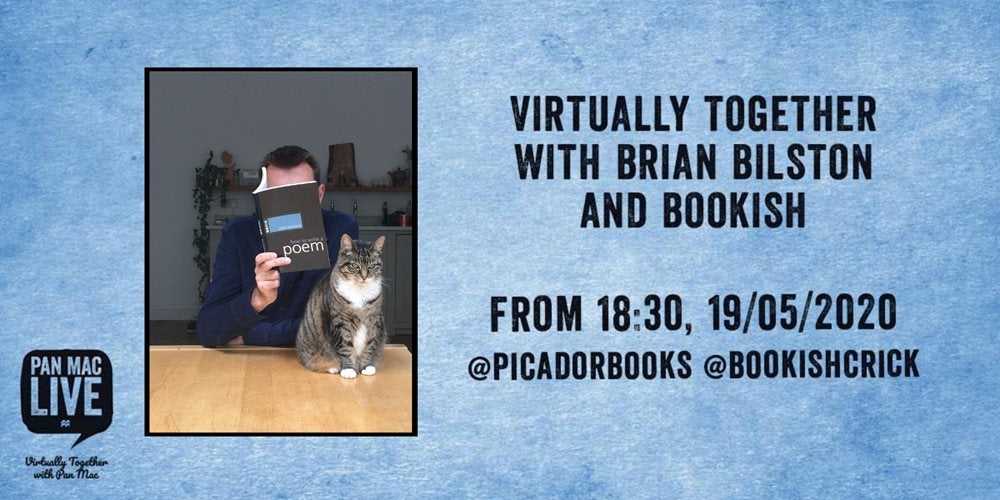 Virtually Together with Brian Bilston, in association with Bookish Crickhowell
Tuesday 19th May 2020
6:30 – 7:30 p.m.
Join Twitter's own unofficial poet Laureate, Brian Bilston, for his first ever virtual event. 
The author of Diary of a Somebody, Brian has been described as the Banksy of poetry and Twitter's unofficial Poet Laureate. With over 100,000 social media followers, numbering J. K. Rowling, Roger McGough and Frank Cottrell Boyce amongst many, many other luminaries, Brian has become truly beloved by the online community. His first poetry collection, You Took the Last Bus Home, was published by Unbound and Diary of a Somebody, shortlisted for the Costa First Novel Award, was published to great acclaim by Picador last year. 'Brian Bilston turns the base metal of comic verse into gold . . .  Imagine a mash-up of John Cooper Clarke, Ed Reardon's Week and James Joyce, and you're about halfway there' - Guardian. 'A welcome reminder of the joy to be had when you put yourself in the hands of someone who knows their way round both a joke and a bittersweet narrative . . .  Funny and ingenious' - The Times.
Brian will be reading from and discussing The Diary of a Somebody over on the Pan Macmillan YouTube channel at 6:30pm followed by a @Picadorbooks Twitter takeover at 7:00pm, when Brian will be in conversation with @Bookishcrick.
This event is in association with Bookish Crickhowell. You can visit their website here.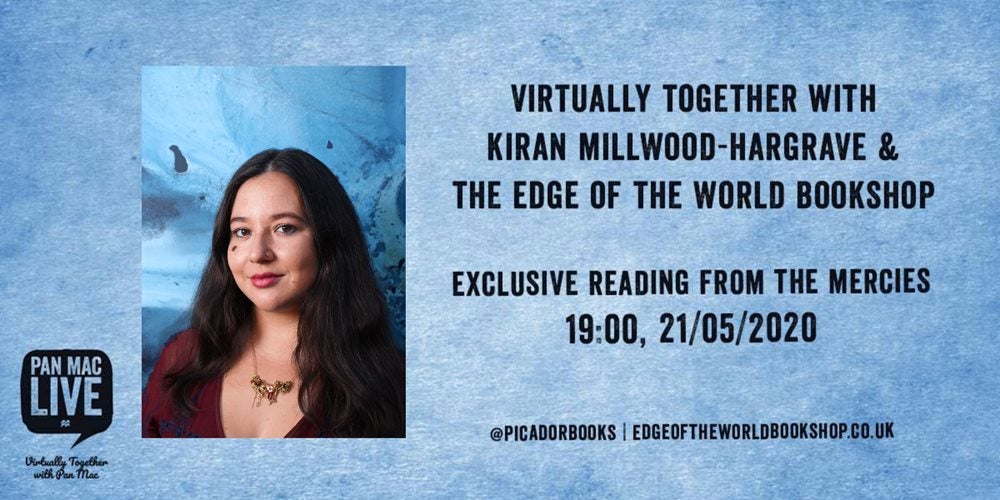 Virtually Together with Kiran Millwood Hargrave, in association with The Edge of the World Bookshop, Penzance
Thursday 21st May 2020
6:30 – 6:45 p.m.
Join Sunday Times bestselling author, Kiran Millwood Hargrave for an immersive reading.
Let award winning author Kiran Millwood Hargrave transport you back in time to 1617, to a tiny isolated island in the Arctic Circle where the seas have been whipped up by a reckless storm. In her latest novel, The Mercies, Kiran writes about this real life event that killed nearly every man on that island whilst out fishing and the story of what happened to the community of women who were left fighting to survive whilst suspicion threatened to drive them apart. The Mercies has been described as "beautiful and chilling" by Madeline Miller (author of Circe) and "extraordinary" by Jo Whiley for the BBC Radio 2 Book Club. Kiran will be reading the full first chapter, unabridged – the perfect way to escape isolation.
You can tune in to see Kiran reading from The Mercies over on the Pan Macmillan YouTube channel at 6:30pm. Make sure to post your questions in the comments and Kiran will answer those and more later in June - keep an eye out on @PicadorBooks on Twitter for more information. 
This reading is in association with The Edge of the World Bookshop in Penzance. You can visit their website here.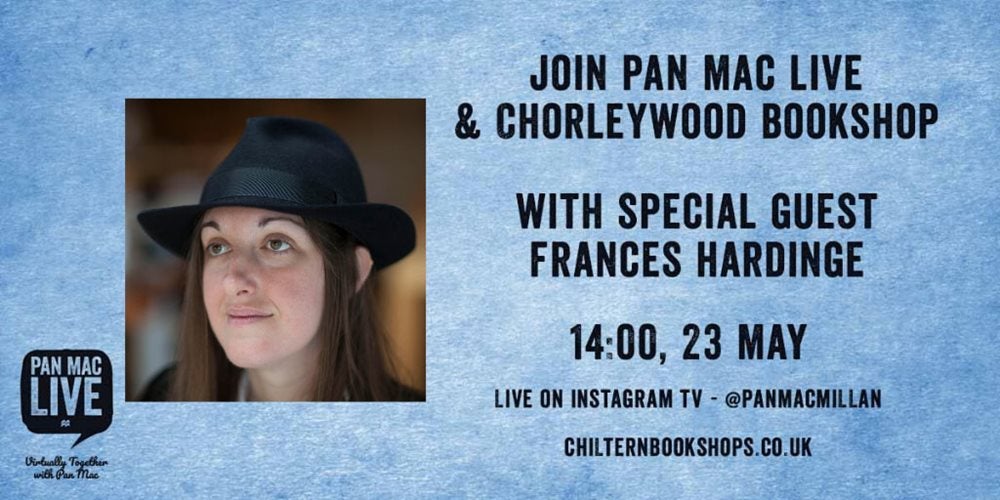 Virtually Together with Frances Hardinge supported by Chorleywood Bookshop 
Saturday 23rd May 2020
2:00 p.m. 
Join us for a series of videos this weekend from the Costa award-winning author Frances Hardinge. With each story she creates a different world for her readers to be absorbed by, and with her latest novel Deeplight she brings us a startling and atmospheric story of friendship as deep and dangerous as the ocean.
As well as an enchanting reading from Deeplight, Frances will also be giving an insight into her research process and fascination with legends and sea monsters, the artwork and accompanying enchanting illustrations across various editions of her books and what we've always wanted to know about – her hat collection!
Deeplight has been shortlisted for the YA Book Prize 2020.
Watch live on Pan Macmillan IGTV.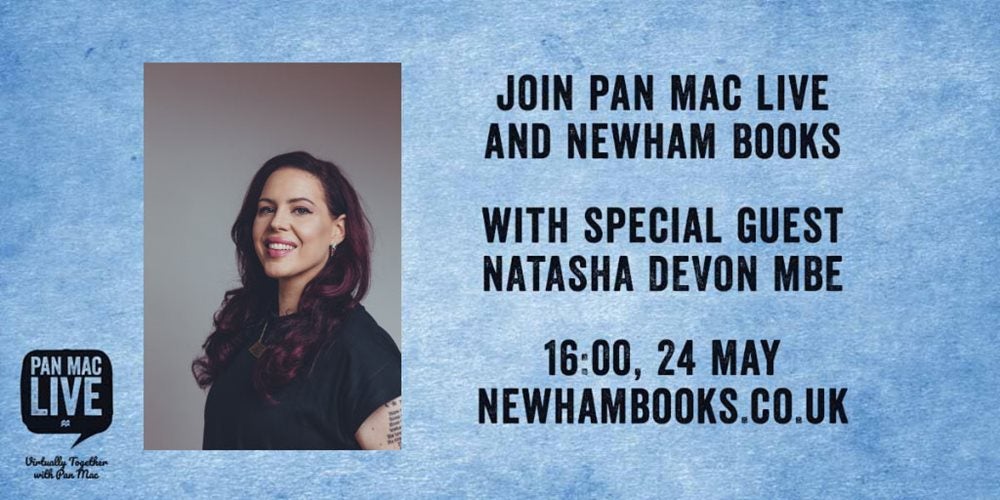 Virtually Together with Natasha Devon MBE, supported by Newham Books 
Sunday 24th May 2020
4:00 – 4:30 p.m.
Join bestselling author, campaigner and activist, Natasha Devon MBE for a virtual talk about studying during quarantine.  Learn how to motivate yourself, timetable your work and, above all, not lose your mind.  Natasha will be reading from her new book Yes You Can: Ace Your Exams Without Losing Your Mind.
4 p.m. on Sunday 24th May.
Suitable for ages 13+ 
Link to event: www.youtube.com/watch?v=4G_fCuEC3Gk
Natasha's event will be available to watch for one month and she will be doing a live Q&A on 1 June at 6 p.m. on Pan Macmillan's Instagram channel @panmacmillan.
You can order Natasha's book here: www.newhambooks.co.uk.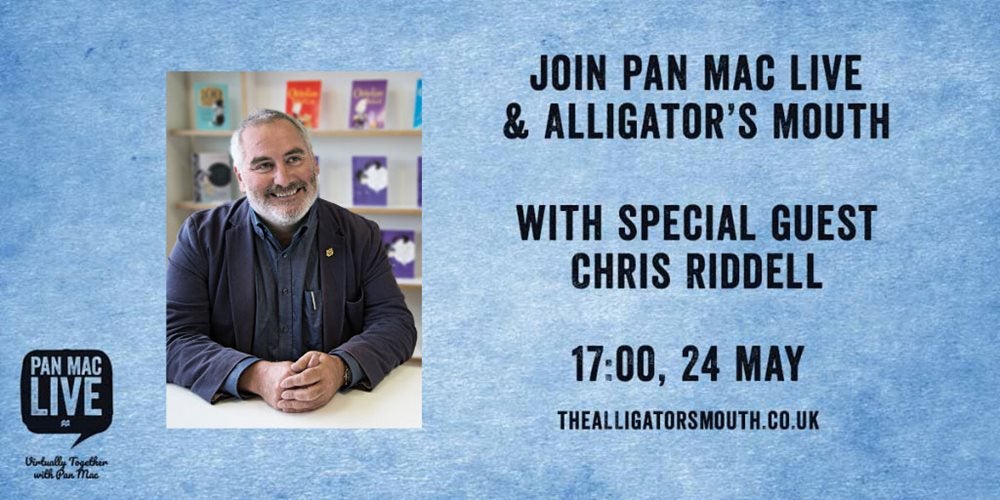 Virtually Together with Chris Riddell and Alligator's Mouth
Sunday 24th May 2020
5:00 – 5:30 p.m.
Chris Riddell and Fantastical Friends - Sunday 24th May at 5 p.m.
Join the former Children's Laureate and award-winning author and illustrator of the Goth Girl and Ottoline series, Chris Riddell, as he guides you through his fantastical world of The Cloud Horse Chronicles: Guardians of Magic in this special Pan Mac virtual event. Meet  Zam, Phoebe and Bathsheba from Guardians of Magic and reunite with old favourites such as Ottoline and Ada Goth, as Chris's exquisite illustrations bring to life his magical worlds. 
This event is in association with The Alligator's Mouth bookshop. You can visit their website here.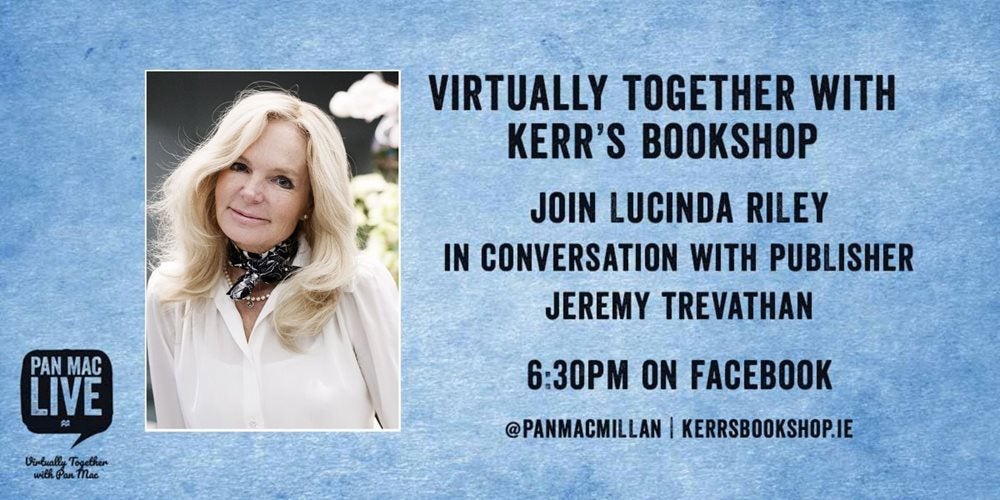 Virtually Together with Lucinda Riley and Kerr's Bookshop
Monday 25th May 
6:30 - 7:00 p.m.
Lucinda Riley in conversation with Jeremy Trevathan.
Lucinda Riley has sold over 20 million copies of her books worldwide. Her series The Seven Sisters, which tells the story of adopted sisters and is based allegorically on the mythology of the famous star constellation, has become a global phenomenon. Join Lucinda in conversation with her publisher Jeremy Trevathan to discuss her inspiration for the series and what's to come, as well as taking questions from fans on her writing habits, reading recommendations and much more. 
Kerr's Bookshop is offering a mail order service at the moment. Customers can order by phone on +353 883 4342 or email: bookshop@kerr.ie.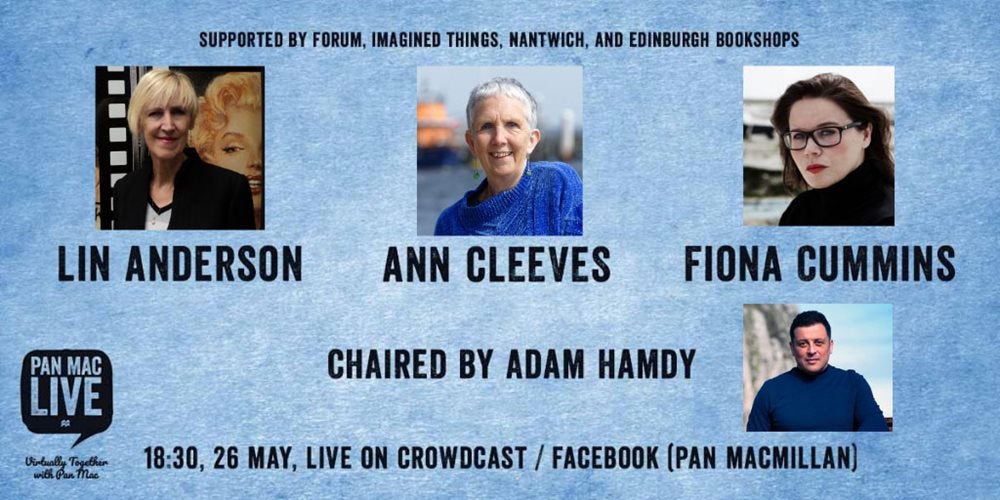 Virtually Together – How does crime writing make sense of the times we live in?
Tuesday 26th May 2020
6:30 – 7 p.m.
Crime fiction: escapism from or reflection of the times we live in? Stories that explore the dark side of human behaviour resonate with millions of readers. Why are we so drawn to crime fiction? Our panel of crime writers Ann Cleeves, Lin Anderson, Fiona Cummins and Adam Hamdy discuss.
This event is in association with Forum Books, Imagined Things, Nantwich Books and The Edinburgh Bookshop. You can support these brilliant bookshops by ordering signed copies of each authors' books from their chosen shop below.
Ann Cleeves – Forum Books - www.forumbooksshop.com
Lin Anderson – The Edinburgh Bookshop - www.edinburghbookshop.com
Adam Hamdy - Nantwich Books - www.nantwichbookshop.co.uk
Fiona Cummins – Imagined Things - imaginedthings.co.uk
You can register to take part in this event here - www.crowdcast.io/e/virtuallycrime. This event will also be streamed on the Pan Mac Facebook account here - www.facebook.com/panmacmillanbooks.