Bestselling author Kate Mosse to release a groundbreaking celebration of real women throughout history
How and why have women's achievements routinely been omitted from the history books, and what are the consequences of telling only half of our human story? Kate Mosse explores this vital question in an exciting new non-fiction book coming in October 2022.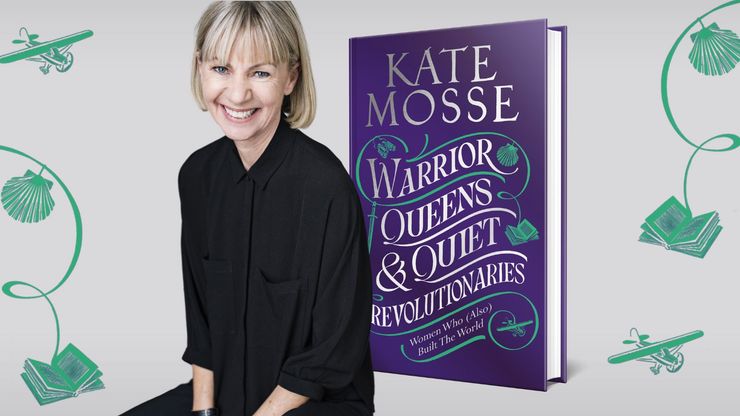 Publishing on 13 October 2022, Warrior Queens & Quiet Revolutionaries: How Women (Also) Built the World is a celebration of incredible women from history, and also a family detective story from international No 1 bestselling author novelist, playwright and non-fiction writer, Kate Mosse.
Inspired by the overwhelming response to Mosse's global social media #WomanInHistory campaign which launched in 2021, this major work of non-fiction brings together her own 'Who Do You Think You Are' quest to learn more about her personal family history with her forty years of activism, in a beautifully-designed book that builds on Kate's rich and detailed celebration of nearly 1,000 unheard and under-heard women's voices. It also asks the vital question: how and why women's achievements have routinely been omitted from the history books, and what are the consequences of telling only half of our human story?
Within these pages you'll meet nearly 1,000 women whose names deserve to be better known: from the Mothers of Invention and the trailblazing women at the Bar; Warrior Queens and Pirate Commanders; the women who dedicated their lives to the natural world or to medicine; those women of courage who resisted and fought for what they believed in to defend their families, their culture and their countries; to the unsung heroes of stage, screen and stadium. It travels the world – from the UK to the United States of America, Romania and Chile to Pakistan, Uganda to Germany, South Africa and India to New Zealand – and spans all periods of time. But it is also an intensely moving detective story of the author's own family history as Kate Mosse pieces together the forgotten life of her great-grandmother, Lily Watson, a famous and highly-successful novelist in her day who has all but disappeared from the record . . .
Known for her acclaimed historical adventure novels and her campaigning work championing women's voices as Founder Director of the Women's Prize for Fiction, Warrior Queens & Quiet Revolutionaries speaks to the heart of Mosse's work and passion to make sure women's achievements from the past and present are acknowledged and honoured as well as being a personal memoir about the nature of women's writing, about how history is made and by whom.
Maria Rejt, Publisher, Mantle comments: 
'Kate's magnificent new book is one to return to time and again, and a gift for women everywhere. Not only does she give back a voice to nearly a thousand women whose achievements and courage can inspire us all, Kate also shows how we, too, can reach back into our own personal histories and shine a light.'
Kate Mosse comments:
'This is the book I've been waiting to write for so many years, having spent so much time in libraries and archives on the hunt for women's stories. The catalyst to discovering, at the age of sixty, that I was walking in my great-grandmother's footsteps as a novelist. All my fiction has unheard and underheard women's stories at the heart of things and from my research – and, of course, my work with the Women's Prize – I've been aware of how easily women's stories can disappear from the record. So, this book is a labour of love to celebrate incredible women from the past, as well as a detective story to learn more about my own family reaching back into the 19th century.'