Discover four delicious Italian recipes we think Inspector Montalbano would have loved
Andrea Camilleri's legendary police chief Salvo Montalbano is not just known for his brilliant detective skills, but also for his reputation as a grumpy Sicilian foodie.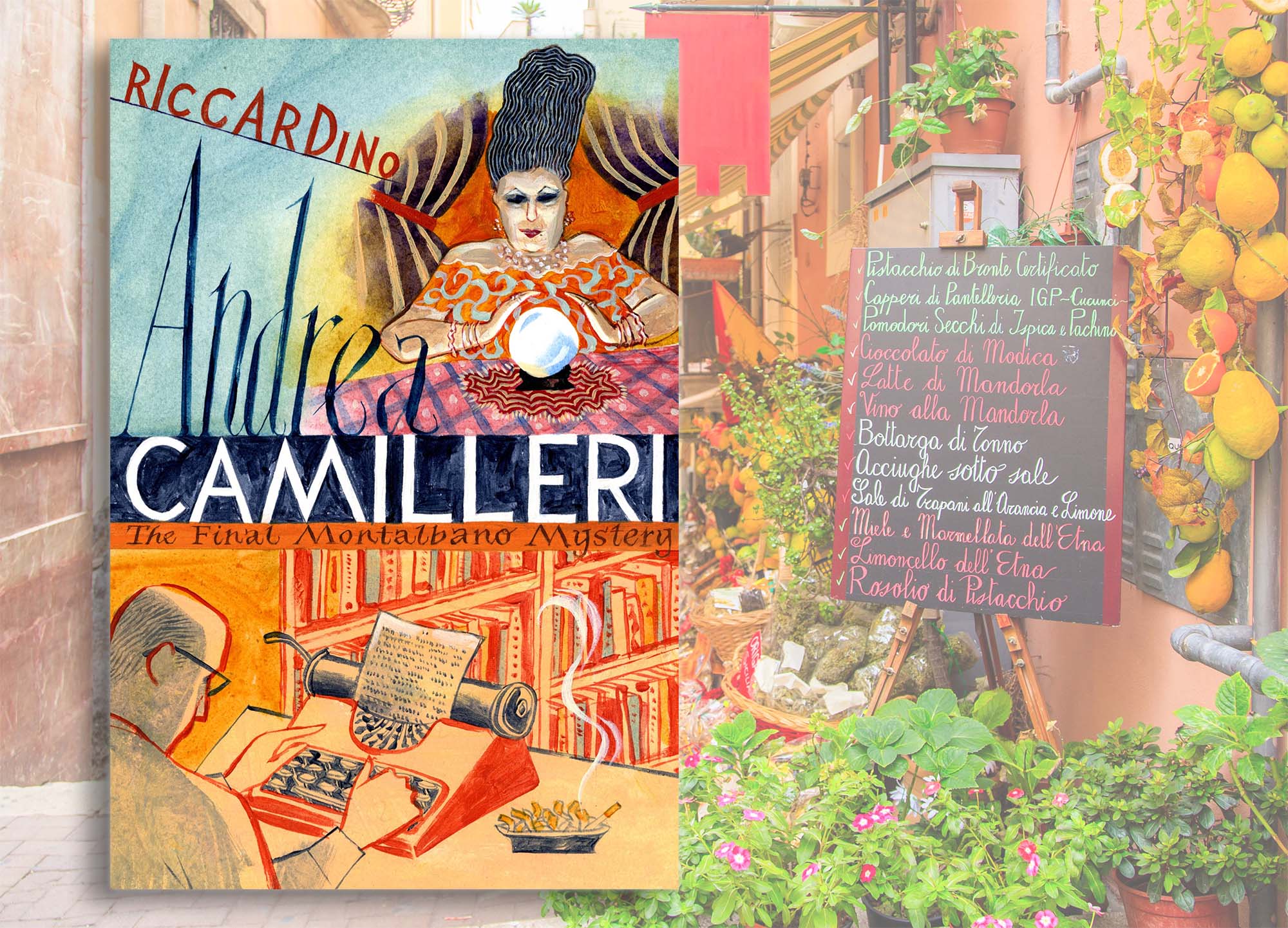 Inspector Salvo Montalbano's love of food is occasionally revealed by author Andrea Camilleri in many of the books he has written about the Italian detective – but only when Montalbano isn't solving cases in the fictional Sicilian town of Vigata or keeping the peace between Italy's police departments.

Montalbano's love for food is not just gluttony – he does not even eat frequently – but rather his obsession is with good food. Camilleri uses this character quirk to set up comic moments between Montalbano and his long-term girlfriend Livia, who is an enthusiastic but terrible cook. In the short story Gli arancini di Montalbano/Montalbano's Arancinis, the couple argue about what they will do on New Year's Eve, with Montalbano deciding to instead spend a night with arancini, a Sicilian delicacy prepared by his maid. 

Here, we've collected some of the best Italian recipes that might satisfy even the great Inspector's demanding palate – all taken from Prue & Peta Leith's must-have cookbook The Vegetarian Kitchen.



Ricotta cavatelli with aubergine and tomato sauce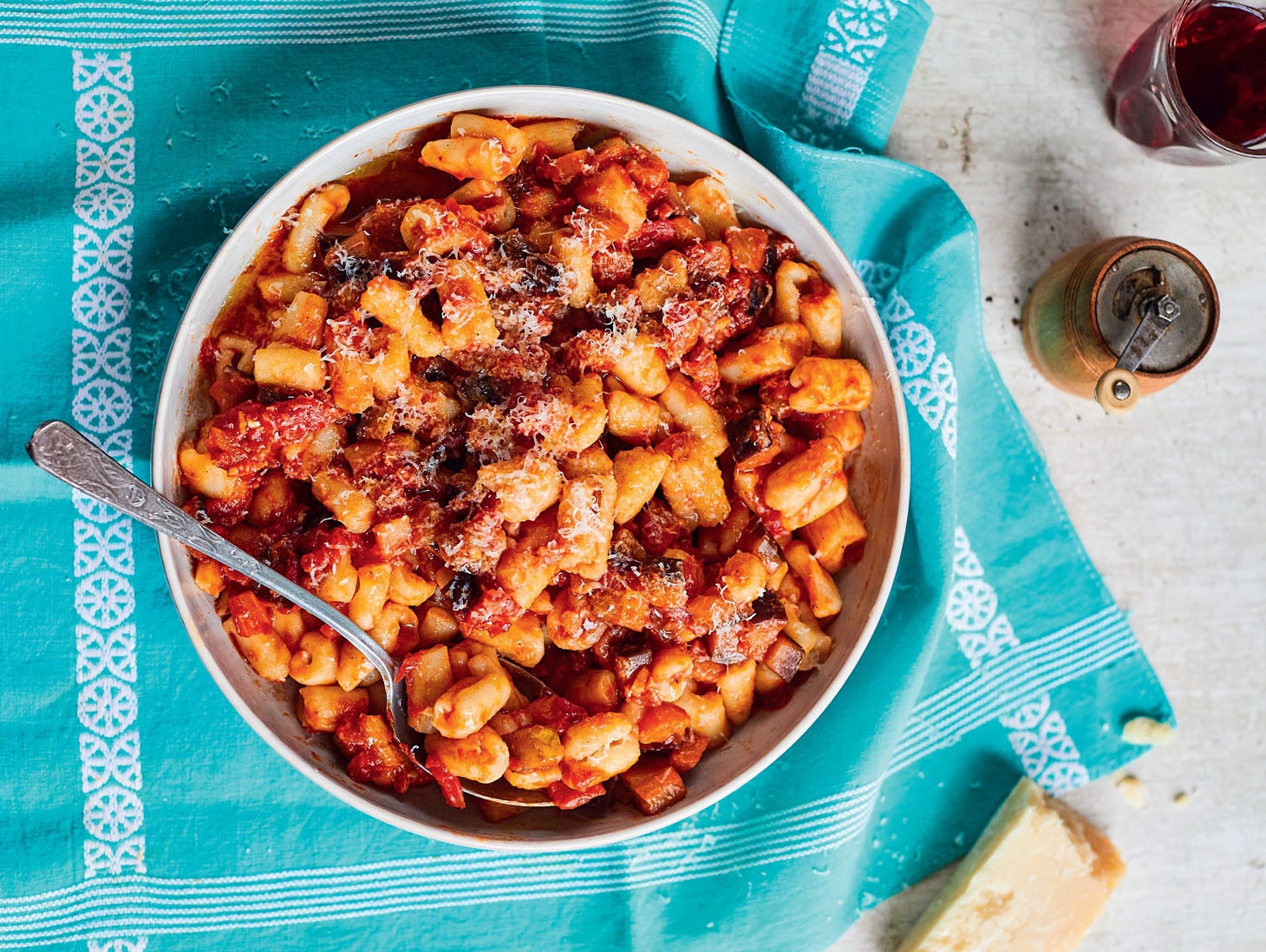 Total time

1 hour

Prep time

30 mins

Amount

Serves 4

Ingredients

300g ricotta
210g plain flour plus extra for dusting
a pinch of salt
grated vegetarian Parmesan-­style cheese to serve
2-3 tbsp vegetable oil
1 small aubergine – diced
3 garlic cloves – finely chopped 1 tsp tomato puree
1 x 400g tin chopped tomatoes
10g unsalted butter
a small handful of basil leaves – torn
salt and black pepper to season
To make the sauce, heat the oil in a saucepan over a medium-high heat, then add the aubergine and garlic and cook, stirring frequently, until the aubergine is starting to soften and brown. Add the tomato puree, tinned tomatoes, the butter and 60ml hot water, then bring to the boil. Reduce the heat and simmer for a further 20 minutes. Season with salt and black pepper and stir in the basil, then remove from the heat.
Combine the ricotta, flour and salt in a mixing bowl and mix it to form a dough. Knead it for a few minutes, until it is smooth and elastic.
Take a small piece of dough and roll it into a rope, approximately 1cm (½in) in diameter. Cut the rope into 1 cm (½in) lengths, then push two fingers into each piece of dough and drag it towards you across the work surface, so that it sticks on the surface a little and curls up around your fingertips. Do not be afraid to dust the dough with flour if it sticks. Put the cavatelli onto a flour-dusted tray and continue to shape cavatelli using the rest of the dough, leaving space between each one.
Bring a large pan of salted water to the boil, then add the cavatelli and stir with a slotted spoon. Return the water to the boil, and when the cavatelli float to the surface, they are done. Be careful not to overcook them.
Put the warm sauce into a serving bowl, then, using a slotted spoon, lift the cavatelli out of the water and add them into the bowl. A little of the cooking water will cling to them, but this is fine. Toss with the sauce, then serve immediately, with grated vegetarian Parmesan-style cheese on the side.
Tomato and basil focaccia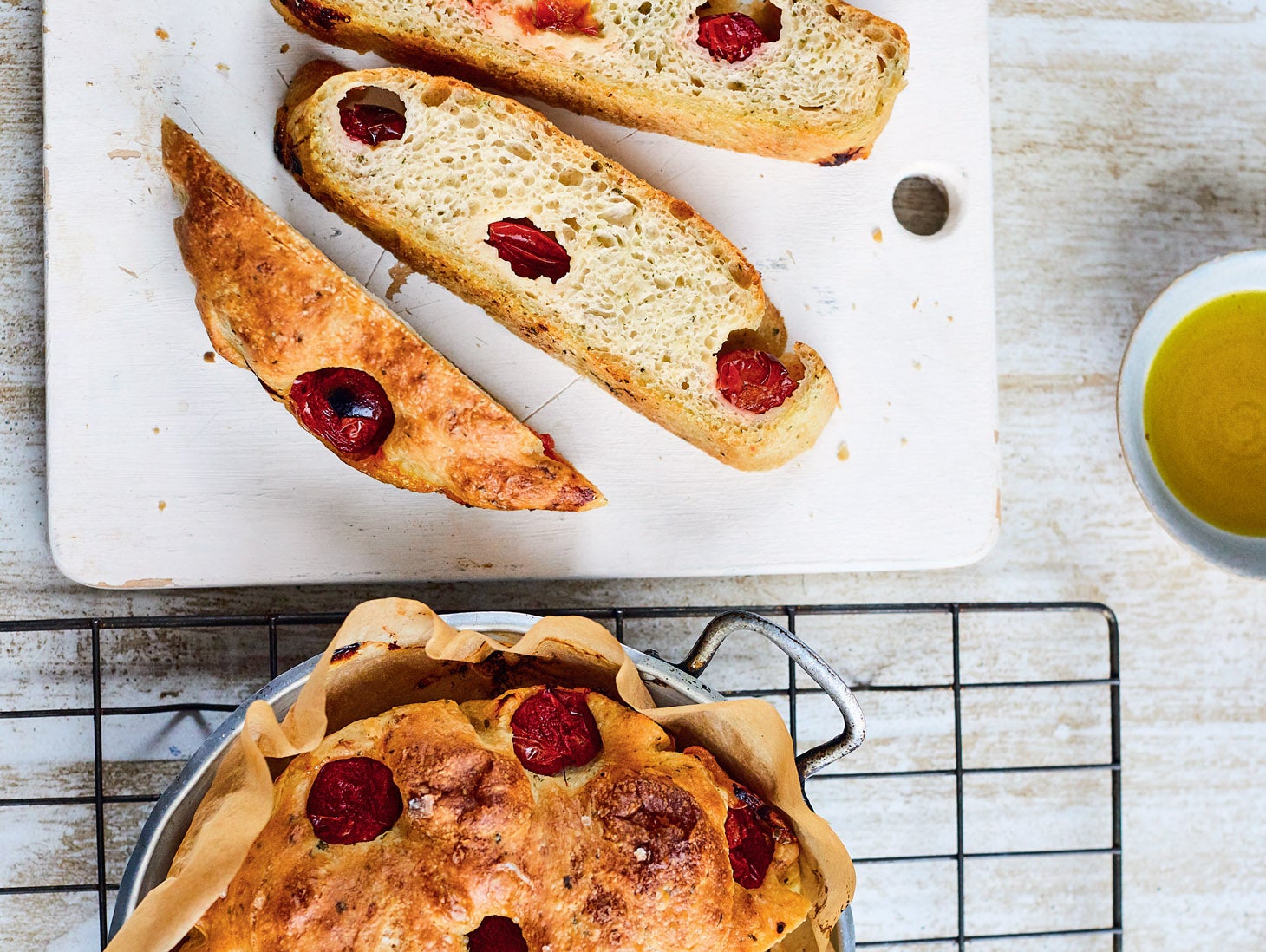 Total time

4 hours 30 mins

Prep time

4 hours

Amount

1 small loaf

Ingredients

250g strong white flour
1 scant tsp table salt
½ tsp fast-action dried yeast
a bunch of fresh basil leaves – finely chopped
40ml extra virgin olive oil – plus extra for shaping and greasing
12 whole cherry tomatoes or baby plum tomatoes tossed in olive oil
1 tsp flaky sea salt (such as Maldon)
1. Combine the flour, 200ml tepid water, salt, yeast, basil leaves and 2 teaspoons of the olive oil in a large mixing bowl. Mix the ingredients together by hand to form a wet, sticky dough. Cover the bowl with a clean tea towel and set it aside somewhere free from draughts at room temperature.
2. Every half hour, add another teaspoon of olive oil to the dough and give it 30 'folds'. ('Folding' means sliding your hand underneath the mass of dough and lifting/stretching one half of it up and away from the rest, then folding it over the top.) Give the bowl a half turn, then repeat until you have folded it 30 times. Replace the tea towel over the bowl and set aside for another half hour, before repeating. In total, you should do this 6 times, adding a teaspoon of olive oil each time. A sample schedule might look like this:
8am: Mix the dough
8.30am: Add 1 tsp olive oil and fold the dough 30 times
9am: Add 1 tsp olive oil and fold the dough 30 times
9.30am: Add 1 tsp olive oil and fold the dough 30 times
10am: Add 1 tsp olive oil and fold the dough 30 times
10.30am: Add 1 tsp olive oil and fold the dough 30 times
11am: Add 1 tsp olive oil and fold the dough 30 times
3. Heat the oven to 240C/fan 220C/gas mark 9. Lightly grease a 20cm (8in) square or round tin with olive oil.
4. Around 30 minutes after the final fold, turn the dough into the tin and gently press and stretch it out into the tin. Use the tips of your fingers to dimple the dough all over and lightly rub a drizzle of extra virgin olive oil over the surface of it. Try not to deflate the dough too much as you shape it.
5. Press the tomatoes into the dough in whatever pattern or order you prefer, but try to distribute them evenly so that each slice will contain one. Finally, scatter the sea salt generously over the top of it. Set aside somewhere warm, uncovered for 20-30 minutes, to prove.
6. Bake the focaccia in the middle of the oven for 18-20 minutes, by which point it should be well risen, golden brown, and sound hollow when tapped on the underside.
7. Remove from the oven, transfer it to a wire rack and allow it to cool completely before serving.
Ricciarelli with candied peel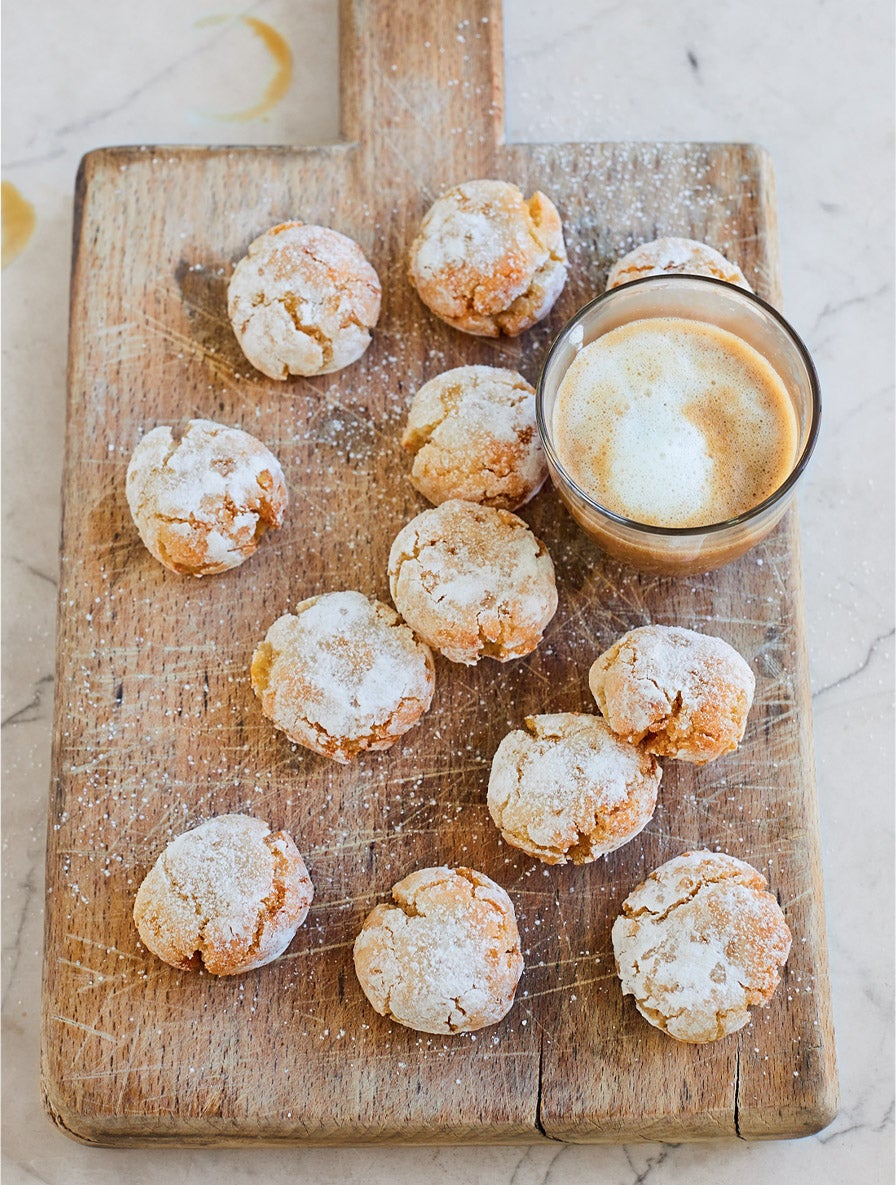 Total time

30 mins

Prep time

20 mins

Amount

Serves 12

Ingredients

125g granulated sugar
100g ground almonds
1 large egg white
a pinch of table salt
30g mixed candied peel – finely chopped
icing sugar for rolling
1. Heat the oven to 200°C/fan 180°C/gas mark 6. Line a baking sheet with baking parchment.
2. Whisk the sugar and ground almonds together in a bowl, to ensure they are well combined and there are no lumps.
3. In a clean bowl, whisk the egg white with the salt until it forms soft peaks. Fold the almonds and sugar into the egg white, then stir in the candied peel and mix to distribute it evenly.
4. Use your hands to divide the mixture into twelve evenly-sized balls. Put some icing sugar into a shallow dish, then roll each ball in it until it is coated.
5. Arrange the balls of dough on the baking sheet, evenly spaced, and press down very lightly on each one, just to flatten the top a little.
6. Bake in the middle of the oven for about 10 minutes, until the tops are cracked and the bottoms are just golden. Remove from the oven, transfer to a wire rack and allow to cool completely.
Pesto and goat's cheese bread pudding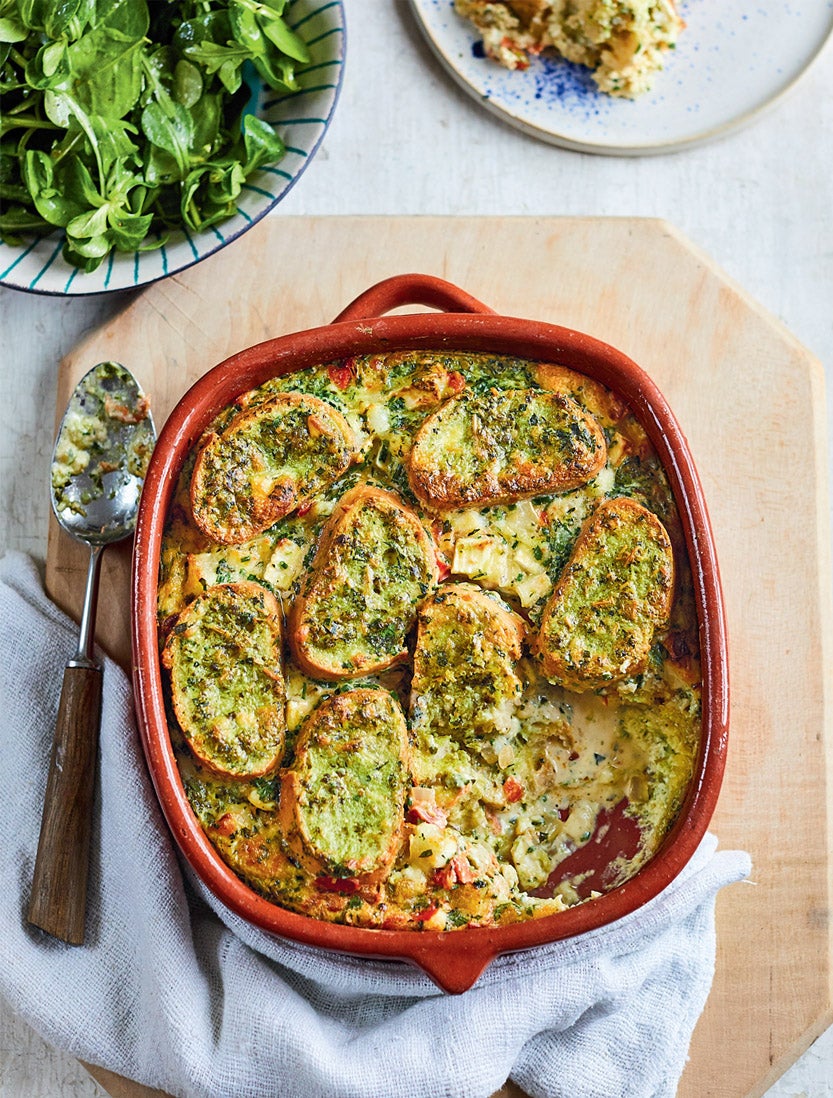 Total time

1 hour 20 mins

Prep time

20 mins

Amount

Serves 4

Ingredients

2 large plum tomatoes – roughly chopped
4 garlic cloves – roughly chopped
1 onion – roughly chopped 3 tbsp vegetable oil
3 large eggs
180ml double cream
100ml whole milk
1 tsp finely chopped mint leaves
1 tsp finely chopped flat-leaf parsley
1 tsp finely chopped chives
250g bread – thickly sliced
3-4 tbsp shop-bought basil pesto
100g goat's cheese – roughly chopped
unsalted butter for greasing
salt and black pepper to season
Heat the oven to 200°C/fan 180°C/gas mark 6.
Put the tomatoes, garlic and onion in a roasting tin. Pour over the vegetable oil, then season with salt and black pepper and toss it all together so that the oil coats everything evenly. Roast in the middle of the oven for 30-40 minutes, until soft and jam-like, then remove the roasting tin and set aside, but keep the oven on.
In a large jug, whisk the eggs with the cream and milk, then add the chopped herbs and season with salt and black pepper.
Grease a 20cm (Sin) ovenproof dish with butter. Spread each slice of bread generously with pesto. Layer the slices in the dish, distributing the roasted vegetables and cheese evenly between them.
Pour the egg and cream mixture all over the dish. It will seem like a lot, but don't worry, the bread will absorb a great deal of it. Bake it in the middle of the oven for 25 minutes, by which point it should have puffed up and turned golden brown and the custard should be set. Remove the dish from the oven and allow to cool slightly before serving.