Joe Wicks' Chicken Caprese salad
Joe Wicks, a.k.a. The Body Coach, shares a delicious recipe from Lean in 15 - The Sustain Plan.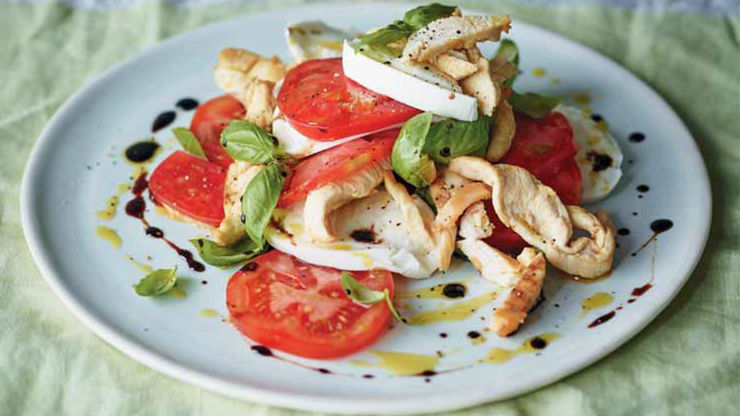 Total time

Prep time

Amount

Ingredients

½ tbsp coconut oil
1 x 240g skinless chicken breast fillet sliced into 1cm strips
1 large tomato cut into about 6 slices
1 x 125g ball of mozzarella drained and cut into 6 slices
6 basil leaves plus a few extra to garnish
Salt and pepper
2 tsp olive oil
1 tbsp balsamic vinegar
20g pine nuts – optional
Melt the coconut oil in a frying pan over a medium to high heat. Add the chicken and stir-fry for about 6 minutes, or until you are happy the chicken is fully cooked. Check by slicing into one of the larger pieces to make sure the meat is white all the way through, with no raw pink bits left.
While the chicken is cooking, arrange your tomato slices, mozzarella slices and basil in an overlapping circle. Season with a little salt and pepper, and drizzle with the olive oil.
When you're ready to eat, top with the chicken, drizzle with the balsamic vinegar, scatter over the pine nuts, if using, and enjoy.