Make Joe Wicks's Moroccan salmon fishcakes
Make these delicious reduced-carb salmon and prawn fishcakes from Joe Wicks's new book, The Fat Loss Plan.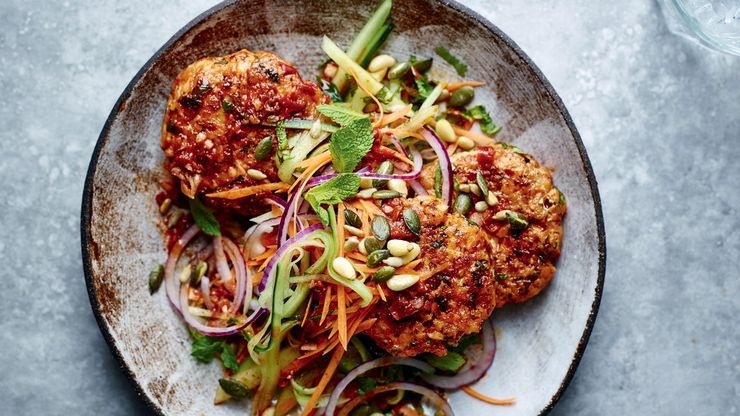 Looking for a delicious but lean midweek meal? Why not make these reduced-carb salmon and prawn fishcakes from Joe Wicks's new book, The Fat Loss Plan which is out now. Served with a super-tasty seed and nut salad, this recipe is packed with healthy fats to fuel your body.
Total time

6-8 minutes

Prep time

5-10 minutes

Amount

Serves 1

Ingredients

For the fishcakes:
1 x 120g skinless salmon fillet roughly chopped
100g raw peeled tiger prawns roughly chopped
1 tbsp rose harissa spice paste
1 tbsp mint finely chopped
2 tbsp coriander finely chopped
zest of 1/2 lime
salt and pepper
For the salad:
1 carrot coarsely grated
1/4 cucumber peeled into thin shreds with a vegetable peeler
1/2 small red onion finely chopped
1 tbsp each of chopped mint and coriander plus extra leaves to serve
2 tsp rose harissa paste
juice of 1/2 orange
1 clove crushed garlic
Optional - 1 tbsp each of toasted pumpkin and sunflower seeds
Optional - 1 tbsp toasted pine nuts
Preheat the grill to medium-high.
Place the salmon, prawns, harissa, mint, coriander and lime zest in a food processor.
Season and pulse until well combined, but still a little chunky.
Divide the mixture into three portions and form each one into a patty, about 1.5cm thick.
Place on a grill rack and cook under the grill for about 6-8 minutes, turning halfway through, or until cooked and lightly golden.
Meanwhile, make the salad by chucking the carrot, cucumber, red onion and chopped herbs into a bowl. Whisk together the harissa with the orange juice and garlic and pour over the vegetables. Season well and toss to combine.
Pile on a plate with the seeds (if using) and pine nuts and serve with the fish cakes.