Megan Abbott on child prodigies and pushy parents
Megan Abbott talks about the viral video that inspired her new novel, You Will Know Me, set in the ultra-competitive world of professional gymnastics.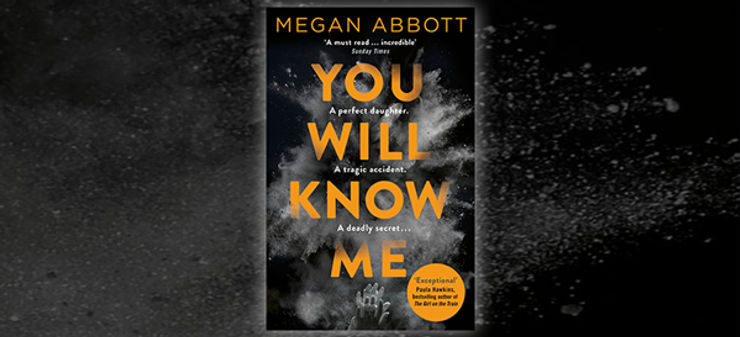 We spoke to Megan Abbott about the viral video that inspired her new novel, You Will Know Me, set in the ultra-competitive world of professional gymnastics.
What was the inspiration for You Will Know Me?
I've always been interested in families of prodigies. How power operates in those families, how ambition does. Then, during the London Olympics four years ago, I saw this video of the parents of American gymnast Aly Raisman watching their daughter's uneven bar routine and it kind of blew me away. They were so invested in it, so connected to her. They moved as she moved. They knew every beat of the performance. The footage went viral and the response to it was tricky. Some people found it funny, others found it problematic and there was some fingerpointing. I think we all struggle with how invested parents should be in their children's development, but with exceptionally talented children, all that is thrown into high relief.
I could just feel the book taking shape after that. How does that kind of intense focus on a child's talent affect a marriage, for instance? What about siblings? And families, in general, fascinate me—the place of the greatest darkness and the greatest light.
You are known for writing shockingly accurate portrayals of teen angst and an uncanny ability to get inside the heads of teen girls. Why are you so drawn to this subject matter?
In some ways because teen girls are still so often dismissed or condescended to. But every woman I know is haunted in some ways by their teen years, by the choices they made then and the way they crafted their identity and developed their sense of self.
And, as a writer, it's such rich terrain. Everything is in such high relief during those years. All the big emotions of life seem to storm through us every day. When I remember myself at that age, it was like my nerve endings were all exposed. It's when you're both at your most curious (and, potentially, risk-taking) and also at your most vulnerable—especially to disillusionment. And when you're a mom, like the main character in You Will Know Me, you're in some ways living through it all again through your daughter, which is incredibly complicated.
You Will Know Me is a bit of a departure in that it focuses more on the parents' perspective. Why did you choose to shift gears in this way?
My last book, The Fever, had three viewpoints, one of whom was the father of two teens, and I really loved it. Exploring the gap between how parents view their teens and how teens view themselves, and vice versa. But it seemed thrillingly different in the case of You Will Know Me. Katie, the protagonist, is so close to her daughter, Devon, because of the way the family has circled itself around Devon's extraordinary talent. And that closeness fascinates me.
At what point does your child become a stranger to you? Because all children need to break apart from you to become themselves, but is it slower to happen in the case of a prodigy? A case when the parent, like Katie, is so tied up in her daughter's everyday life?
What research did you do into the world of uber-competitive youth gymnastics when writing You Will Know Me?
Gymnast memoirs were a huge help. I read almost every one I could get my hands on. Both the flag-waving sports ones and the tougher ones too, the exposés. The one that had the biggest impact for me was Nadia Comaneci's Letters to a Young Gymnast, which is a brilliant book on many levels (foremost her strong voice), and is such a keen distillation of what seems a pure, fire-hardened ambition. I also talked to former gymnasts and had one of them read the manuscript.
And, I confess, watching a lot of YouTube, and diving into online chat rooms, especially those devoted to parents of gymnasts. But the book's title comes from Nadia, who tells her reader, 'I don't know you, but you will know me.' What could be more enticing to a reader?
What did you learn about this world that surprised you?
Everything! I became very fixated on the mental control and struggles the gymnasts faced. How much it is a head game. And then the sport's impact on girls' developing bodies. It is not a universal experience, but for many girls it halts their adolescence in certain ways, or it threatens to, and this prospect fascinated me and worked its way into the novel. Your body is both your greatest gift and your worst enemy. Maybe we all feel that, in a way.
Have any gymnasts or parents of youth athletes read and responded to You Will Know Me yet?
I've had a few early gymnast readers who've been very supportive. In particular, they've responded to the parent-booster culture in the book, the way parents invest in a gym and insert themselves into gym politics. The hothouse environment that the parent viewing area can take on. Or, 'gym drama', as it's called. Which seems to have all the hallmarks of a great reality TV show, or a Shakespearean play.
After being so close to this world while researching and writing You Will Know Me, will you view the Olympics in Rio this year through a different lens?
I love watching gymnastics and this book reflects a love of, and immense respect for, the sport and the art. But in the end, I think the book is more about family and parent love than gymnastics, so probably my eyes will be more on the families than in past years. More on what it takes for a family to help make an Olympic medalist.