One of 2021's most exciting debuts, Raven Leilani shares the books she's most excited to read in 2022
With fans including Zadie Smith, Candice Carty-Wiliams and Dolly Alderton, Raven Leilani was the dazzling debut novelist of 2021.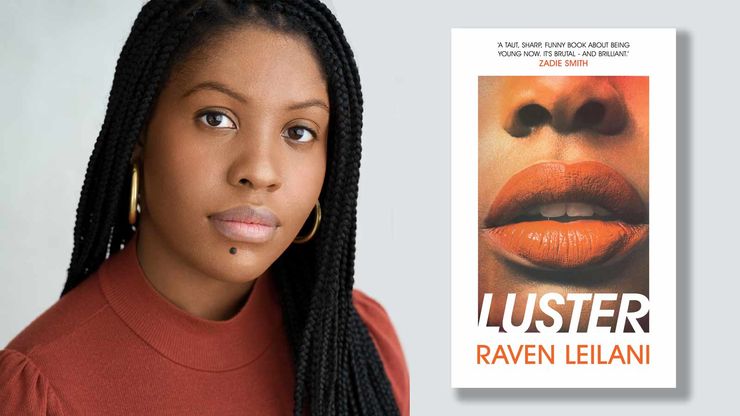 Raven Leilani's debut novel Luster, which Zadie Smith called 'brutal – and brilliant,' was published to huge acclaim, hitting the New York Times bestseller list and receiving rave reviews. Dolly Alderton told her podcast listeners that 'these pages are some of the most exciting, disturbing, dark, sharp, funny pages I have read in a debut novel,' while Candice Carty-Williams, author of Queenie, called it 'remarkable, the most delicious novel I've read.'
A razor-sharp and painfully funny novel about what it's like to be young now, Luster is told in the voice of Edie, a twenty-three-year-old Black woman trying to survive in New York City while navigating awkward sexual relationships and a dead-end job. The only thing that really matters to Edie is her art, but it's hard to focus on your passion when you're struggling to make ends meet. When she meets Eric, a white, middle-aged man in an open marriage, Edie's life gets even more complicated.  We spoke to Raven about her debut novel, the challenges facing young people today and the books she's most excited to read in 2022.
Zadie Smith described Luster as 'a taut, sharp, funny book about being young now.' Do you feel that there are any significant influences on young people now that perhaps haven't been experienced by previous generations? What do you think are the positives and pitfalls of these, and how do you think they are shaping young people's lives?
I think every generation has had to work against the limits of their time. Same with my generation, a generation that – it should be noted – is now made entirely of adults. I don't know that we've moved past the idea of that teenaged caricature. We're working, we're parents, and we're trying to carve out meaningful lives while contending with crippling debt and impending extinction, among other things. So I think there is an urgency and anxiety in the art that mirrors that reality. The feeling of there not being enough time animated me, for sure, but that was a privilege, that I was still intact enough to make something of it. For a lot of people of my generation, that's not the case.
You grew up in a family of artists – did this shape your creativity and your desire to create? How important was their influence on you?
Many of them were artists, but it wasn't how they made a living. The primary work was a 9 to 5, and so I had a family that supported my interest in the arts and also reflected the reality of that pursuit. Working a traditional job while I wrote on the side – I was extremely tired and some of those jobs I loathed, but it was all part of the process for me. I had to work to do the work that mattered. 
Edie is a beautifully complex character. Why do you feel complex and imperfect characters are important?
Thank you! I guess one reason is that I didn't want people to come to my book and be bored to tears. Perfection is boring, invulnerable. I wanted to be vulnerable on the page, and for Edie to be afforded that right as well. I was trying to write against the idea that Black women should be well-behaved to deserve empathy, or that this Black narrative should be instructional. I didn't want to condescend to my readers by moralizing. I think you can smell it, when a character is positioned that way, and that most are inclined to turn away from that strong-arming. There is more legitimacy in whatever argument you're making when the warts are accounted for and a person is allowed to be a person, to hurt, be angry, make mistakes. For Black women, who are tasked with maintaining that veneer in the face of quiet and overt violence, there is enormous catharsis and humanity in being allowed to crack.
Do you have any other favourite imperfect characters that you can share with us?  
Queenie – from Queenie by Candice Carty-Williams
Millie – from The New Me by Halle Butler
Narrator – from My Year of Rest and Relaxation by Otessa Moshfegh
Helen – from Sorry To Disrupt The Peace by Patty Yumi Cottrell
Macabea – from Hour of the Star by Clarice Lispector
Celeste – from Tampa by Alissa Nutting
Do you feel complex Black female characters are underrepresented in literature, and if so, what do you feel are the implications of this?
I think Black women have been writing complex Black women for a long time, and I feel lucky to join their ranks. Credit is due to the Black women who dared show the interior realities of Black women on the page, especially as many of them were writing against a culture that was much less forgiving of fallible Black women, in real life and on the page. 
What advice would you give to young aspiring writers?
I would say to write toward what feels private, specific and joyful. Write what excites you, not what you think people want to see. But also to take any absolutes around how it should be done with a grain of salt. Find your own ethic and your own voice, and write when you can. Work and life have to be tended to and sometimes that makes writing difficult – something I felt that very much writing this book – but getting in a little bit at a time is still good, meaningful work. 
Luster has certainly received an exciting response, with praise from authors such as Candice Carty WIlliams who called it 'remarkable, the most delicious novel I've read.' After Luster, do you know what's next?
It's been such a dream, way more than I expected, and I'm just taken up with the work that has come from this book. But soon, I'd like to start my next one. There are a handful still in me that I need to exorcise. 
What are your aspirations for 2022?
I would like to paint more and read more poetry.
Which books are you most excited to read in 2022?
Caitlin Barasch's A Novel Obsession, Disorientation by Elaine Hsieh Chou, and Lillian Fishman's Acts of Service.