Reading one picture book to your child every day introduces them to 78,000 words every year
What's the secret to increasing your child's language and social skills, as well as the bond between you? Storytime. Research shows that reading just one book a day to your child has a lasting impact on their development.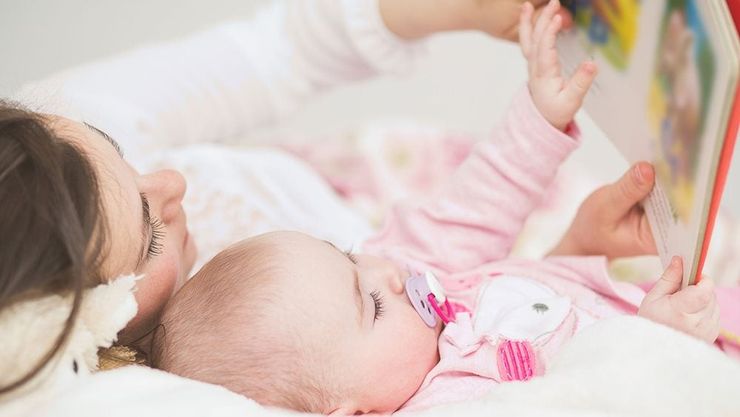 Whether it's Joe, Fanny and Bessie's adventures with their magical friends in the land at the top of the Faraway Tree, or strolling through the deep dark wood in search of a Gruffalo, most of us have treasured memories of a much-loved, much read, childhood book. But reading for pleasure is in decline, World Book Day has found. And the organisation is on a mission to change that by encouraging the nation to share a million stories, because reading for pleasure is the single biggest indicator of a child's future success.
But when is the right time to introduce books to your baby? Well, research shows that reading to your baby has benefits from the very first months of their life, enhancing language and social skills as well as increasing the bond between you and your child. Despite the abundance of modern technology available to entertain and educate children, nothing has a bigger impact than a good old-fashioned bedtime story.
Discover our best baby books and wonderful books for toddlers.
Don't miss our fun indoor activities for kids of all ages. 
For more World Book Day inspiration, take a look at our Share a Story activity ideas.
What are the benefits of reading to babies?
Reading together can be a wonderful bonding experience, as well as helping your baby to develop their language and social skills. Teaching children that reading is fun is the best way to ensure they'll continue to read for pleasure independently. And 'reading for pleasure is the single biggest indicator of a child's future success, more than their family circumstances, parents' educational background or their income', found the Organisation for Economic Co-operation and Development.
In this video, Dr. Pamela High, from HASBRO Children's Hospital, and Susanna Beckwith, from literacy program Reach Out and Read, discuss the positive language, cognitive and emotional effects that reading can have on children.
Reading to your baby helps the two of you to bond
A study in the Journal of Developmental and Behavioral Pediatrics
found that for parents of babies in the NICU (neonatal intensive care unit), reading to baby helped increase feelings of intimacy between parent and child. 
Reading 'exposes the baby to the sound of your voice, which is soothing for him,' says Mary Ann Abrams of Reach Out and Read. Storytime can be bonding time, warm and fun, and a great opportunity for a cuddle!
Reading to your baby helps to develop their language and social skills
Reading and talking about books with babies and toddlers is a key step in their journey to becoming readers and is a key contributor to success at school. Hearing new words also helps children develop a stronger vocabulary, and reading to your baby is a great way to introduce them to new words they won't necessarily hear in everyday conversation. A study published in the Journal of Developmental and Behavioural Paediatrics found that parents who read one picture book to their child a day expose them to an estimated 78,000 words a year. The quantity, and in particular the quality (talking about the book, looking at pictures and discussing the story and the characters), of shared book reading has a positive effect on a child's vocabulary and early reading skills. 
But reading with children has a wider effect than improving their literacy skills. Professor Peter Fonagy, Head of Psychology and Language Sciences at UCL, believes that book sharing is an effective way of providing interaction which 'helps a baby develop the capacity to make sense of their own and other people's minds – one of the foundation stones of psychological wellbeing.'
It shows them that reading is fun
By making reading together a part of your daily routine from the time your child is a baby, you're teaching them that reading is an enjoyable activity associated with all the positive feelings that come with family bonding time. Make reading time even more fun by using silly voices for different characters, introducing your baby to interactive books with bright colours, noises, pop-ups and flaps to lift, or making up your own stories about the characters. The stronger your child's love of books before they start school, the less likely they are to come to see reading is a chore when required to read for school.
How and when should I introduce reading to my baby?
When should I start reading to my baby?
It's never too soon to start reading to your baby: right from the start they'll benefit from the calming sound of a familiar loving voice and the bonding effects of spending one on one time together. Nicola Lathey, speech and language therapist and co-author of Small Talk, says that for 'young babies, it's best to simply point out one or two single words that relate to the pictures on the page.'
How should I read to my baby?
The great thing about reading to very young babies (0 - 6 months) is that they won't understand the words you read to them, so before they reach the age where they start demanding that favourite story every night, twice a night, take the opportunity to read aloud from texts you enjoy, whether that's Shakespeare or a fashion magazine.
From six months old, studies have shown that babies learn more when shown books with faces and objects that are individually named. Professor Lisa S. Scott, who carried out the study, believes that 'For infants, finding books that name different characters may lead to higher-quality shared book reading experiences and result in the learning and brain development benefits we find in our studies.' So when reding to baby, emphasise the names of different characters and objects, and reinforce this by pointing to each character or object as you name it. If the characters in the book don't have names, you can simply make some up. 
What are the best books for babies?
Professor Scott believes that for maximum benefit, from six months old we need to be reading the right books to children at the right time. As mentioned above, books with named characters are important, and repetition and rhyme have also been proven to help children process the speech they hear. But of course, especially for older babies, it's just as important that reading is fun and holds their attention. Brightly coloured books with interactive elements such as pop-up and lift the flap books, touch and feel books and books with sounds will all add fun to storytime. 
With high contrast pictures to help babies focus, peep-through holes to play peekaboo, a mirror, and fold-out pages for 'tummy time', the Baby's First Peekabook range is designed to stimulate babies as they develop and grow during their first year.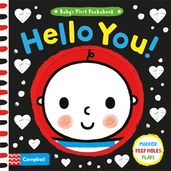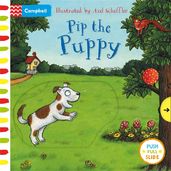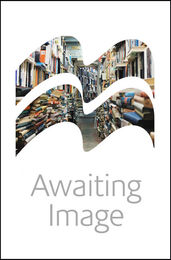 Discover all our baby books, from books for newborns to books for toddlers, here.