How to make your own bunting
Kate Thompson, author of Secrets of the Sewing Bee, shows you how to make your own bunting in a few simple steps.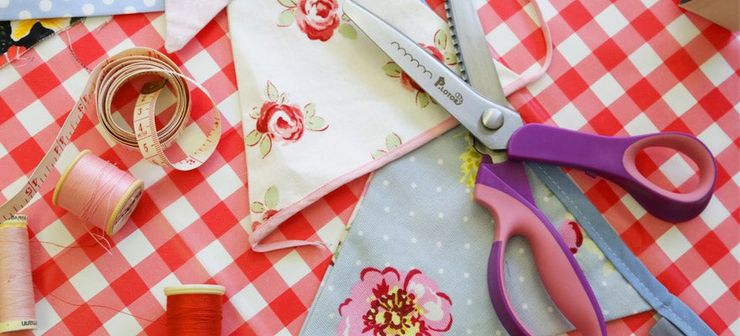 Remember the street parties of yesteryear? trestle tables groaning with sandwiches, cake and jelly, union jack flags fluttering from every gas lamp and acres of bunting hoisted high over the cobbles?
Nothing evokes the nostalgia of the past more poignantly than black and white photos of a good old community knees up. but why should these things be consigned to the past?
This weekend, the nation readies itself to celebrate the official 90th birthday of her majesty the queen. why not celebrate the milestone birthday of britain's longest reigning sovereign by getting your neighbours together and arranging your own street party? or perhaps you're taking part in this sunday's big lunch; where people are encouraged to sit down to eat with their neighbours in streets and community spaces?
However you are celebrating, why not try your hand at making your own party bunting to add a cheerful splash of colour to the weekend's festivities? here's our easy peasy, step-by-step guide.
Kate's step-by-step guide to making bunting
what you need
I used three different fabrics for the bunting and used them for both sides.  you could put plain fabrics on the back if you would like to save your best fabric for the front.  three fat quarters will be more than enough if you choose to use three fabrics.
fabric - 2-3 fat quarters.
approximately 3 metres of grosgrain ribbon - approx. 1inch wide
fabric scissors
pins
unpicker
matching thread
sewing machine - straight stitch length 2.5
template - draw on a4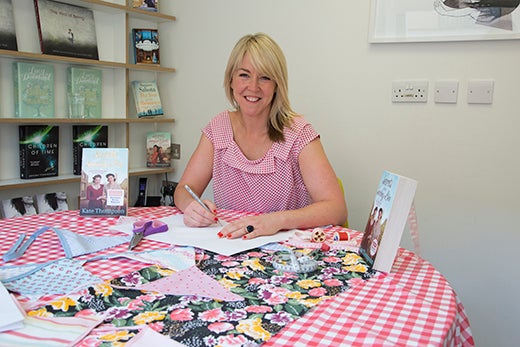 step 1 - cutting out your bunting
lay fabric out with any patterns facing up.  lay your pattern pieces onto the fabric as instructed.  cut as many flags as you would like to.  i made 6 flags so cut 12 pieces of fabric out.
stage 2 -  preparing your pieces ready for sewing
place your first piece of fabric on the table with the right side facing up at you.  lay on a second piece face down so the right sides are together and pin along the two long sides.
there is a dotted line drawn across the point of the pattern piece.  when your pieces are pinned together, place a pin along this line on the point as a reference for when to stop and pivot.  this will help you to sew the flag accurately with a 1cm seam allowance on both sides.
sew a 1cm seam allowance along the two long edges to make a 'v' shape, making sure to not sew the top closed as you'll need to turn them through!
stage 3 - preparing your bunting flags
trim the excess fabric off at the point to reduce the fullness.  turn the flags the right way round and carefully poke the point through with small scissors. iron the flags so that they are all flat and neat.  trim any excess off the top so that you have a neat straight line.
stage 4  -  pinning your flags onto the grosgrain
allowing a long length for the tie on one end, place your first flag onto the grosgrain so that it sits just under halfway down from the top.  pin in place.  measure 10cm along and place the next flag in position.  repeat for the rest of the flags.  leave a long length at the other end also for the tie.
you can either tack the flags on at this stage, or sew them on using a long stitch length which will keep them all in place. if you are confident, you can skip to the next step.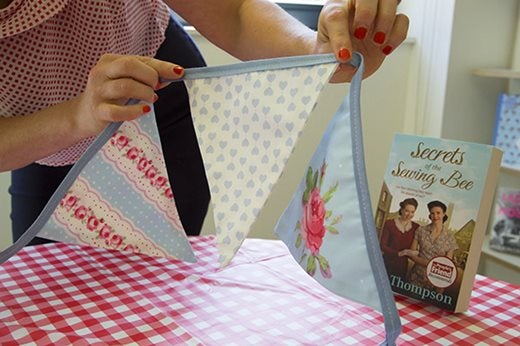 fold the grosgrain down over the raw edge of the bunting flags and pin in place.  this is where you will notice that it is important that you have placed them under halfway so that the grosgrain sits equally over the raw edge. you don't need to fold the tie sections in half, just sew along where the flags are.
stage 5 - sewing your flags onto the grosgrain
using zig-zag stitch, width 4-5 and length 2.5,  stitch along the length of the grosgrain keeping the foot lined up with the edges to sew along the centre.
try a fancy stitch too for that special finishing touch!
fold over the ends of the ties twice and stitch down with straight stitch.  alternatively, you can burn the edges with a gas lighter to seal them to stop them fraying.  this is a great tip for ribbons too!  just be careful when doing it!
stage 6 - finishing your bunting
and that is it!  your bunting is ready to be hung up in time for her majesty's birthday and all those summer garden parties and bbq's.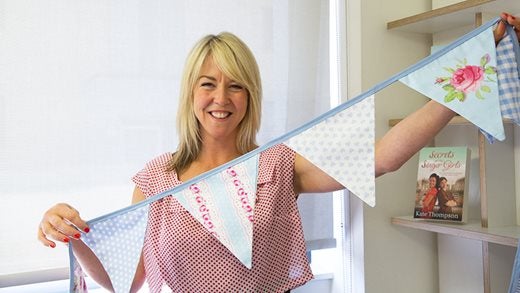 you can get kate thompson's secrets of the sewing bee on your kindle for just 99p until the end of june. read chapter one here.