'I moved my partner into my flat after a five-day holiday romance.' Rosie Walsh on love at first sight
Rosie Walsh, author of The Man Who Didn't Call, on love at first sight and taking risks in life.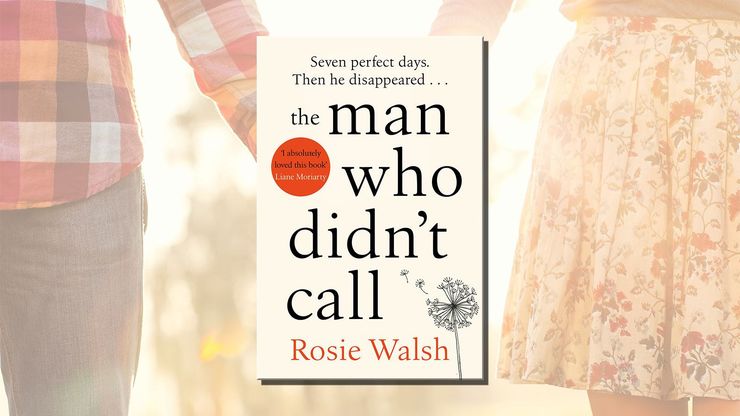 The Man Who Didn't Call is a gripping romantic story for anyone who's waited for a phone call that didn't come. When Sarah meets Eddie, there's an instant connection and after seven wonderful days together, she's fallen head over heels in love and is certain he feels the same. But then he disappears without a trace . . . Here, author Rosie Walsh tells us all about her own whirlwind romance, what she really thinks about love at first sight and why she believes in taking a risk.
A few years back I was on a train, messaging an old school friend. How did your date go? I asked. Recently divorced, she had finally found the courage to re-enter the fray.
Really well! she responded, with the sort of speed that's achievable only if you're staring at your phone. I've spent the last four days at his flat! He's given me a key! He's told me he loves me! 
I sat back in my seat, and thought, Oh God. 
What to say? How best to intervene? 
After a brief internal consultation, it came to me there was nothing I could say. A few years beforehand I had moved my own partner into my flat after a five-day holiday romance: I wouldn't have a leg to stand on. 
When I met my partner, I had recently read The Rules, that pocketbook of antifeminist absurdity that did the rounds in the nineties and noughties. I'd found it risible, of course, but it had still managed to make an impression. When I moved him in to my flat I didn't tell anyone. I feared people would think me reckless, or even insane – and I was fairly sure they'd be right. After all, this man could be anyone. Anyone!
Fast forward nearly nine years, and George and I have a son. My friend and her date stayed together, too: they also have a baby. And, for good measure, my parents - who met at a party and got engaged a few weeks later – have just celebrated forty years of marriage. 
'So I'm guessing you believe in love at first sight,' asked an American radio presenter, around the hardback publication of The Man Who Didn't Call. 
I laughed. 'God, no!' 
He was a little taken aback, and who could blame him? My novel tells the story of two people who meet and fall in love in a matter of days. Both are approaching forty; one is in the middle of a divorce – this is not a story of infatuated teenagers or carefree twenty-somethings. It's intense, it's heartfelt, it takes both of them completely by surprise.   
But that's where the charming romance ends. On day seven, Eddie disappears without a trace, and when Sarah does eventually find out what happened to him, her life is turned upside down. Eddie could not be further from the man she thought him to be.  
I can't move past the idea that we can never truly know anyone, let alone someone we've spent a few days with: I've written a whole book about it. And for that reason I do not – cannot – believe in love at first sight. 
But what I do believe in, wholeheartedly, is risk-taking. I was willing to take a big risk when I met my partner, and I believe completely in Sarah when she takes a big risk with Eddie. Because that readiness to put ourselves in emotional danger is what makes love exhilarating and beautiful, for me – it has nothing to do with some sense of destiny as your eyes meet those of a stranger's across a room. 
But I'm willing to be proved wrong! Come and tell me your own stories; try to persuade me otherwise. You'll find me on social media, @therosiewalsh.