England rugby coach Eddie Jones's career highlights
In his explosive autobiography, My Life and Rugby, Eddie Jones tells his story for the first time. Here, we take a look at the highlights from his career.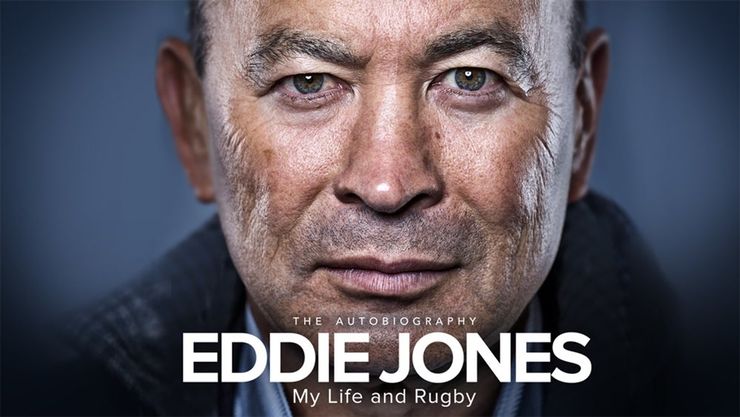 Eccentric, informed, obsessive – England coach Eddie Jones has a reputation as one of the most feared, methodical minds in world rugby. The Australian took charge at English rugby's lowest ebb – humiliatingly eliminated in the group stages of the 2015 World Cup they hosted – and transformed the side into World Cup finalists. 
 In his new book, My Life and Rugby, Eddie provides the full inside story of England's 2019 World Cup campaign, as well as revealing his fiercely competitive attitude, his love of coaching and how his philosophy of the game was formed by his upbringing in a tough working-class suburb of Sydney as a small half-Japanese kid, playing schoolboy rugby alongside the legendary Ella brothers. Told with unflinching honesty, My Life and Rugby is the ultimate book for both sports fans and those embarking upon coaching or business careers. Below, Will Cracknell looks back at Eddie's coaching career highlights.
Australia 22 New Zealand 10 – 2003 World Cup Semi-Finals
As Australia coach, Eddie and his side were derided in July 2003 after losing 50-21 to New Zealand in Sydney. Despite the dismal outcome, the game would provide an excellent example of both Eddie's skills as a forward planner and his ability to take encouragement from inauspicious results. Here, Eddie formulated a plan to defeat the All Blacks at the forthcoming World Cup.
 After three months of training to overwhelm New Zealand's counterattacking game, Australia comfortably saw off their Oceanian rivals 22-10 to ease into the World Cup final. The result was a huge upset, but Eddie had felt certain of victory and the players stuck to his strategy impeccably. 
South Africa World Cup Champions 2007
Despite Eddie's attempts to downplay his 13-week consultancy role with the Springboks, two of 2007's World Cup-winning South Africans told Donald McRae, who helped Eddie write his autobiography, that they would not have won the tournament without him. Captain John Smit and talisman Fourie du Preez stressed that Eddie "made the difference and ensured their victory."
 Both players also predicted that, so long as England avoid injuries to key players, Eddie would win the 2019 World Cup for the first time as head coach. 
South Africa 32 Japan 34 – World Cup 2015
The biggest upset in rugby history. Eddie's Japan, who previously had won only one World Cup game in their entire history, conquered two-time world champions South Africa. Japan had lost every other World Cup match by an average of 48 points, most humiliatingly in 1995 when they conceded 145 points to New Zealand. 
 With a minute left, South Africa led 32-29. Japan were awarded a penalty close to the South African try line. "Take the three!" Eddie screamed to his captain Michael Leitch, knowing a momentous draw was within reach. But Leitch couldn't hear him. To Eddie's horror, he rejected the match-saving penalty and risked defeat to go for the win. 
 Japan scored a last-minute try to secure the most famous World Cup victory of all time. Most significantly, it demonstrated Eddie's players had wholeheartedly bought into the values he demanded: bravery, belief and trusting one's instincts.
Becoming England coach and a world-record equalling run
Eddie was appointed on 1 December 2015, and England won every match they played in his first year in charge – a run which included the 2016 Six Nations grand slam and whitewashing the Wallabies in his native Australia. 
 Indeed, between 10 October 2015 and 11 March 2017 England secured a world-record equalling 18 consecutive Test victories. Eddie's introduction of a shorter, more intense training schedule transformed England's self-confidence. Most importantly, the coach addressed what he believed was a glaring weakness in the psyche of English rugby. He said: "In the past there was too much importance placed on playing for England, rather than winning for England." Plainly, these days are over. 
The one that got away... World Cup final 2019
 Perhaps the glory of Eddie's previous England successes compounded the agony of their World Cup final defeat. After breezing through the knockout stages, undoubtedly the highlight of which was the stunning semi-final victory over a New Zealand side unbeaten at the World Cup for 12 years, many pundits believed the Webb Ellis Cup would return to England. 
 In the build-up to the game, Eddie seemed relaxed as he warned South Africa he had been preparing for the final since taking charge of England in 2016. But his England side, the youngest World Cup final team in the professional era with an average age of 27 years and 60 days, came up just short against a ferocious South Africa squad. 
 Despite obvious post-match disappointment, Eddie's defiant mentality was more evident than ever in defeat: "We didn't meet our goal to be the best team in the world, but we are the second-best team in the world, so I think that's how we should be remembered."