Bringing Jeff Noon's Vurt to the table
It took three years to bring Vurt: The Tabletop Roleplaying Game to Kickstarter. Logan Decker from Ravendesk Games tells us how their patience and tenacity paid off in a big way.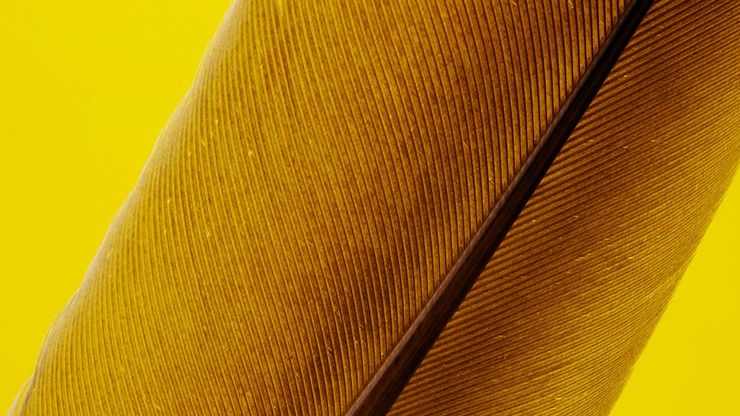 The moment we hit the launch button on our Kickstarter for Vurt: The Tabletop Roleplaying Game, we started getting messages from fans of Jeff Noon's series of chaotic and hallucinatory novels that began with Vurt in 1993 (for which Noon won the Arthur C. Clarke Award the following year) and continued with Pollen, Automated Alice, and eventually the prequel Nymphomation in 1997. The majority of these messages ran along the same theme: "I can't believe this hasn't happened already!" Yeah, I know that sounds grossly self-serving—perfect for the press release!—but if you've read any of Noon's work, you can probably imagine how his dazzling environments, hybridized characters, and prismatic descriptions provide all the elements for a truly modern cyberpunk RPG.
The novels are set in Manchester, England of the near future where the only escape from the squalor, crime, and police persecution that's overwhelmed the city are manufactured feathers that, once ingested, allow you to travel alone or in groups to imagined worlds collectively known as the Vurt. Once you're inside these worlds, however, they're as real a place as any—and just as dangerous. With the ability of entire groups to shift back and forth from the harsh and violent Manchester of the future to literally infinite worlds and shared dreamscapes both legal and illicit—furnished not only with the contents of our mythologies, imaginings, and desires, but with the Vurt's own indigenous population as well—you can see why the worlds-within-worlds construction of the Vurt is such a fertile environment for fans of science fiction and roleplaying games.
The process of pitching Vurt: The Tabletop Roleplaying Game to Jeff Noon took place over no less than three years which, optimistic folks that we are, gave us plenty of time to experiment with prototypes. That's a long time to chase a dream, but it was at least in part the tenacity itself that paid off, because it communicated to Noon that that Ravendesk Games understood that he wasn't interested in licensing out his body of work frivolously or to cash in on capricious and evanescent media trends. In short, we earned the right to be considered seriously.
We were fortunate to not only get Jeff Noon's blessing to begin working on our RPG, but also his offer of original scenarios and exclusive fiction for the game. (Noon himself offered us this quote: "The team at Ravendesk have delved into the novels with great creative passion and expertise. They've explored every aspect in fine detail, staying 100% true to the spirit of the imagined world, whilst at the same time allowing the characters and locations to really live off the page. I'm happy to be contributing short stories and other material to the gaming books. In all honesty, I think these guys know more about my novels than I do!" You can just imagine. That made us squeal.) But that was only the first of several challenges we faced bringing the Vurt RPG to tabletop gamers. Next came, of course, the lawyers. Dealing with publishers and licensing agreements in one region is difficult enough, and even thornier across multiple continents. It required a great deal of patience, but that patience paid off in an unexpected way. Throughout the time it took to secure the rights and sign the contracts, Monte Cook Games would announce its intention to release its Cypher System Rulebook, the game engine behind the enormously successful tabletop Kickstarters for Numenera and The Strange.
The Cypher System turned out to be a perfect match for Vurt in just about every way that mattered. It's emphasis on flexibility and storytelling as opposed to layers of rules and meticulous number-crunching allows GMs and players to effortlessly transition between the real world and the limitlessly diverse, remixed environments of the Vurt without having to deal with constantly shifting game mechanics or rulesets.
Another fortuitous aspect of the Cypher System is the way that single-use items called Cyphers, Artifacts, and Oddities parallel elements from Noon's books—elements that are crucial to Vurt: The Tabletop Roleplaying Game. These include, for instance, the single-use feathers that enable players to access the shared dreamscapes of the Vurt to pursue missions and enjoy wild adventures, as well as ubiquitous temporary single-use boosts such as Boomer, Vaz, and Jammers in a culture of cheap and accessible technology that's as liberating as it is hazardous.
In short, the Cypher System Rulebook provided us with the game engine we needed to transform Vurt into a satisfying, adaptable roleplaying game that takes place in a classic cyberpunk setting but lets GMs and players subvert genre cliches and traditional cyberpunk tropes for experiences that are as fantastic and vivid as they're willing to conjure.
With Vurt: The Tabletop Roleplaying Game, we're building the kind of RPG we've been waiting for since Jeff Noon's original novel. That's a long time coming, but then again, its themes and ideas have only become more relevant and prescient than they were in 1993, from ubiquitous culture of disposable technology to the pervasiveness of media that watches us as much as it talks to us. And it's not only the technological changes that inform our game, but the social ones as well. The fusion of biology and personal technology, interbreeding between species, and even new forms that emerge from the Vurt itself—in the Vurt metaverse, we've moved way beyond gender and sexuality as defining characteristics—encourage players to leap beyond gameplay stereotypes and create unique characters that contribute to better and more personal adventures. That's why we're particularly excited to bring Vurt: The Tabletop Roleplaying Game to communities of gamers that have been underrepresented in gaming, especially gay, lesbian, bisexual and transgender men and women who've always been an enormous and influential in the tabletop RPG community but far less often catered to with games that allow them to explore the identities of their characters on a much deeper and more intimate level.
It's been a long journey bringing Vurt: The Tabletop Roleplaying Game to Kickstarter, but all things considered, there's never been a better time to bring it to RPG fans. We'd love to bring you aboard our Kickstarter campaign so you can be among the first to enjoy the game (which funded within the first week!). And if you have questions about us or the game, you can tweet at us, post to our Facebook page, or email us and we'll be happy to answer them. Thanks Kittlings!
Logan Decker was previously Editor-in-Chief of PC Gamer Magazine and is now Editorial Director at Dialect Inc. His passions for science fiction, games, and squirrels continues unabated on his Twitter feed.