Karen Swan's inspiration in Paris
Bestselling author, Karen Swan on the true story that inspired her new novel The Paris Secret.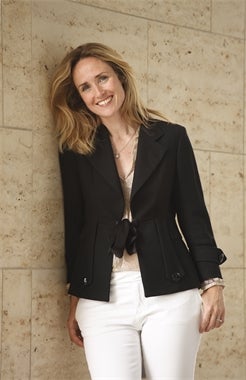 When you think of Paris, what do you see? 
That iconic tower-tipped skyline? The gilded domes or statuary-topped bridges? Perhaps it's the image of coffee-sipping throngs in the street-side cafes, or the Gauloises-puffing students sitting on walls, watching the tourists pass. What it probably isn't is the image of the Jardins des Tuileries planted as vegetable patches, potatoes being grown on avenue Montaigne roofs where chimeneas now sit and camellias bloom. But that's how it used to look, how it used to be because Paris is a city with a past – it was occupied, it was bombed. it has scars and wounds and, like every beautiful woman, it has secrets.
When I was first giving thought to my new book and wondering about where to set it, Paris was of course an obvious consideration. it always is and all the usual clichés applied – it's the city of light! the city of love! but when I read in a newspaper about an abandoned apartment that hadn't been opened in almost seventy years, it wasn't love or light that sprang to mind.
Quite literally a pocket of air from the dark past was sealed in the middle of the city; life was going on around it, with the tourists and the students and the café-drinkers passing below its very windows, even as inside the dust settled ever more thickly on the treasures and artifacts forgotten within. 
It was obvious why the owners had left. A war had been raging. who would want to stay? But one question couldn't be as easily answered – why had they never come back? When peace had broken out and Paris was free once more, why had the doors remained locked and the windows sealed shut?
In the post-war years, the city became a hub for the free-thinking intellectual elite with Simone de Beauvoir and Jean-Paul Sartre at the left bank helm, whilst over the river, women swarmed the Champs Elysee in Dior's exuberant new look. The love and the light was back, so why weren't they? 
For a writer, it's not the headline images that ignite the imagination but the grainy snapshots of lives lived below the radar. They can be small and easy to miss, just like that apartment hidden in plain sight where no-one ever thought to question why the curtains were never drawn. So, setting the new book in Paris, the city of light, was an easy decision to make: not because it's pretty or glamorous or decadent, but because where there's light, there's shadow – and that's where the stories lie.