Festive cocktails to give Christmas at home some sparkle
Norweigan cook and whiskey enthusiast Signe Johansen shares her top tips for delicious but easy Christmas cocktails to make celebrating at home that little bit more special this festive season.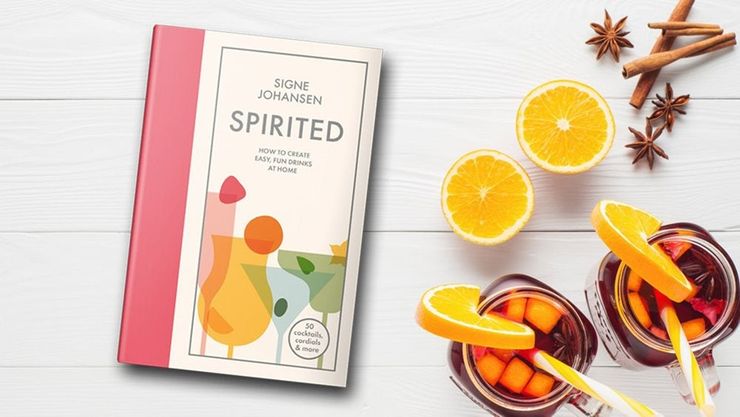 Signe Johansen is a Norweigan cook, author and whiskey enthusiast who co-founded 'Spirited Women', a project to get more women into whiskey and other spirits. Her book Spirited is a beautifully illustrated collection of cocktail recipes for all occasions. 
Christmas parties may be off the cards this year, but that doesn't mean smaller festive gatherings can't have a touch of glamour. If you want to make Christmas Day extra special with a sophisticated pre-dinner cocktail, or simply want to cosy up in front of the fire with a warm festive cocktail, Signe is here to help. Below, she tells us her top tips for delicious yet easy Christmas cocktails and shares her favourite Christmas cocktail recipes.
If there's one thing we do well in Scandinavia, it's Christmas.  We relish the midwinter gatherings which start in early December and continue well into the new year, decorating with woollen felt nisse (elves) and lighting candles both indoors and on the doorstep to welcome guests in. In Norway the tradition is to bake seven varieties of delicious biscuits to share with friends and family alike, but even baking one variety such as pepperkaker (ginger biscuits) is always appreciated.  
If you're looking to switch up from basic mulled wine over the festive season this year and create a little extra Scandi-style julestemning (Christmas atmosphere) with winter warmers and delicious cocktails, here are my top tips:
For starters, consider your guests who aren't drinking any alcohol as important as the ones glugging the gløgg. There are plenty of great non-alcoholic 'spirits' available now, and a simple booze-free pitcher of Agua de Jamaica (recipe below) not only looks festive but can be prepared well in advance.  A non-alcoholic version of the hot Scandinavian cherry gløgg featured below can easily be made too: simply omit the wine and cherry Heering, make a hot infusion of hibiscus tea and follow the recipe using both cherry juice and spiced sugar syrup to create a soothing winter warmer any time of the day.
Secondly, do as much of the prep in advance as possible so you won't feel harried as the host and you can relax completely, letting your guests help themselves to drinks. The oolong tea, whisky and spice punch featured here is a doddle to make, has the right balance of sweet, sour, smoky and boozy and – crucially – once made you don't have to do a thing. 
If you must mull, the secret is to not boil the red wine. Simmer is the operative word here, and temper those tannins by adding both cherry juice and cherry Heering for a deliciously sweet and sour Scandinavian gløgg (akin to German glühwein). Alternatively, a glass of Irish hot spiced port is a brilliant way to use up any bottles of port hiding in the drinks cabinet and takes mere minutes to prepare. 
Finally, if you're keen to shake up a few drinks to serve individually in cocktail glasses my marmalade sour recipe is a cinch to make – not only will you look like a pro, but the zingy orange flavour gives a fresh alternative to a classic whisky sour.  For a non-alcoholic version you could substitute the rum or whisky with an alcohol-free spirit such as Everleaf, Seedlip, Atopia, Caleño or Three Spirit. 
Whichever version you opt to make, remember to toast your guests with a skål!


Five Christmas cocktail recipes to try this festive season
Agua de Jamaica
Serves 4-6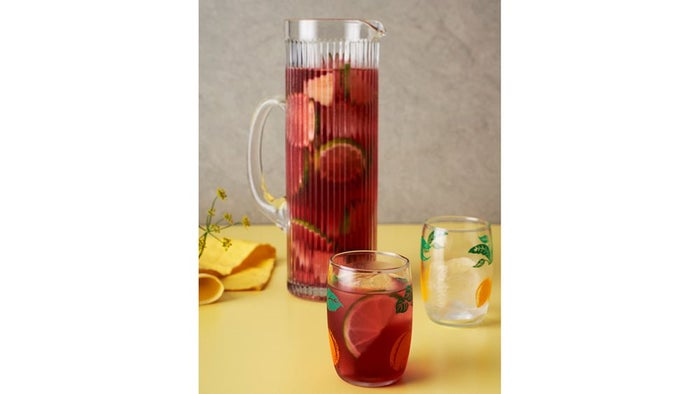 Ingredients:
2 bags of hibiscus flower tea
1⁄2 small pineapple, sliced with the peel on
1 x 330ml bottle ginger beer
2 unwaxed limes, sliced into discs
ice cubes to taste
Method:
Place the hibiscus teabags into a large heatproof bowl or pitcher and pour in 1 litre of boiling water. Infuse for 10 minutes.
Remove the bags, then add the pineapple slices and allow to cool completely before mixing in the other ingredients in the pitcher. Taste and adjust the sweetness as needed. You may want to add freshly squeezed lime juice to taste.
Scandinavian cherry gløgg (make this non-alcoholic by brewing hibiscus tea, eliminating the wine and cherry Heering and sweeten with the cherry juice and spice syrup instead)
Serves 12
Ingredients:
For the spiced sugar syrup:
100g granulated sugar
10 cardamom pods, crushed
5 whole cloves
3 peppercorns
3 star anise
1 cinnamon stick
1cm (1/2in) fresh ginger
1 long strip of unwaxed
Clementine rind (or citrus peel of your choice)
For the cherries:
100g dried sour cherries
1 litre cherry juice
150ml cherry cordial
150ml cherry liqueur such as Cherry Heering or cherry brandy
75cl bottle of light red wine such as Beaujolais or a fruity red
To serve:
3 clementines, peeled and sliced into discs
100g blanched almonds
Method:
To make the spiced sugar syrup, heat the sugar in a small saucepan with 100ml cold water. Turn off
the heat as soon as the sugar has dissolved. Add the cardamom pods, cloves, peppercorns, star anise,
cinnamon stick, ginger and citrus peel. Cover and allow to infuse overnight or for at least a few hours.
When you're ready to heat the gløgg, place the syrup, cherries, juice, cordial, liqueur and wine in a large pan and heat gently. It should be just hot enough that there is a little steam coming off the liquid but nothing more. I like to leave it on a low heat like this for about 30–45 minutes so all the flavours infuse together, but keep an eye on it so it doesn't boil.
Place a clementine slice in each glass or cup along with a couple of almonds, then carefully ladle in the warm gløgg. Serve with teaspoons so your guests can eat the almonds and soaked cherries.
Oolong tea, whisky and spice punch​
Serves 15
Ingredients:
1 litre of oolong iced tea
225ml spiced sugar syrup (see above)
375–450ml freshly squeezed lemon juice
450ml Islay whisky 
A few drops of Angostura or spice bitters such as cardamom to taste
250–400ml Campari or Aperol to taste
Lots of ice cubes
Slices of citrus such as clementine, blood orange or orange to garnish
Dusting of fresh nutmeg, to garnish
Method:
Infuse the oolong tea and leave to cool. In a bowl mix all the ingredients to taste. It should
be quite a zingy, smoky, fruity and spicy punch!
Serve in glasses filled with ice cubes and garnish with citrus slices and a dusting of freshly grated nutmeg.
 Marmalade Sour (for smaller gatherings or dinner parties)​
Serves one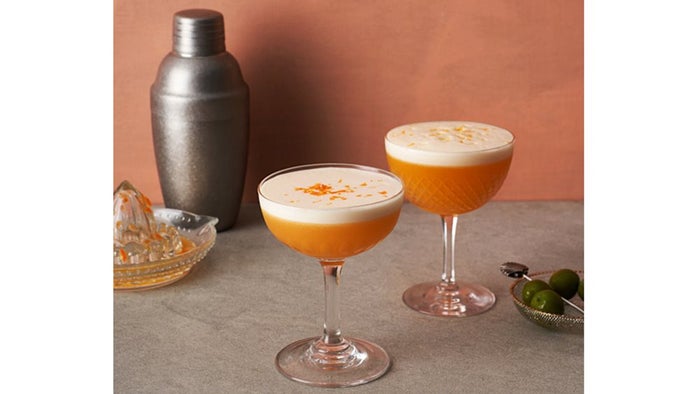 Ingredients:
1 heaped tsp marmalade (more if you like a sweeter cocktail)
Juice of 1 small orange
Juice of 1⁄2 lemon
1 egg white
30ml golden rum, whisky, brandy, vodka or gin
Small handful of ice cubes
Strip of orange peel or zest to garnish
Method:
Chill your tumbler or cocktail glass if you're so inclined.
Mix all the ingredients except the ice and orange zest in a cocktail shaker, seal and give it a 
vigorous shake until frothy. Add the ice then shake again until your hands feel cold. Taste and add more orange or lemon juice according to taste.
Pour the contents of the shaker into a cocktail glass, wine glass or tea cup. Garnish with the strip
of orange peel or a spritz of orange zest lightly grated over the drink.
Niamh's Irish hot spiced port (easy)
Serves one
Ingredients:
1 tsp light brown sugar
1 thick slice of unwaxed lemon
4 cloves
70ml port
Method:
Boil the kettle and pour 70ml of hot water into a heatproof glass with the brown sugar. Stir to
dissolve. Stud the lemon slice with the cloves, then add to the glass along with the port. You can
add a spritz of lemon juice from either the slice, or a little more from the remainder of the lemon
itself. Drink while hot.