Jack Monroe's cheeky corn fritters recipe
Award-winning food writer and anti-poverty campaigner, Jack Monroe, has brought together seventy-five of her favourite recipes, all of which can be made with canned and dried ingredients. These delicious, easy-to-make sweetcorn fritters are perfect for breakfast or brunch.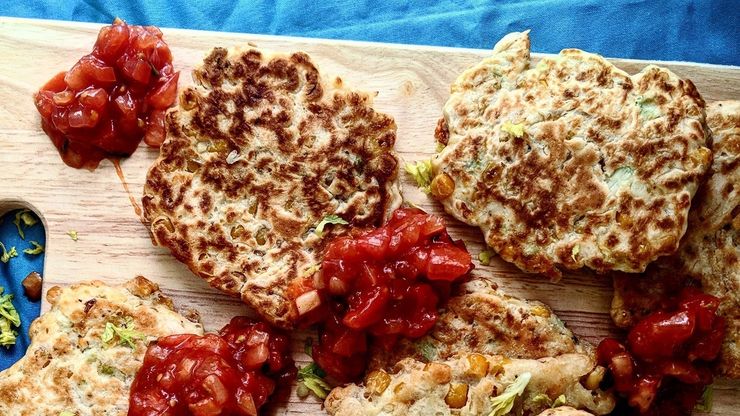 A good corn fritter recipe is an excellent thing to have up your sleeve, for breakfast, brunch, or making a meal out of a tin of corn. This is as good a recipe as any, and once you know how to do it, you'll never be short of a speedy, filling brunch recipe.
Total time

15 minutes

Prep time

10 minutes

Amount

Two - four

Ingredients

1 small onion (finely chopped or 100g frozen sliced onion)
75g self-raising flour
⅛ tsp cayenne pepper or ¼ tsp chilli powder
salt and pepper
300g drained tinned sweetcorn
2 eggs
2 tbsp milk or water
2 tbsp cooking oil
Toss the onion into a large mixing bowl. 
Add the flour, cayenne pepper or chili powder, salt and pepper, and stir well to coat it all. 
Add the sweetcorn to the bowl and stir again. 
Crack in the eggs and add the milk or water, then mix well to form a rough batter.
Heat the oil in a large frying pan on a medium heat. 
Drop in the batter, 3 tablespoons at a time. 
Cook for 3–4 minutes on each side, and serve.