Make Annie Bell's delicious and sustainable fish pie from Eat to Save the Planet
This delicious and sustainable fish pie recipe from Annie Bell's Eat to Save the Planet makes a tasty dinner the whole family will enjoy.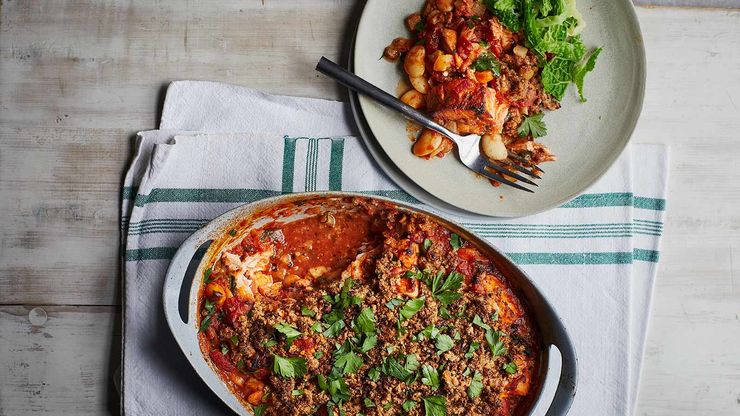 'This fish pie is lovely and light: salmon in a rich tomato and fennel sauce, with butter beans, and a delicate mixed nut and oat crumble on top in lieu of pastry or potato. '

Annie Bell
Total time

80 minutes

Prep time

20 minutes

Amount

Serves 6

Ingredients

1 tbsp extra virgin olive oil
1 small dried red chilli (finely chopped)
4 garlic cloves (peeled and finely chopped)
2 fennel bulbs (green shoots and tough outer sheath discarded and bulbs diced)
2 x 400g tins chopped tomatoes
3 tbsp coarsely chopped fresh flat-leaf parsley (plus extra to serve)
sea salt and freshly ground black pepper
600g skinless salmon fillets (cut into 3–4cm (1¼–1½in) pieces)
200g butter beans (drained and rinsed)
30g pecans
30g ground almonds
30g rolled oats
30g unsalted butter (chilled and diced)
Heat the olive oil in a medium saucepan over a medium heat, add the chilli and garlic. Moments later add the fennel and fry for several minutes until translucent and softened slightly. Add the tomatoes, parsley and some seasoning, bring to a simmer and cook for 25–30 minutes, stirring occasionally, until you have a thick sauce.
Heat a large non-stick frying pan over a high heat, season the salmon and briefly sear it, half at a time, to lightly colour on all sides. Gently fold the salmon and butter beans into the sauce, discarding any liquid given out by the fish, and transfer the mixture to a shallow ovenproof dish, approximately 20 x 30cm (8 x 12in). The filling can be prepared a couple of hours in advance, in which case cover and set aside in a cool place.
For the crumble, whizz the pecans until finely chopped in a food processor, then add the ground almonds, oats, the butter and a little seasoning and briefly whizz until the crumbs start to hold together in nibs. This can also be made in advance, and chilled.
Preheat the oven to 210°C (fan 190°C/gas mark 6), scatter the crumble over the pie base and bake for about 30 minutes until the crumble is lightly golden. Serve scattered with extra parsley.