Pan Macmillan recommends...
In celebration of the BBC's #LovetoRead campaign we asked bookworms across the office to recommend one book they would urge you pick up this weekend.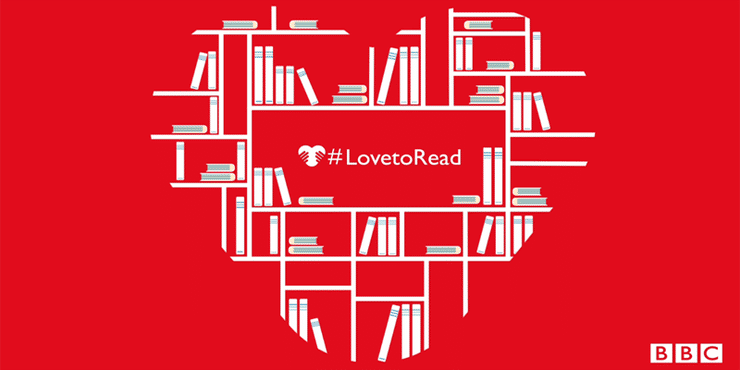 In celebration of the BBC's #LovetoRead campaign we asked bookworms across the office to recommend one book they would urge you pick up this weekend.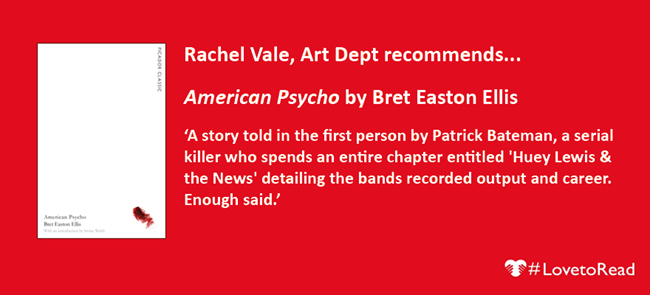 Lucy Hine, UK Sales 
Beloved by Toni Morrison           
'It is beautiful and heart-breaking, I can remember reading it for the first time with startling clarity.'
George Lester, Children's Editorial
Boy Meets Boy by David Levithan
'Gorgeous, inclusive, funny, weepy, an absolute dream of a book!'
Josh Craig, Operations
Catch-22 by Joseph Heller            
'Endlessly funny, with a cast of bonkers characters and a brilliantly, entertaining plot full of satire and sensibility.'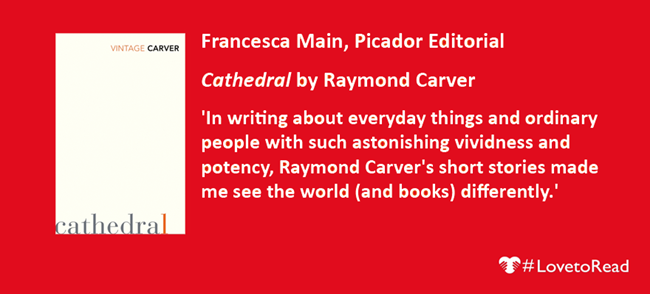 Courtney Esterhuizen, Finance and Victoria Hughes-Williams, Fiction Editorial                      
Dark Matter by Blake Crouch      
'I had a moment where I was not sure which version of myself I was: the one sitting outside in the sun on a rooftop of the one on the treadmill in the gym next door.'
'It's completely original, mind-bending and impossible to put down!'
 Sophie McLoughlin, Children's Editorial
Decline and Fall by Evelyn Waugh          
'Waugh was a comic genius and this brilliantly caustic novel, with its cast of eccentric but wonderfully endearing characters, never fails to leave me in fits of giggles.'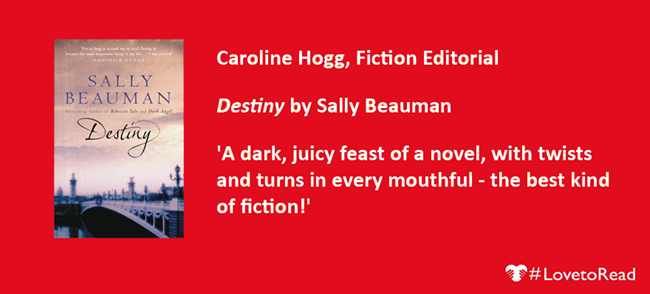 Elle Jones, Digital Communications
Dracula by Bram Stoker
'It's well researched, action-packed, tragic, horrific, full of Victorian obsessions and fears, and created a cultural icon infinitely quotable.'
Sarah Willcox, UK Sales       
Envious Casca by Georgette Heyer
'Classic locked room mystery, great characters, lovely plotting and satisfactory ending. Still enjoy reading it even though I know whodunnit!'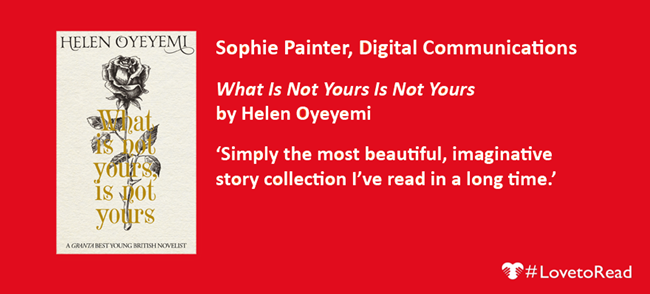 Sam Humphreys, Mantle Editorial 
Fly-By-Night by K M Peyton          
'This book, which I read SO many times as a child, still has the ability to take me straight back to the first time I read it -- in a way that no other book has, before or since.'
Rachel Kellehar, 6+ Editorial          
Good Omens by Terry Pratchett and Neil Gaiman        
'There's no better book about the end of the world . . .'
Joni Lewis, Production         
Hyperion by Dan Simmons           
'Life changing epic that altered the way I thought about space and our place in it.'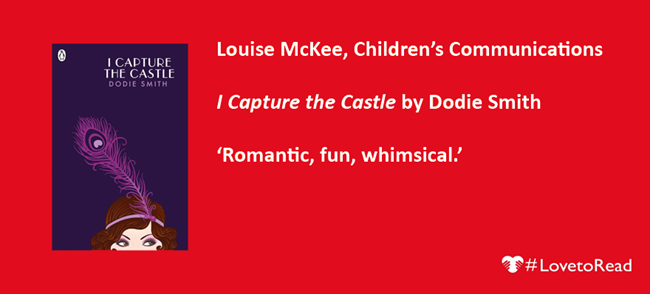 Holly Martin, UK Sales
Lolita by Vladimir Nabokov         
'It seismically shifted the way I thought love could be written about.'
Kathryn Percival, International Sales        
North and South by Elizabeth Gaskell    
'Elizabeth Gaskell's moving social commentary on industrial Manchester is a Northern classic ... and Mr Thornton is a god among men!'
Lorna Scobie, Children's Design     
One Hundred Years of Solitude by Gabriel García Márquez  
'Rich in mystical imagery'
Sara Lloyd, Digital & Communications
Possession by A S Byatt
'Possession was the first book I read having completed my English degree; it was the test for whether I could ever enjoy a novel purely for its own sake ever again, and it won! Warm and witty, this ambitious, clever, huge baggy novel has multiple layers of meaning and leaves the reader speculating right until the end.'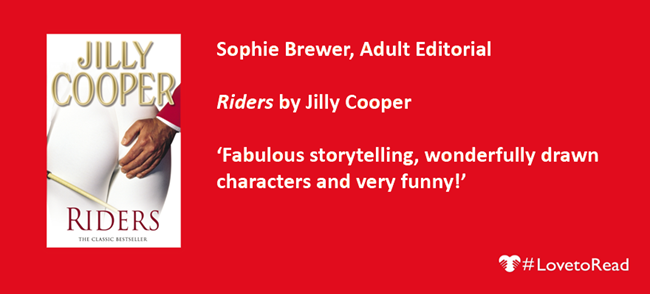 Tracey Ridgewell, Art
Room by Emma Donoghue
'I was absolutely wrapped up in this when I read it. I remember wanting to continue reading when I got off the tube at my destination, I read it walking down the street and nearly walked into a lamppost and I recommended it everyone I knew. It was quite a few years ago now but it still sticks in my mind as a favourite.'
Caitriona Row, UK Sales
Slammerkin by Emma Donoghue
'Slammerkin made the dirty, dangerous, London of the past as vivid as the (dirty, dangerous...) one I walk through every day. Emma Donoghue has taught me much more history than any of my teachers ever did (sorry, Mr Heasley!).'
Clare Lawler, UK Sales
Stanley's Stick by John Hegley
'I love the alliteration. My kids adored it. It is just fantastick!'
Daniel Jenkins, International Sales
The Amazing Adventures of Kavalier and Clay by Michael Chabon
'It's an incredibly poignant yet rousing celebration of (almost) brotherly love, set against a wonderfully evocative mid-Century American backdrop.'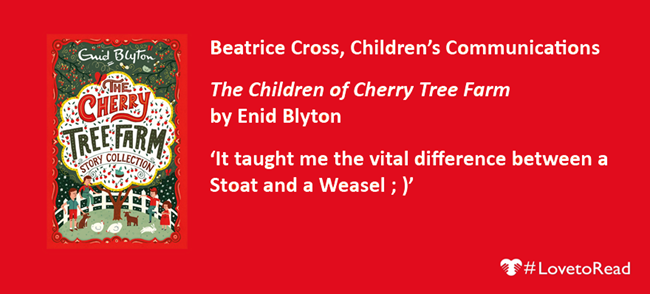 Jo Thomson, Art        
The Clan of the Cave Bear by Jean M. Auel
'My mother recommended it to me when I was a teenager and I have loved it ever since!'
Tanis Eve, Production          
The Comforters by Muriel Spark  
'It has just the right amount of madness.'
Alyx Price, Children's Communications     
The English Patient by Michael Ondaatje
'It looks life, love and war fully in the face and does not flinch from truth.'
Richard Baker, UK Sales      
The Grapes of Wrath by John Steinbeck
'It's a history book, a politics book, a work of fiction, and it ought to change your life.'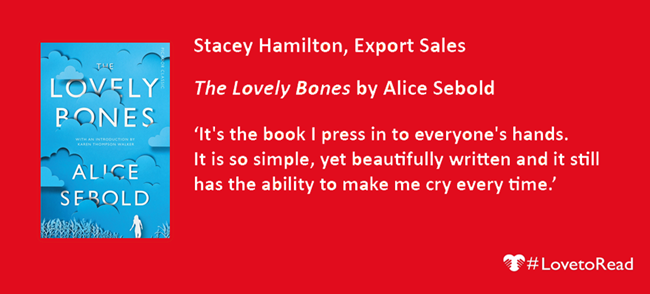 Justine Anweiler, Naomi Clark and Katie Thompson, Art
The Nightingale by Kristen Hannah       
'I can recommend this book to my sister, friend, mother or grandmother'
'A totally immersive read, made me cry!'
'It's the first time I ever read a book about WWII and forgot everything I knew and just experienced it as if I was there.'
Jean Menzies, Digital Communications      
The Penelopiad by Margaret Atwood     
'It inspired my love of classics.'
Alex Saunders, Fiction Editorial      
The Poet by Michael Connelly      
'Dark, menacing and totally compelling crime fiction.'
Rebecca Lloyd, Editorial      
The Princess Bride by William Goldman           
'It covers every emotion possible and always lifts my spirits.'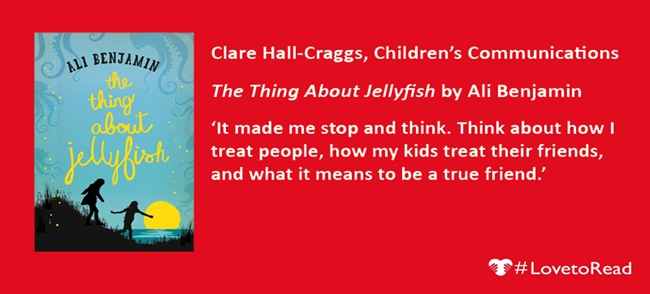 Joanna Batty, Finance                              
The Thing About Jellyfish by Ali Benjamin
'It's such a sweet book!'
Stacey Ellis, Contracts          
The Wrong Boy by Willy Russell 
'It's the UK's answer to The Catcher In The Rye.'
Tom Noble, Digital Communications      
The Year of the Runaways by Sunjeev Sahota
'A vivid, eye-opening read about a group of men from India coming to the UK, and the adversity they face together. Powerful, beautifully written and impossible to put down.'
Stuart Wilson, Art     
Tinker Tailor Soldier Spy by John le Carré
'It's intrigue and espionage at it's best, showing everything moody about London in the process.'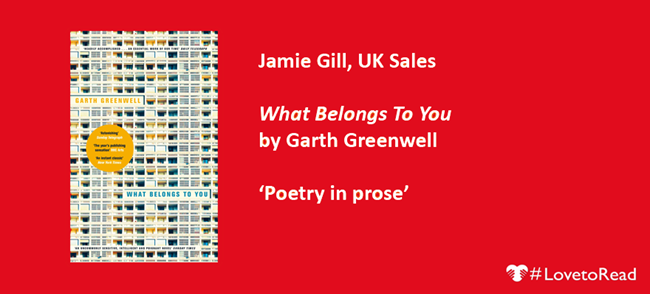 A few of our  fabulous authors share with us why they love to read. 
The #LovetoRead weekend takes place on 5 and 6 November. Find out more about all the #LovetoRead activity taking place across BBC TV, radio and online.